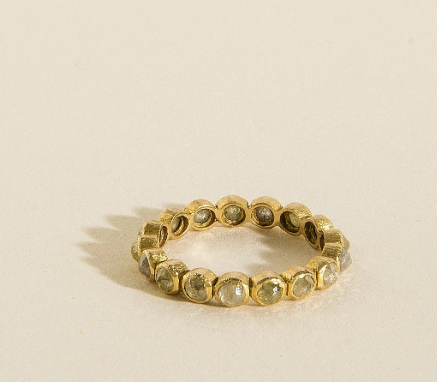 By Nikhat Fatima, TwoCircles.net
Stella Simona is a Bangladeshi origin designer, who before starting her jewelry store was a model and a fashion photographer. The jewelry line she runs is called 'Haati Chai' and has creations that are handmade with conflict-free stones.
But among the various designs in her collections is the Devi Ring, which was earlier named as Dalit ring. The Dalit ring or the Devi ring is embedded with raw unfinished diamonds set in 18K gold.
The ring has lead to controversy among Dalits in India. Many bloggers, activists and filmmakers, who found the name of the ring to be distasteful, have expressed displeasure on social media.
"The Dalit ring has raw unfinished stones, which many don't find beautiful because they want perfectly finished diamonds. Just like the Dalit caste, the Dalit ring is very unique and extremely beautiful," goes the description of the ring on the website.
Dalits have raised questions like why market a ring in their name? Some opined that using the word Dalit, which represents the poor and marginalised section of the Indian society, at an exorbitant amount of USD 2000 (Rs.1.5 lakhs INR) is a business tactic.
Many others questioned how much of the revenue generated by Stella goes to support the Dalit community.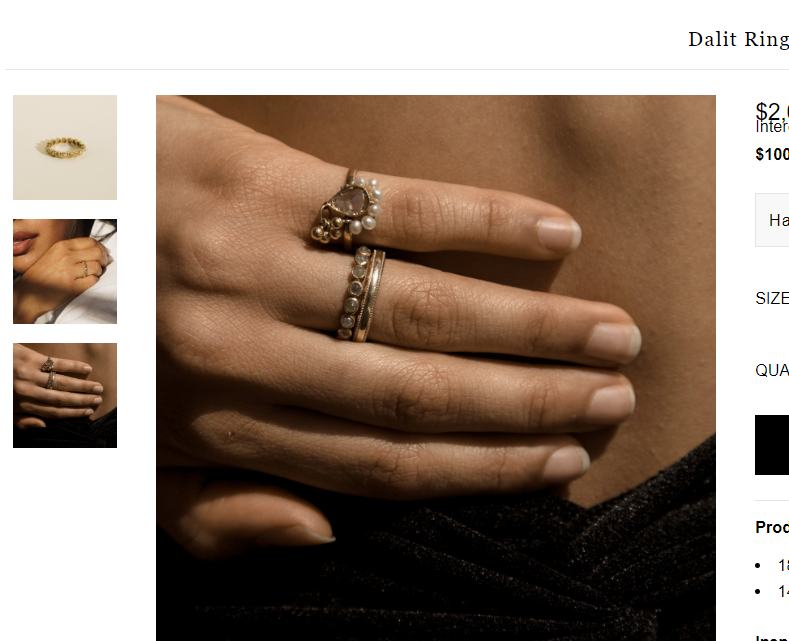 Kamna Singh, a research scholar at Delhi University issued a statement saying that the description of the ring is in contrast with the reality as even today Dalits get raped, killed and humiliated in India.
Words such as "raw", "unfinished", "unique" and "beautiful" do not do any justice to the history of a people who Hindus and Hinduism continue to subject to untouchability and humiliation by way of language, social, economic and political marginalisation, she wrote.
Some Dalit activists believe that people from outside the Dalit community can never really understand the pain and trauma of being a Dalit. "And when they write or talk about Dalit issues it is not the same as a Dalit person recounting her or his pain and humiliation," they say.
The ring designed by Stella, worth a whopping amount and naming it Dalit ring, is trivialising the painful history of Dalits.
But what inspired Stella, who is based in Los Angeles in the USA to create the Dalit ring?
TwoCircles.net had a conversation with the creator of the jewelry line Haati Chai, that has been running since 2011 from Los Angeles.
"Jewelry for me holds a lot of meaning', Stella explained. "And I try to design every piece offering art that people can create a conversation around. But I don't always expect a positive conversation because I know people have different opinions and interpret things in different ways," she told TwoCircles.net.
"I was not aware of the intensity of the atrocities and injustices meted to the Dalits until recently. And when I became aware I wanted the world to know about the plight of Dalits and create awareness. And I wanted to do it through my designs," she said.
To elaborate her point, Stella refers to one of her jewelry collections called 'Shavar' (the Bengali word for our is Shavar) which was to create awareness about a building that collapsed in Bangladesh resulting in the death of many workers who worked there. The name of that building was Shavar and it housed factories that had several workers, many of whom were also under aged. The Shavar collection had pieces named after some of the people who were involved in the cause for the workers' welfare.
Likewise, the Dalit ring too has the story of struggle and forging identities by the Dalit people, says Stella.
"When the Dalit ring was displayed in my store, several customers wanted to know its meaning," she said.
Stella said she used this chance to create awareness about the Dalit community.
"People who were not aware of Dalits learnt about them as a lot of people gravitated towards the design of the ring," she said.
Re-naming the Ring
Stella admitted that "people from the Dalit community don't have the financial power to invest in something like this. But I want other people to be aware of Dalits' issues and invest in their cause."
However Haati Chai has not contributed so far to the cause of Dalits, she said. But will definitely do so in the future. " We are in communication with 3 organisations and are working to properly vet, who will be donating 100% of all the profits for this ring", disclosed Stella.
After the backlash from Indian community of Dalits, more so when the #BlackLivesMatter was trending after the death of George Floyd, Stella and her team have communicated through Instagram their intention was to bring attention to the struggle of the marginalised community of Dalits but they failed in its execution.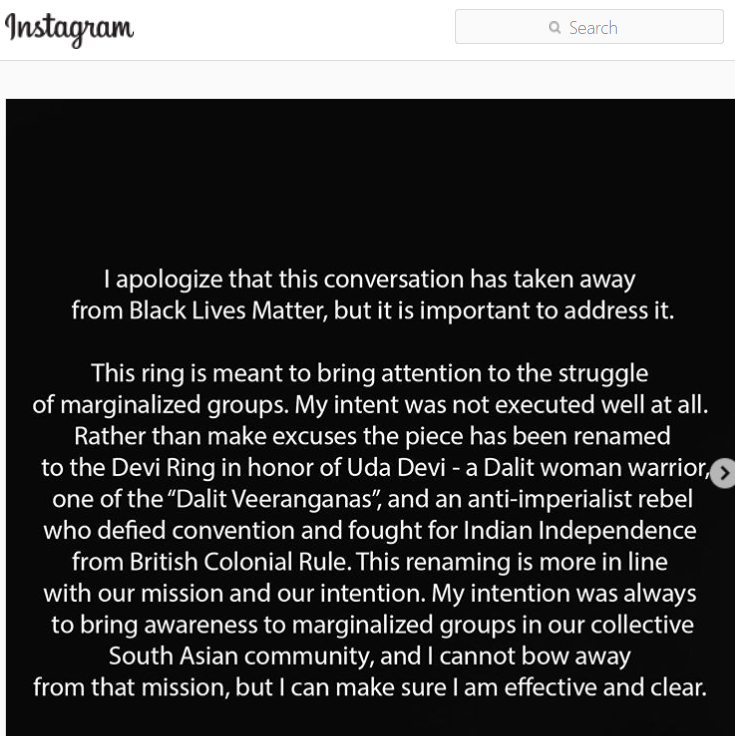 To rectify the mistake, the ring has been renamed 'Devi ring,' in honour of a Dalit woman warrior named Uda Devi.
"We will also be changing the caption of the ring to a more in-depth explanation of how important and in my opinion, beautiful the community is," she said.
"I truly value this piece and it is one of a kind. It is traditional and very Indian. The idea is individualism and strong," Stella said.
Stella said that many understand the concept and where it is coming from. "And then there are Indians in America who don't like the word 'Dalit'," she explained and added, "And when one person or people are hurting it hurts the rest of us whether we want to see it that way or not."
TwoCircles.net spoke to various people about their thoughts on the Dalit Ring before it was renamed as Devi Ring.
Youngsters among the Dalit community see the Dalit ring now named as Devi ring as a unique piece that pays tribute to Dalits.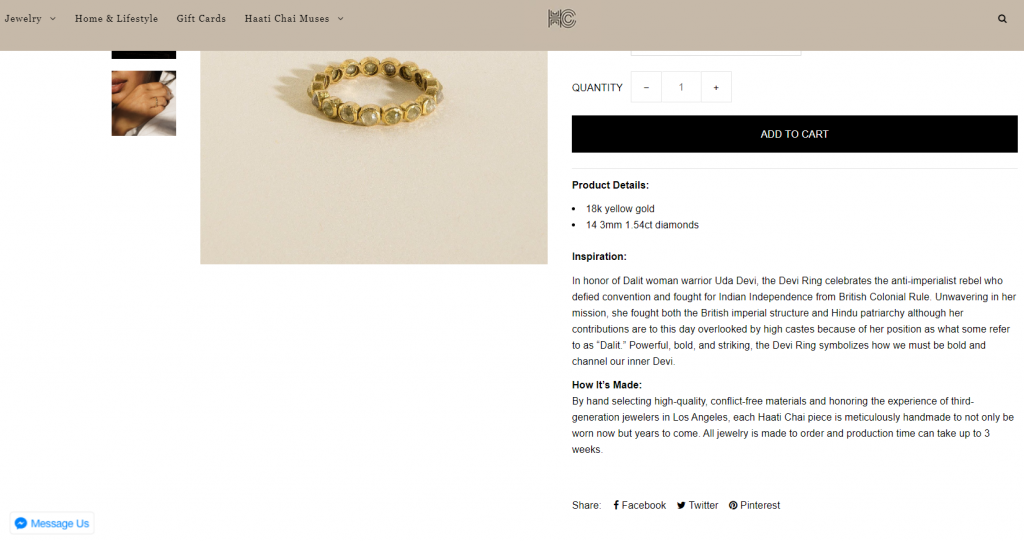 However, Dalit poetess, Mercy Margaret differs, "Dalits have been suppressed from ages and till today are struggling for their rights. They may not even have enough money to buy one gram of gold. Calling it a Dalit ring seems more of an upper-caste approach. I feel it is not correct to name the jewel after Dalits."
Maya Promod, a research scholar from Kerala is happy about the product and the understanding behind it.
"I don't know if it can be termed inspirational, but I feel good that the designer has such an understanding of things. At a time when brands like 'Brahmin' and 'Pisharodi's' are established and sold well, I am feeling great that a product, that too such a costly thing as gold, is marketed in the name of Dalits as Dalit Ring," Said Maya Pramod, a research scholar from Kerala.
Dolly Arjun, a Physician Assistant in Boston, liked the idea of having conflict stones in the Dalit ring. "But this does not benefit the community. It benefits someone else. If the ring was named as 'Ambedkar ring' then one can explain that Ambedkar was a person who fought the caste system and for rights of Dalits. But calling it Dalit ring and having unfinished diamonds which are not perfect suggests that Dalits are not perfect either. I wish it was made with perfectly finished stones so it would be sensitive to Dalits and their struggles. The designer may have good intentions but I don't know how it helps Dalits," she said.
While some wanted to know if upper caste people would wear something named as Dalit ring but now that it has been renamed they feel it is just a patronising gesture with the motive remaining same, which is to make money in the name of Dalits.
Some took to social media to criticise the name saying that descendants of Uda Devi should sue the makers of the ring.
"So far the customers of Haati Chai who have purchased the Dalit/Devi ring from the western world are mostly from the United Kingdom," said Stella.
The issue and controversy around the Dalit ring have raised important questions concerning people from outside the oppressed community being seen as appropriating the cultural symbols or vocabulary of the oppressed.
"For now, there appears to be an uneasy compromise with the renaming of the ring. But the episode goes to show how fraught and complicated it can be for outsiders to engage with sensitive subjects – especially dealing with violence and oppression, without first consulting with or interacting with the affected community", said an activist based in the US.