By Nazish Hussian and Raqib Hameed Naik, TwoCircles.net
Mumbai: Responding to the reinstatement of four accused police officers after they were suspended for their alleged involvement in the custodial killing of her 27-year-old son Khwaja Yunus in 2003, 72-year-old Asiya Begum is in disbelief.
"Why the government did this to us? How could they take the murderer policemen back into the police force," she said.
Khwaja Yunus, a Parbhani resident in Maharashtra, was an engineer by profession. As per his family, he had been working in Dubai before returning to Parbhani in 2002 to attend his sister's wedding. However, soon after returning Mumbai police arrested under him under the stringent Prevention of Terrorism Act on December 25, 2002, and claimed his involvement in a bomb blast in Ghatkopar on December 2.
Yunus died in police custody in January 2003 after allegedly being interrogated by the police officers in charge. The police claimed that Yunus had run away from custody on the day of his death, however, his co-accused in the case told the POTA court that they saw "Yunus being stripped, assaulted severely, and vomiting blood." The CID inquiry into the death of Yunus found that he was murdered in police custody.
While the other co-accused met justice and were acquitted by the court. However, the fight for the justice of Yunus continued. Bombay High Court filed chargesheet against 14 police officers, however, only 4 police officers were put under trial for the murder of Yunus.
Despite the ongoing trial, the four accused police officers were reinstated.
Yunus's old and frail mother still strives for justice.
With tears welling up in her eyes, Asiya Begum remembers her son. "It has been 17 years now. What we have gone through only Allah knows. I can't explain. Whenever my son is brought up in discussion, everything is reminded before me," she told TwoCircles.net.
The family still lives in Parbhani – some 500 kilometres away from Mumbai, and hope for justice.
Asiya Begum recalls how the family went through great difficulty to provide their son with an education. "We had to take loans and it was all good as he got a job in Dubai. He was returning home for the first time after two years of getting a job. Pandra din bhi nahi tehra bacha hamare saath (He couldn't even stay with us for 15 days before he was taken away). My son kept saying that he is innocent. He did not do anything," she said.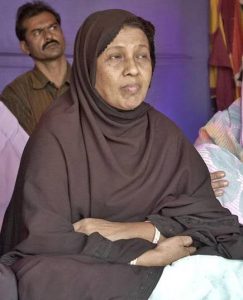 Asiya Begum said that initially, they kept saying that my son is absconding. "After three years they agreed that Khwaja Yunus died in police custody. Till that time, they kept misleading us."
Asiya Begun said that the family has already spent a lot of money on the case. "What more can we do? The government is theirs. Even the police are theirs," she said.
Yunus was one of four siblings. Yunus's elder brother Syed Muhammad told TwoCircles.net that, "Those who were charged along with him were all acquitted. And now they are living happily. If our boy was alive today, he too would have lived happily like others."
Yunus's sister-in-law Zeba Siddiqui told TwoCircles.net that the family was very disappointed how the case was proceeding.
"My father in law got so disappointed with the case proceedings. He was so broken. In his grief, he burned many documents of Yunus lamenting over what they (police) did to him. He kept saying, "Yunus studied so hard and this is what they did to him," she said.
Syed Muhammad says that their father passed away while fighting the case. "The daily commuting from here to Mumbai, facing harassment and under constant tension shot up his blood pressure and he eventually passed away," he said.
After his death the court allowed Asiya Begum to be the petitioner of the Kjwaja Yunus case.
"She has become very weak. She can't work that much now. The train journey to Mumbai is so difficult for her. Despite all these hurdles, we want justice," says Muhammad.
Talking about the ordeal the family had to go through to fight for justice for their son, Asiya Begum says, "We have put every effort to get justice for our son. I and my husband used to go to Mumbai regularly for court hearings. After he passed away I continued going there and handled things at the court."
Asiya Begum lamented that instead of punishing the culprits, they have been reinstated. "What kind of justice is this? When justice is delayed, it is not justice. I want the state government to work with honesty. I believe within six months the case will be final. It is because of the judiciary we have reached till here. And I hope there will be justice," she said.
The court had framed charges in 2012. It took five years to begin the trial in 2017.
"After the High Court decision, we felt that we would get justice for our child. But as time passed, nothing happened. I say let the court decide. If they come out clean from the court, then they may have their jobs back," says Muhammad.
Muhammad said that he doesn't understand how the accused police officers were reinstated when the trial is still going on.
Mihir Desai, the Mumbai based lawyer fighting Yunus's case told TwoCircles.net that they have filed a contempt of court case. "As the police officers were suspended by the court's order and without the court's order their suspension could not be taken back/revoked. But still, they withdrew/took back the suspension. We have filed a contempt of court. We have asked the government to appoint their lawyer," he said.
Yunus's frail mother has not lost all hope. She is determined to get justice for her son.
"Till a mother is alive she can't lose hope for her child. No matter how sick I get, I would still get up for him," she said.
Related: Khwaja Yunus murder case: will Aasiya Begum get justice?