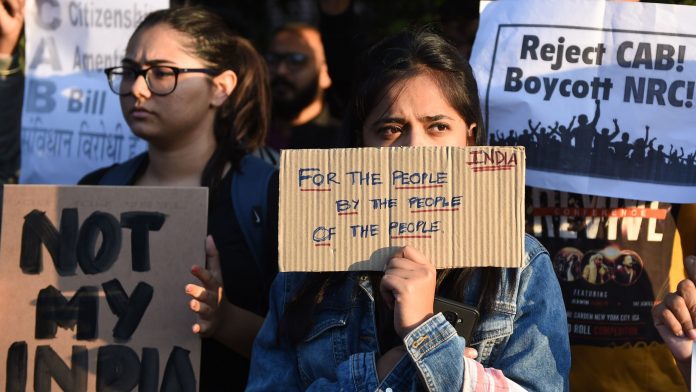 Twocircles.net
As the death toll in the unprecedented Delhi violence rose to 42 on February 29, several in hospitals are being treated for burns and acid injuries. The Government, instead of initiating relief measures is busy seeking hate speech FIRs against Harsh Mander, Swara Bhaskar, AAP MLA Amanatullah Khan and others. The notice issued by the Delhi High Court demands a National Investigation Agency (NIA) investigation into these people.
Amid such sharp inefficiency of the Government, the Indian youth in the country and abroad is setting examples of exceptional leadership carrying forward the legacy of secularism of the Indian Constitution. A group of South Asian student activists popular as 'Students Against Hindutva' is raising its voice against the alarming rise of fascism in the country, advocating for progressive politics against the discriminatory Citizenship Amendment Act (CAA) and National Register of Citizens (NRC).
In its latest, the group is urging people to come forward and support them in a demonstration 'A Holi Against Hindutva' (https://www.facebook.com/events/209047556909849/) on March 5, 2020 to mark their solidarity with the aggrieved in Jamia Millia Islamia, Aligarh Muslim University and more recently, the northeast Delhi violence.  The event scheduled around Holi this year will be held in several predetermined public spaces across US universities where students are expected to wear black as opposed to Holi's traditional attire of white.
"This fight is the most patriotic fight I have ever fought, and I believe it is the diaspora's duty to stand behind the protestors risking their lives day after day for India's secular soul," says Shreeya Singh, Founder of Students Against Hindutva. She explains that their main aim is to raise awareness about the recent events in India among people in the U.S. and students on campuses across the country. She adds that it is of utmost importance to their mission to counter the hateful rhetoric and policies of the BJP government.  
The group currently has more than 25 campuses supporting the event aimed at signifying their condemnation of the Indian government's actions against the massive violence in Delhi in the last one week. Among the universities that are setting up different times and locations for the Holi protest are Yale, Harvard, Princeton, Columbia University, Cornell, UCLA, Darthmouth, University of Illinois and more. 
"It's important for the diaspora to understand that distance from India only necessitates greater responsibility," opines Vishwa Padigepati, Legislative Coordinator of the group. She discussed that if the Indian diaspora doesn't stand up for a tolerant India it would indicate their acceptance of "policies which are inherently inequitable for Indians."