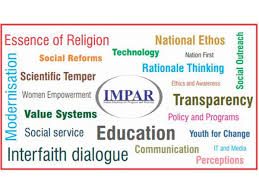 By Syed Khizar Ahmed
There is an excellent initiative in the news concerning the Muslims of India that over 200 prominent Muslims of India have come together to create a national think tank and an apex coordination body to put forward the voice of progressive and modern Muslims and to collectively express their constructive views to the media and the nation. The collective is called Indian Muslims for Progress and reforms (IMPAR). The whole aim is to initiate internal reforms, adopting modern outlook, community service as well as building favourable social and political environment and to enable access to educational and economic opportunities.
Non-involvement of religious representative
However, a major drawback is the sidelining of religious leaders from the steering committee. Some of these members of the committee (as been mentioned in the website: http://impar.in/) are former Deputy Chairman of Rajya Sabha, Rahman Khan; former Election Commissioner S Y Qureshi, former Union Minister, Tariq Anwar; Roshan Baig; Chairman of Islamic Culture Centre, Sirajuddin Qureshi; Brigadier Saeed Ahmed; Special Police Commissioner A A Khan; former CRPF ADG Aftab Khan; former bureaucrat Anis Ansari; Educationist P A Inamdar; S W Akhtar; M M Ansari and others among UGC members and former central government officials. Among media persons are well-known journalists Saeed Naqvi, Qamar Wahid Naqvi, Qamar Agha, Shahid Siddiqui, Yusuf Ansari, Seema Mustafa, Saba Naqvi, Sheeba Aslam Fahmi and others. The chairman of the think tank is the Indian Chamber of Food and Agriculture's Dr M J Khan. The fascinating part is that the group consists of Muslims from every field of the Indian ecosystem from Politics, Media, Business, Education, Art, and administration/bureaucracy except the religious realm. The disbarring of the religious representative needs to be called out.
There is no representative from the faith, the binding factor of the IMPAR, or part of the existing religious group in the newly-formed IMPAR, which I found problematic in some manner. The earlier versions of Muslim organizations other than political ones are only involving religious scholars which made us more prone to tackling political juggling and confiscate the bitter taste of political motives. The loss and subliminal atrocities of the past are irreplaceable. Confiding leadership only to religious bodies does not work out for the Indian Muslims. Every political party darts the religious leaders in their own motives for asserting community representation with nothing in return. This is exactly the need of the hour to reorganize Muslims from every field of life to lift Muslims in a well-informed manner. The contemporary issues for Muslims have been changed and it needs a more wide and holistic approach to development. My concern is the negligence of the religious representatives of the committee, which makes it blemish and ill-motivated. The counter-narrative will eventually arise from the religious side within the Muslim society to avoid taking it seriously and thus, failing to maximize its reach. Religion is part and parcel of many of us and one can't simply remove it from representation as well. Thus, the representation from the religious leaders in the organization is essential making the organization multidisciplinary in true sense.
Impact of Non-involvement
To my understanding, there will be two major impacts:
First, two major divisions will grow in line with religious identity and political identity. The idea should be submerging socio-political & religious identity into one and then start the course of action, not dividing it into a larger internal gap of liberal and conservative. Both are part of identity. The inclusion of religious scholars makes it more versatile and provides more wide use cases to work for more collaborative development. The contemporary issue is allowing us to change but not on the compromise of religious identity.
Secondly, we face incomplete representation. Tawheed and driven to core Islamic belief makes Muslims more united and easy to work upon. Weighing only political & social stimulus and excluding the religious one will eventually make a weak course of action at ground level. The stimulus will not reach the grass-root level: the madrassas, masjids, or religious congregations. A huge Muslim poor population who can't afford education from schools enrolled in Madrassas or both enrolled to govt school and madrassas. It wouldn't better help IMPAR to connect with poor, less literate individuals and work on their upliftment. By excluding them, there will be a gap between the top and bottom levels and execution. It is by no means to malign the initiative but to produce more collaborative thinking to develop a better course of action that will eventually reflect in Muslims.
Hopefully, they're under the process of planning and should consider the engagement of the religious leaders as well. If I look into the other side of the organization it seems(which I assume) like a deliberate exclusion of religious notable people to make it acceptable in contemporary nature and fixing the "image" but here, image fix just becomes a media hideout, not the much needed all-round upliftment. The urge to bring sane voices from religious representatives is much needed in mainstream discourse. Also, A huge Muslim population listens to the religious leaders only and is been accepted in comparison to any other activists or group.
(Syed Khizar Ahmed is a Senior Software Engineer by profession. He tweets @syaahkaar and can be mailed at [email protected])