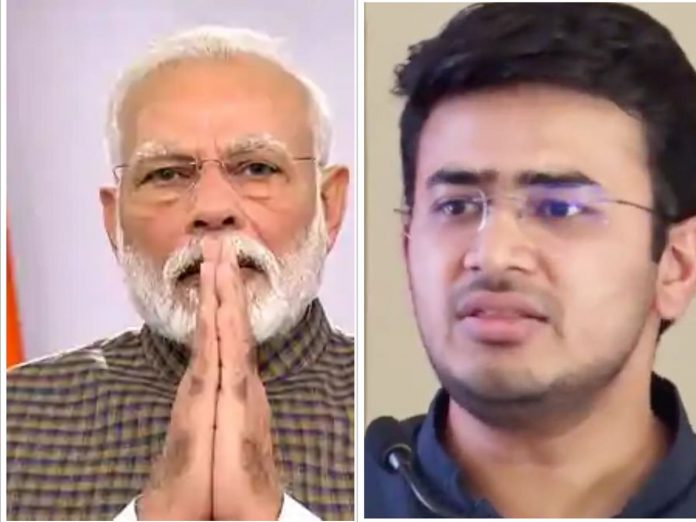 TCN News
Indians in Germany have addressed the Consul General of India at Hamburg to bar Indian MP Tejaswi Surya from speaking at the upcoming Indian startup conference.
"India Startup Conference 2020" being held by the Consul General of India in partnership with GloMan Consulting GmbH on October 7 to promote startups and support ongoing economic relations between Hamburg and India. Concerned Indian citizens at Germany have written to the organizers stating that it is "disheartening to see its speaker list include Tejaswi Surya, a highly provocative and communal politician from Bangalore, seasoned by the RSS."
Quoting his comments on secularism, "This is a new India we are creating….Your namby-pamby secularism that you people have built so far will not work anymore," the citizens have strongly objected having Tejaswi Surya at the event. The platform, originally designed to foster international cooperation in trade and investments between the two countries, has the name of the politician among the official register of panelists. Through the letter, Indians in Germany have questioned the decision of the Consul General, pointing that Surya is "a highly polarizing figure from Indian Politics' and he cannot be an eminent guest in an event that is actually inclusive in nature for Indians of all faiths.
The signatories have also recalled that Surya was a part of a pro-CAA rally where he called the Indian minority community "uneducated, illiterate, and puncture-wallahs who were against the CAA." The letter has further invited support from all over to condemn Surya being granted a platform in the country, stating that "it is extremely concerning to see an official platform is being given for such a controversial figure." It also highlighted that the BJP leader has "abhorrent and dehumanizing views," and with his communal views being "publicly available," the conference will "achieve nothing but further division and right-wing radicalization on the German soil."
The signatories have requested participation of global citizens in boycotting Tejaswi Surya as panel speaker at the startup conference by signing up at the link (https://forms.office.com/Pages/ResponsePage.aspx?id=nyxunP7dQEWVuZqHak1C6t_My-KlgC5Omd8agVLsYElUMFdDN1BVMUFPVDZEWVpDQTREMkNEU1A3Wi4u), concluding that:
"We cannot allow such polarizing figures to find a safe haven in Europe. We want the European diaspora to respond by raising objection with the Indian Consulate for making him a guest speaker in the event. We will be sending this letter to the Indian consulate, Hamburg and also to human rights groups."