By Chinki Sinha
A crane, many skyscrapers and an evening sun reflected on the windows of the buses. The migrants kept staring at the road ahead. When they got near the New Delhi Railway Station, they didn't look outside the window of the buses that ferried them from shelter homes in the city to the station where the first Shramik train would take them to Bihar. That was on May 9. By then, many migrant workers had already started the long journey home. Sometimes on foot covering thousands of kilometres in the harsh sun. Many died. The Bihar government was opposed to their return. They said the state had no resources to ferry them back. It was finally on May 9 that the first train to Bihar with the workers on board left Delhi. But on the road, you would see thousands walking and cycling back home.
On May 20, Balram Kumar and Shyam Kumar, two migrant workers from Bihar, were dragging a rickety old bicycle they had managed to buy in Delhi. They were returning to Bihar like many others that night who had been stopped at the Delhi-Noida border.
Shyam used to drive an e-rickshaw in Najafgarh. Balram, who came to Delhi as a 15-year-old seven years ago, used to work in a chai stall and then took a loan of Rs. 30,000 to buy an e-rickshaw. He used to rent out a small room in Noida. He got the e-rickshaw two days before the lockdown was announced and when he ran out of money, Shyam asked him to come to his house. He somehow managed to get to Najafgarh. But both decided to leave for home after it seemed to them that lockdowns would become an endless chain. They had no money and no food. So they decided to cycle their way to their village in Samastipur in Bihar. They bought an old rusted bicycle for Rs. 500. It looked like it could break down any moment but they put their trust in it. They had Rs. 1,000 with them. They gathered their meagre belongings in two small bags and left Najafgarh on a Tuesday morning to reach the Delhi-Noida border in Mayur Vihar extension so they could cross into Uttar Pradesh.
"We tried to register for trains, for buses, for ration. We couldn't get anywhere," Balram Kumar said.
Next morning, they found a bus to Muzaffarpur.
Among the things they carried, they carried the still skies of the city, the humidity, the hunger, the bites of the mosquitoes, the stench of sweat, the fear, the betrayal, the abandonment, and the loss of dignity.
Many migrants have returned to the cities. In the elections in Bihar, the migrant labourers are ghosts. They don't matter. But Balram Kumar knew this even then. He says their presence or absence don't matter.
In Bihar which goes to polls in a few days, the migration of labourers is an issue not many are raising except perhaps the opposition with its manifesto that promises 10 lakh jobs. Leader of Opposition Tejashwi Yadav slammed Chief Minister Nitish Kumar for being unable to create jobs in the state. The labourers are again returning to other states to find work. Tejashwi claimed nearly 40 lakh migrant labourers returned home during the lockdown.
Speaking with TwoCircles.net, Subir Sinha of School of Oriental and African Studies (SOAS) in the UK says the inability to remit money home may be a reason why so many want to return to cities soon.
"I think the whole country's aspirations have been dialled down severely. For migrant workers, it is about adequate food, health care, tiding over this crisis, getting another job when all this is over," he said.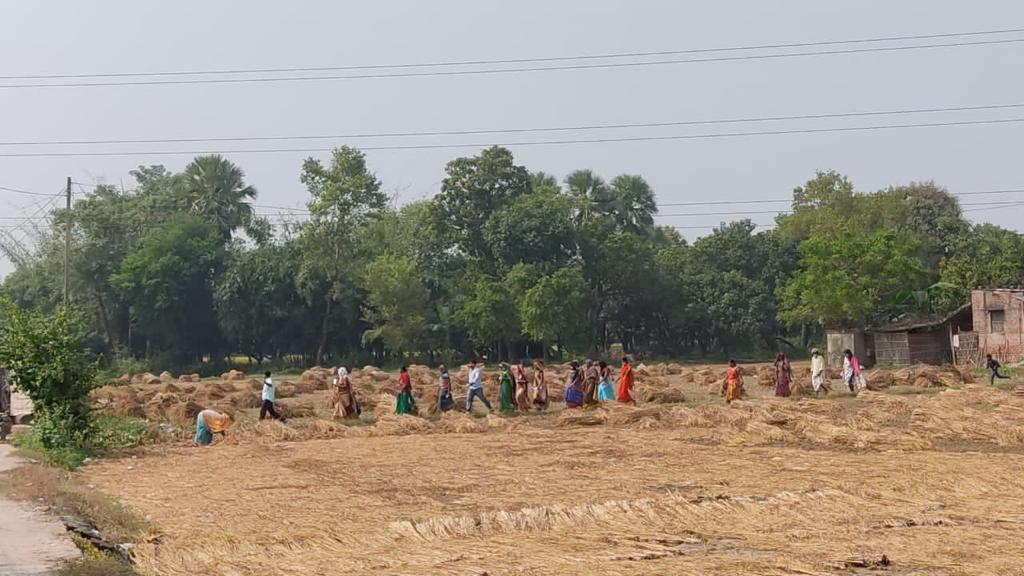 By June 2020, at least 32 lakh migrant workers returned to Bihar and the resources at the state level were barely enough to aim for any resettlement of these workers.
The Inter-State Migrant Workers Act, 1979 which aims to safeguard migrants, is hardly enforced and the data that is provided by the Census and NSS that impact on policy-making does not capture seasonal and circular migration, which makes many of them miss out in BPL Surveys. They might even miss out on their right to vote, which makes them participants of a formal electoral system. They are then easily dismissed and their concerns don't matter.
The election-bound state of Bihar has the highest proportion of outward migration of workers in the country and while it might not be the single-biggest agenda in the elections as of now, it is one of the issues which the opposition has included in its manifesto linking it with their promise of providing jobs.
The Election Commission has enrolled 6.5 lakh new voters over the last six months.
The government announced the Garib Kalyan Rojgar Abhiyaan (GKRA), an ongoing ambitious campaign for providing work to the migrant workers and poor sections affected by Covid-19 induced lockdown but that hasn't been enough.
In Sirhulli in Darbhanga district, Ganesh Ram, 30, points out a bunch of men lying in the corridors of a temple by the road. Ram returned to his village from Mumbai in March before the lockdown was imposed. He was working at a factory that paid him around Rs. 14,000 per month.
"There is a lot of stress but what can we do. We have nothing here. We are taking loans from the moneylender to buy food. Our employers are not taking our calls. We don't know what to do. Nobody has come to help," he says.
In the temple premises, men are sharing their hopes and fears. Through the day, they sit here waiting for tides to turn.
Jitender Kumar Prasad, 26, who worked in Gurgaon in an export house, migrated when he was 16 years old.
"Everyone in this village goes away. Even women. Only old people stay back. There is nothing here," he says. "We returned somehow after our money was over. And we count our days here. Who cares to even listen to us."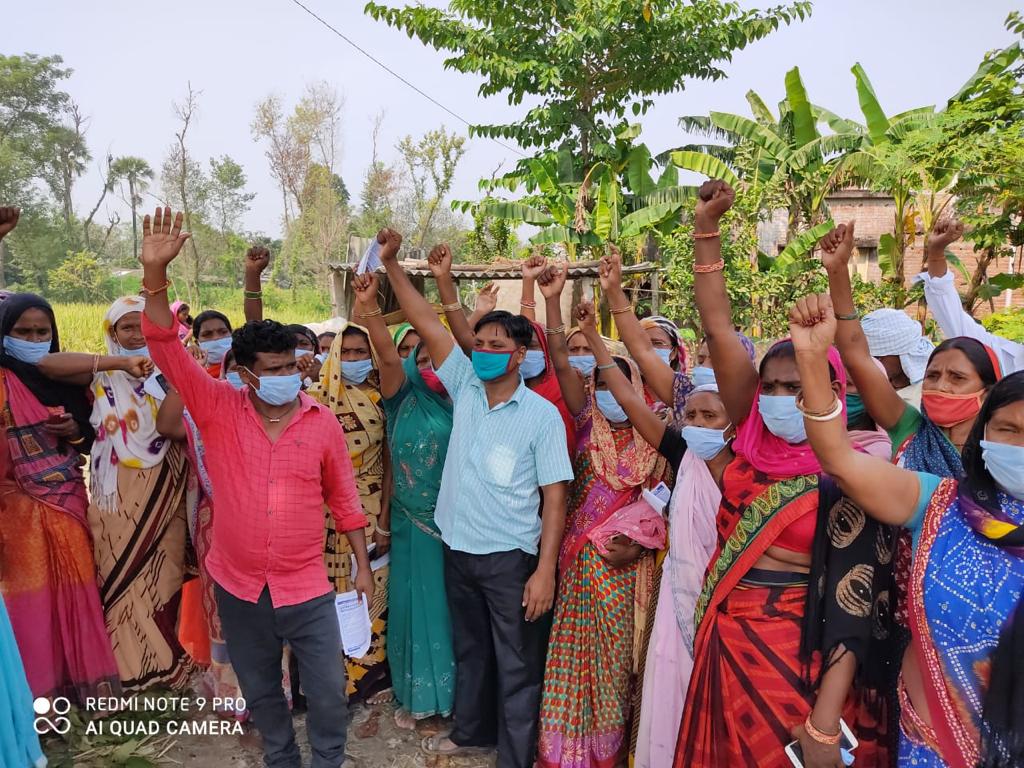 There is some resilience. There is also anger and frustration.
"We will fight until we can. But what we have learned is that they (government) don't care," Kumar says. "We also have a lot of stress about how we are going to survive."
In Majhauli in Muzaffarpur, Sushil Rai, 36, was planning on going back to Hyderabad where used to work in a textile factory along with his friend Suresh Kumar and his young son. They had booked their train tickets for October 7.
When the lockdown began, Suresh used to come to his friend's room and cry often. They had no income and they would watch police beat up people who ventured out. Suresh wanted to return to the village. He was traumatized and so they left on foot and later found means of transport and reached their village in five days.
"He was very scared," said Sushil Rai.
From their house in the village, you can see the vast expanse of the fields still submerged in water. They didn't get any money that was announced for flood relief. They ran out of their savings long ago, said Rai.
"Our government abandoned us. Who cares about us anyway? And we cry, we don't sleep, we think and think. Who do we tell all this to?" he asked. "We are nobodies. We won't stay for the elections. Who cares about us?"
The Nitish Kumar government had announced a deposit of Rs 1,000 for every labourer. About 50 per cent of them were deprived of government aid, as per reports.
This was expected. According to Ajeet Kumar Pankaj, a professor at the Department of Social Work at the Indira Gandhi National Tribal University in Manipur, migrants have never mattered in elections because they don't have the negotiating power and are still affiliated to caste identities that assume prominence during elections in Bihar.
It didn't begin very well with the state government of Bihar treating the migrant workers in a way that showed the apathetic approach to their situation, he said.
"The Nitish government denied entry to migrant workers in Bihar. The migrants had to face multiple issues in villages and there was surveillance from the police and local leaders. Many wrote this will be a big thing in Bihar elections but we are not seeing any outrage. There is an alliance between the BJP and the JD (U). The BJP government had given them Rs. 500 for three months. What they expected was the better treatment from the state government. They are unhappy with the Nitish government. The migrants have no scope within this alliance," he said.
Migrants have been considered as the floating population who are sought after in local panchayat elections but not in state elections.
"Bihar election is at an odd time. They lost their lives and jobs. And even migrants are not opposing the government. They don't have negotiating power. The migrants are bound to their caste identity and they support political parties that have alignments with their castes. They have a soft corner for RJD that is concerned about lower caste groups," he added.
The other narrative that is gaining traction is that if the Nitish Kumar led government comes into power, it would mean there is no Yadav terror.
Kamayani Swami, the national convenor of the Jan Jagran Shakti Sangathan, a rural workers trade union, said the crucial thing for Bihar should have been the migrant labour issue but the media talked about late actor Sushant Singh Rajput and the drug cartel and the former Director-General of Police Gupteshwar Pandey and his launch.
 "I am part of a union that has taken a stand that we would want a change in the government in favour of the working people so that the democratic ethos is upheld," she said.
In the Kurhani Assembly segment, a labourer and a migrant worker Sanjay Sahni has filed his nomination as an independent candidate. His campaign, supported by thousands of labourers, is now in full swing and the lack of resources to print posters hasn't been a deterrent. The MNREGA activist wakes up at 4 am and with his group of labourers, a large section of which include Dalit women, he travels on foot and on cycle to different villages to talk to people about issue-based politics as opposed to caste-based politics, which has long been anathema for Bihar. He is pitched against BJP's Kedar Nath Gupta.
Kurhani Assembly constituency has a total of 2,50,268 eligible voters.
Sahni is a class 7 dropout and former migrant worker in South-West Delhi's Janakpuri. He was born in a poor family and his father worked in Delhi and Kolkata and mother stayed back in the village to run the family. There was no work in his village Mahant Maniyari and Sahni left for Delhi at the age of 19 to find work. He first came across the mismanagements of MGNREGA funds in 2011 and floated the 'Samaj Parivartan Shakti Sangathan (SPSS)-MNREGA Watch' to spread awareness among MGNREGA workers and act as a watchdog on policy implementation.
It hasn't been an easy life. He still works as a daily wage labourer, he said over the phone from his village.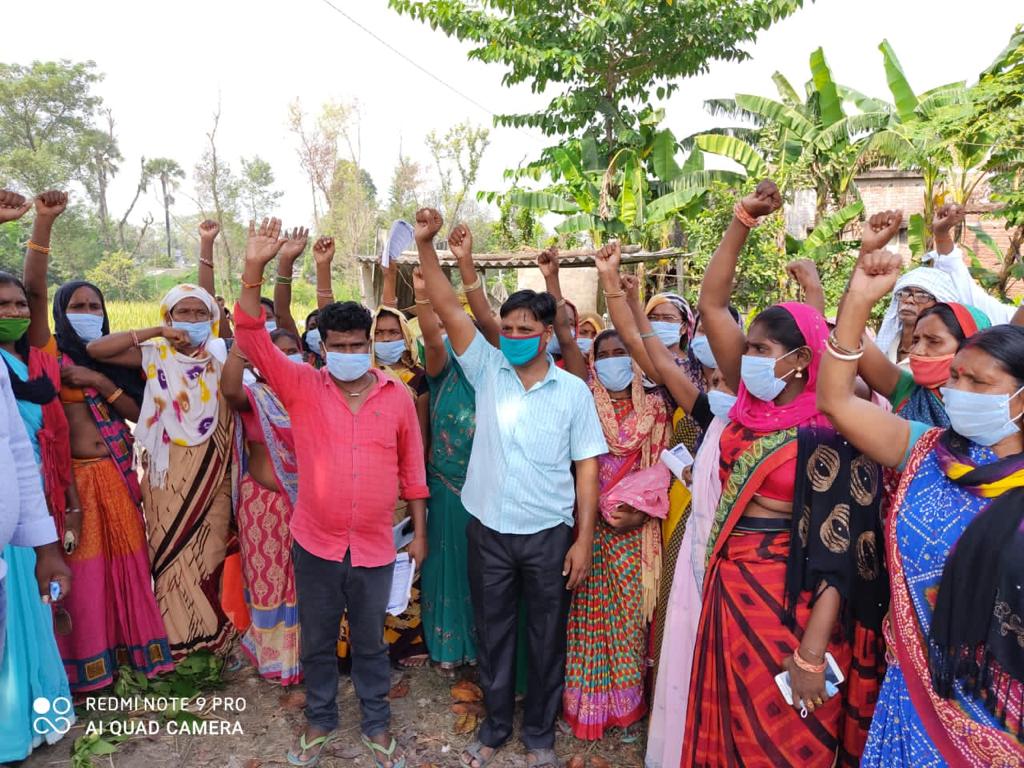 It was last year that he first toyed with the idea of contesting elections based on collectivizing the workers in his region.
During the lockdown, Sahni helped many migrant workers who were stranded in different parts of the country through SWAN: Stranded Workers Action Network – a diverse group of around 80 researchers, students, civil society groups and labour leaders. Sahni would provide them with bank account details of stranded workers for direct cash transfers.
"I contacted 21,000 workers during the lockdown. I know what happened to them. I saw their tears. They were falling sick. So many accidents happened. We want to represent ourselves. I am fighting elections with a lot of difficulties," Sahni said. "We don't know how to print the election symbol. I have never fought elections. The workers are very happy that I am standing. I am not afraid. I have to fight for the workers."
In villages, they donate rice, wheat and small amounts of money and that has kept them going.
"That's how we are funding ourselves. Aruna Roy and Jean Dreze are here and they are helping us," he said.
While independent candidates like Sahni have no political clout in a state where elections have always been fought over caste identities, Sahni's candidature is symbolic at least in a way that it indicates a political shift, however small, towards issue-based politics.
Jeffrey Witsoe, an anthropologist based out of the US who spent several years in Bihar and the author of Democracy Against Development: Lower-Caste Politics and Political Modernity in Postcolonial India, said the strength of Sahni's candidacy will reflect the extent to which a migrant or a labourer political identity will emerge in Bihar or continue to be subsumed by caste and religion.
"The migrant workers' political identity is even weaker than those who live here," he said.
Chandan Shrivastava, assistant professor of Hindi at Jai Prakash University in Chhapra in Bihar says one needs to see the mental health of the migrant workers in a political context.
Long before the visuals of the exodus of the migrant workers started to pan out in mass media, he received a message from a friend in Aajeevika Bureau based in Rajasthan that works with migrant labourers. There were screenshots of two letters that the friend had sent to him.
The letters had been written by migrant workers stranded somewhere in Mumbai. They were written in broken Hindi and they had their phone numbers and an appeal to help them get to their villages in Bihar.
"It was a helpless situation. I gave it to a few journalists who had been my students and the story was published in Dainik Jagran. I didn't know if those workers reached. I couldn't find out. I don't know if the government did anything," Shrivastava said. "I didn't have the courage. But what came to my head from this story was not what was obvious. I thought who will this person go to. For him, the whole world was a void. There is a phone number that he has and he is distributing that to everyone like if you are stranded on an island and you are waving a flag hoping someone will see it. We were not these planes that could rescue him. The state of lockdown that was imposed negated that man."
Around the same time, students stranded in Kota in Rajasthan were being called back home and these workers were abandoned.
They weren't a priority for anyone, he says.
That abandonment must have led to trauma, to a sense of isolation, of alienation but then in a state where the workers' bodies are seen as sites of work, how does the society even acknowledge they have a mind or a heart and those can be affected by a pandemic and the lockdown, the professors argues.
The central government had said on record they don't have data on migrant labourers during the lockdown. The ministry also said it did not have any data of migrant workers who lost their jobs and their lives during the COVID-19 lockdown.
Minister Santosh Kumar Gangwar said, "no such data is maintained".
"This society lives in gradation. If there is a mental trauma, the migrant workers share with each other. Pain also creates a community, a collective," he said.
The one regret he has is that he couldn't see Lal Quila or India Gate. He arrived in Delhi on March 18 on his own to look for a job as a security guard. A few friends gave him some space in a shanty in Sagarapur. The lockdown was announced soon after. His friends left. Manish Pandey still hoped he would get something after the lockdown would end. He waited for two months and had no money. His elder brother, who used to work as a driver, lost his job back in the village in Bihar. For the 20-year-old, it was a journey that lasted many days. At first, they ended up in a shelter home, then on a train to Sadaram in Bihar that took more than 40 hours to reach and they had no food or water and then they were ferried to a quarantine centre in Chitwon where there was no food or water. After six days, he and the others left the centre and returned to their homes. There was no staff or police at the centre.
"We have no work here," he said.
He is planning to go back to Delhi in November to find work.
"Maybe this time we will vote for the RJD," he said. "They talked about bringing us home during the lockdown. We will show him our gratitude."
Manish took a Rs. 40,000 loan from the money lender in his village over the months he has been here.
"The state government didn't help us. There was nothing for us here," he said. "I will go and work and repay the loan but I am happy that someone is talking about us. I am hopeful that things will get better for us."
And with that hope, there is some shift. Not a lot. But enough to build upon.
Chinka Sinha is a reporter based out of New Delhi.