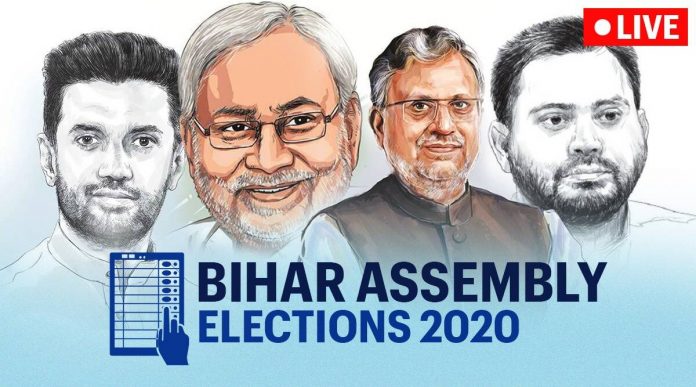 By Ehaab Qadeer
There will be politicians flying from Raisina Hills to reside in Maurya Hotel and to sell concocted promises to the people of Bihar saying they will make Patna, Darbhanga, Siwan India's Oslo, Wellington and Auckland per se in the next 5 years. What could be done with such politicians? Should they be sent backpacking? Or perhaps should they be asked to have a night stay in Ramsala before rallying in Darbhanga amid the locals to make them comprehend the gravity of hunger, poverty, unemployment, daily wagers issue, security threat? It's a tough question and it is Bihar.
---
Support TwoCircles
---
Every voter knows their leaders are here to deceive them because deceit flows in their veins. There is barely any difference in the state of affairs between 2005 and 2020. Poverty and unemployment have been at an all-time high.
Just to allay the anger of the voters, numerous alliances have been formed.
There is JDU led Chief Minister Nitesh Kumar and BJP's alliance. JDU has shaken hands with Jitan Ram Manjhi's HAM and on the other hand, BJP has tied its knot with Mukesh Sahani's VIP. BJP is fielding VIP to inflict JDU indirectly by giving them 11 seats. Whereas JDU has given 7 seats to HAM to field their candidates against BJP. This happens to be the first equation and alliance.
Secondly, NDA ally LJP leader Chirag Paswan came out to be a rebel against that very alliance on which BJP is banking upon in the state. Chirag Paswan has been calling out against Nitesh Kumar's anti-incumbency. Interestingly Chirag is fine with Modi's antics to promote NDA's candidate Nitesh Kumar at the cost of discrediting LJP discredit and yet he would be a Hanuman to the PM.
Former Maharashtra CM Fadnavis is rallying in Bihar backing Nitesh Kumar, saying that even if BJP happens to bag more seats than JDU, under these circumstances as well Nitesh Kumar would be the CM. It is the same Fadnavis who refused to share power with the oldest BJP ally Shiv Sena in Maharashtra which eventually cost them the state is now vouching for Nitesh Kumar. Three of the oldest allies of BJP on the national front are Akali Dal, Shiv Sena, and JDU. Whereas Akali Dal and Shiv Sena have broken its ties with NDA, and JDU's departure is inevitable by the end of 2020.
Chirag has fielded his candidates exclusively against the JDU. The stage is set to dethrone Nitesh. But there is an existing alliance to dethrone Nitesh already led by INC-RDJ-CPI. They have their equations, where INC will be contesting on 70 seats prioritizing upper caste candidates. Then there is also a third front to counter NDA and UPA but largely UPA led by Upendra Kushwaha and Mayawati with the aid of Owaisi as well.
These 3 fronts are ready to lock horns in the battlefield of Bihar wrapped with deceit and chicanery, pleading voters and asking them to tip the scale in their favour. Nobody would know the bitter truth why Chirag would never shake hands with Tejashwi even if push comes to shove, even though JDU understands VIP and LJP has been put to the field by BJP to dethrone Nitesh. The question is why are they in alliance with BJP?
Right now INC has opened its door for Nitesh despite RJD not being okay with the status quo because power is a highly addictive drug. If not King they would want to be the Kingmaker like they were in Maharashtra and Jharkhand. Voters are completely unaware of the post-poll alliances but one thing the voter is aware of that every political party is thirsty for their blood and sweat.
The truth behind the political campaign is entwined with bargaining and blackmailing.
Nitesh is sound with his rallying strategy where he told the Prime Minister that they would be sharing the stage in all the 12 rallies. This was just to send a loud and clear message to the voters. Since 2014, the Prime Minister has never been in such a labyrinth ever before where if he doesn't share the stage with Nitesh will put BJP on the back foot. However, if the Prime Minister holds Nitesh's hand post-election, it will lead to another turmoil. Whatever will be the outcome, the voters will know in the coming days.
Ehaab Qadeer is an MA Graduate (Communication and Journalism) from KC College, Mumbai.
SUPPORT TWOCIRCLES
HELP SUPPORT INDEPENDENT AND NON-PROFIT MEDIA. DONATE HERE