According to a report by Sarva Shiksha Abhiyan, an Indian government programme aimed at universalization of education within a time frame, Dalgaon was the worst-performing block in north-eastern Indian state of Assam. The first story in four part TCN Ground Report series looks at teacher-student ratio in Darrang district of Dalgaon Education Block and what ails education in the region, which has a predominant population of Muslims.
Mahibul Hoque, TwoCircles.net
Up to 126 students stuff the classrooms at No 3 Shayampur Middle English (ME) Madrasa, a government school in the Darrang district of the northeastern Indian state of Assam. A total of 938 students are accommodated in nine classrooms at the school, which only has children from 5th to 8th standard. As there are too many students in each batch, each class is divided into three sections resulting in a shortage of teachers to be present in every classroom.
"Since there are not enough teachers for each class, we merge two sections so that students are not left out of the classrooms and that is why we have such a huge number of pupils in one room," said Muslim-ud-Din Ahmed, 52, a subject teacher at the school.
Teachers at the school told TwoCircles.net that when two (sometimes three) sections are merged, students cannot even find a place to sit nor they can write down the instructions. There is little space left for the teacher to move around the class and check what the students are doing while the class is going on.
Teachers said that they find no time to check the homework of the children as checking too many copies requires a lot of time. "If we spend time checking the copies, then when do we take classes? This is how we also miss out on noticing the individual progress of the students," Ahmed said.
"Cramped with a lot of students, naturally the classrooms become noisy and teachers usually have to scream at the top of their voice to control the situation. That's how some students get scared of the teachers, which is contradictory to a cordial teacher-student relationship," he said.  
No 3 Shayampur ME Madrasa falls under the administration of Dalgaon-Sialmari Education Block of Darrang district, which has one of the highest enrollment rates in the district. Around 115 kilometres north from state capital Guwahati, the school is among 24 ME schools from the educationally backward block which records the worst teacher-student ratio with 156:1 for the school year 2020-2021, 'presumably among the highest in the state and the country doubtfully'.
The school had 885 students against 5 teachers during 2019-2020, forming the teacher-student ratio 177:1.
Similarly, Mahmud Alam Hussain, the headteacher at Aliganj Lower Primary (LP) School complains that he has not been able to find an assistant teacher for the last three years to manage the classes. 
Hussain and his only co-teacher look after the 133 pupils enrolled in the school.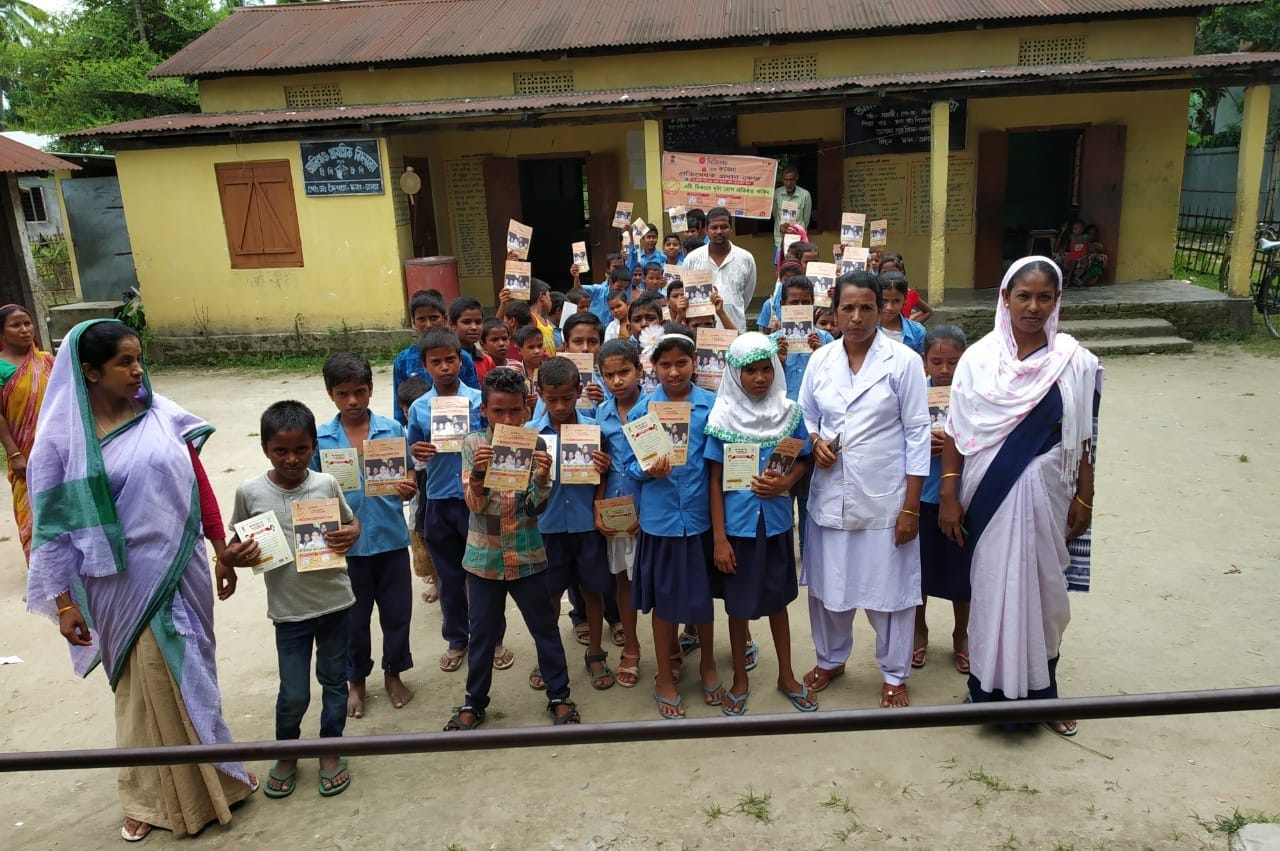 Aliganj LP School is situated at Namati village, just around 110 kilometres northeast from Guwahati in the same education block. 
Dalgaon-Sialmari Education Block also referred to as the Dalgaon Education Block of the district which has a Pupil-Teacher Ratio (PTR) of 35.88:1 in the lower primary section (from first to fifth standards) for the year 2019-20.
This is almost at par with Bihar, the worst-performing state in India with 38:1 PTR and second-worst performing Delhi Union Territory with 35:1 according to the Ministry of Human Development data. The HRD ministry based its data on Unified District Information on School Education (UDISE), which maintains school details for both government and private schools, records for 2017-18. PTR or student-teacher ratio is the average number of pupils per teacher at a specific level of education in a given school year. PTR is an important indicator in the process of implementation of the landmark Right to Education (RTE) Act 2009 which stipulates that each school should maintain at least one teacher for every 30 students in the lower primary section of schools, and 35:1 for the upper primary schools.
Distressing PTR in Upper Primary
From sixth to eighth standards, i.e. the upper primary section, Dalgaon education block has the worst PTR in Darrang district. There are 30 upper primary schools under the block which had 10,797 students for the school year 2019-2020. Against these students the block had only 220 teachers, making the PTR stand at 49:1.
Only six upper primary schools from the block had PTR of less than 35:1, and the rest varied from 37:1 to 177:1 for 2019-2020.
India's national PTR for 2017-18 was 24:1 for upper primary schools, while neighbouring Sikkim, Nagaland and Manipur had the distinction of best performing states with PTR rate of 6:1, 8:1 and 9:1 respectively. 
The rural-urban divide
The Dalgaon education block provides a peek into the dismal condition of primary education in rural India. 
A look into the available government data from the Department of Education and Literacy for the year 2017-18 reveals that India, as a nation has significantly been able to comply with the RTE Act's 30:1 teacher-student ratio. In fact, the country has been able to achieve an impressive PTR of 23:1. While the nation's PTR has been commendable, Dalgaon education block's state, Assam, has performed even better by maintaining a healthier PTR of 21:1 for the primary section.
As for the Darrang district, it has matched the national average of one teacher for every 23 students. In total, the district has 1,053 government or provincialized schools and 3,909 teachers against the 91436 enrolled students according to the UDISE 2017-18 database.
This data reflects PTR from three education blocks— Sipajhar, Kalaigaon and Dalgaon, however, the Dalgaon block lags far behind the other two education blocks of the district.
Data obtained through the Right to Information (RTI) Act 2005 shows that Dalgaon block had 445 government or provincialized schools. Of these, 65 per cent of schools had worse PTR than the stipulated 30:1 for the school year 2019-2020 in the lower primary section, which translates to grade I to grade V.
"There are several schools which have a single teacher. In my Namati cluster, there are 12 schools but only three has RTE stipulated PTR, rest have only two teachers each whereas the number of students is more than hundred," Hussain, the headteacher at Aliganj Lower Primary (LP) School, said as he narrated how he has been struggling for the last three years after one of the teachers at the school retired from service.
The gravity of the problem can be gauged from the examples of Panbari Gaon LP School. The school had only one teacher for 128 students, and Nadirkash LP school, which had 3 teachers for 298 students making the ratio stand at 99:1.
According to a report by Sarva Shiksha Abhiyan,, an Indian government programme aimed at universalization of education within a time frame, from 2003 to 2009-2010, Dalgaon was the worst-performing block in the state. The report noted, "The data shows that PTR of Primary School of this district is 30 and that of Upper primary is 36. In the Primary category, the Dalgaon block is having the highest PTR (57) and for Upper-primary Dalgaon have the highest PTR (73) and the lowest PTR (16) and (20) in Sipajhar block in Primary and Upper primary level respectively."
Why the minority education block is ailing behind
Since 2012, Assam has been recruiting teachers through an eligibility test called Teacher Eligibility Test (TET). Following the first TET exam in 2012, the state government recruited 40750 teachers much to the hopes of concerned circles in the state.
"This recruitment brought massive relief as schools under our education block saw several new teachers joining and we were hopeful that the new teacher appointments would reduce the teacher-student ratio gap, which initially happened as well," Fakarudding Ali, a teacher at Baruajhar High School under the same education block, said.
However, their hopes started to fade within a few months after the appointments of TET teachers. Though the state government, then led by late chief minister Tarun Gogoi and his education minister Himanta Biswa Sarma, laid out that teachers would not be transferred at any case expect mutual transfers (teachers exchanging their schools as per their convenience), on the contrary teachers from remote villages started to take transfers.
Headmaster of Habiganj LP School Abul Kashem told TwoCircles.net that from his school, three TET teachers left the school within a few months of their appointments. "They came with official transfer orders, which I had to comply with. Though their transfer should have been a mutual arrangement, but I did not get any replacements for them," Kashem said.
Prejudice, long distance add to low PTR
Many teachers from the block reflected upon why such transfers were allowed up to 2018. "Unfortunately a teacher was allegedly raped at Chikonmati Tea Estate in 2013. Following which several teachers especially women were transferred from this education for their safety," Ali said.
"However, for one untoward and condemnable crime, you cannot blame the whole community. The safety and security of the teachers are the responsibility of authorities. Instead of taking safety measures, authorities got the teachers transferred from Dalgaon block eventually leading to this worse PTR and leaving the students vulnerable to become slow learners," he added. 
The Dalgaon Education Block is considered an educationally backward block and it was included in the District Primary Education Programme's (DPEP) Pilot project. The project was introduced in 1994 to cater to the educational needs of specific communities, localities, universalize access, improve learning achievement, retention and reduce disparities among social groups.
The educationally backward block has since seen relative progress, but the PTR in the block remains poor even after decades of intervention of various educational missions. 
While the RTE also envisages the rationalisation of teachers— getting teachers to those areas where PTR is not in compliance with the stipulated 30:1 from areas which has a surplus number of teachers— Dalgaon education block has not seen the distribution of teachers.
What teachers say about poor PTR
Haidar Ali, a former Cluster Resource Coordinator (CRC) in the education block said, "While the number of student enrolment is high in this Muslim minority block, teachers have not been appointed in this block accordingly. There are blocks which have far better PTR within the district, the authorities can rationalize teachers from that block to Dalgaon."
He further said, "While announcing the vacancies in Darrang district, the government took account of all the three education blocks. Of the three, two blocks have healthy PTR which makes the average PTR in the district better. Thus, vacant positions remain low in the district whereas Dalgaon block faces the shortage of teachers".
Echoing Haidar's views, a teacher under the Daipam cluster, who wished to remain anonymous said, "In our school, we have 180 students and there are only four teachers. We are entitled to two more teachers but there has been no appointment to our school even the government recently recruited teachers."
The teacher who travels around 70 km from Baihata in Kamrup (Rural) district to reach his school in Daipam cluster also said that he along with some other teachers used to stay a rented accommodation in Bechimari (a small township area around 8 km from his school) before the outbreak of Covid-19. "I have to travel around 70 kilometres every day to reach my school. As it takes a lot of time on public transport, I along with other three teachers from nearby schools use a shared car for our travels to schools. Obviously, I look for opportunities to get a mutual transfer," he said. 
Apart from distance, prejudice impacts the bad PTR in the education block as well. 
A woman teacher, who is in her forties from Golaghat district which is 220 kilometres away from Mazgaon village where she is appointed to work in Dalgaon block, told TwoCircles.net, "Before joining here, people at my place told me that the entire region is Muslim dominated and it might be difficult to work there. In one instance, another candidate from my place did not even join her school as she had this notion of a bad environment in the area. But I have been working here. I have been respected, and comfortable so far."
However, the woman teacher said that she is also looking for a mutual transfer as soon as possible. "I travel from Rowta to my school which takes more than one hour, sometimes, I have to wait a lot when I change the route. I even have to walk for 3 kilometres sometimes to reach school. That is a problem for me," she said. 
When asked about why she is not willing to take accommodation in the nearby area, she said that she has been staying with family friends, "a comfortable option for her."
"My father-in-law is ailing and my husband is also working. He alone cannot attend to his father. I am the only woman in the family so I feel that me, being at home, would be helpful for all of us," she said. 
"Though the non-mutual transfers have been stopped for the last two and half years, the damage in terms of a low number of teachers has been done in this minority block. This has a ripple effect of low score in tenth and twelfth and eventually dropout cases in secondary years," added Fakaruddin about the low PTR in the greater area of Dalgaon, Bechimari, Kharupetia and Dhula, the main townships within the education block.