On the sidelines of the Jaipur Literature Festival (JLF), writers reflect on the experiences of writing on the issues of marginalized communities in India. 
Tabeenah Anjum | TwoCircles.net
---
Support TwoCircles
---
JAIPUR, RAJASTHAN — "It is like a tug of war from the two sides and that is the challenge, we as writers are facing in the present times," Hansda Sowvendra Shekhar shares on what it means for a writer to write about marginalised communities.
Ethnically, Shekhar is a Santhal, one of India's Adivasi groups. He writes primarily in English. He also translates from Santhali to English and Hindi to English. 
Speaking to TwoCircles.net on the sidelines of the Jaipur Literature Festival (JLF), Shekhar talked about the current times and challenges a writer from the Dalit community is facing. "It is like walking a tight rope, what you can say and what you can't. The writer inside you urges you to go ahead but the safe cushion of a government job tells you not to do it. I was suspended from my job and my book was banned in 2017 for telling stories about my culture," Shekhar said.
In August 2017, the government of Jharkhand banned The Adivasi Will Not Dance: Stories and summarily suspended Hansda from his job, alleging that the book portrayed Adivasi women and Santhal culture in a bad light. The government's actions were widely criticised and subsequently the ban on book was revoked in December 2017. A year later, Hansda was reinstated into his job.
Speaking on the void in the marginalised communities and a need to tell their stories, Hansda said, "There is existing literature in vernacular languages. For instance, the contribution of Manoranjan Byapari, as an early writer of Dalit literature in Bengali is huge. Similarly, Bama Faustina Soosairaj's contribution as a Tamil Dalit feminist committed teacher and novelist is immense. But again their work was read by masses only after the due translation."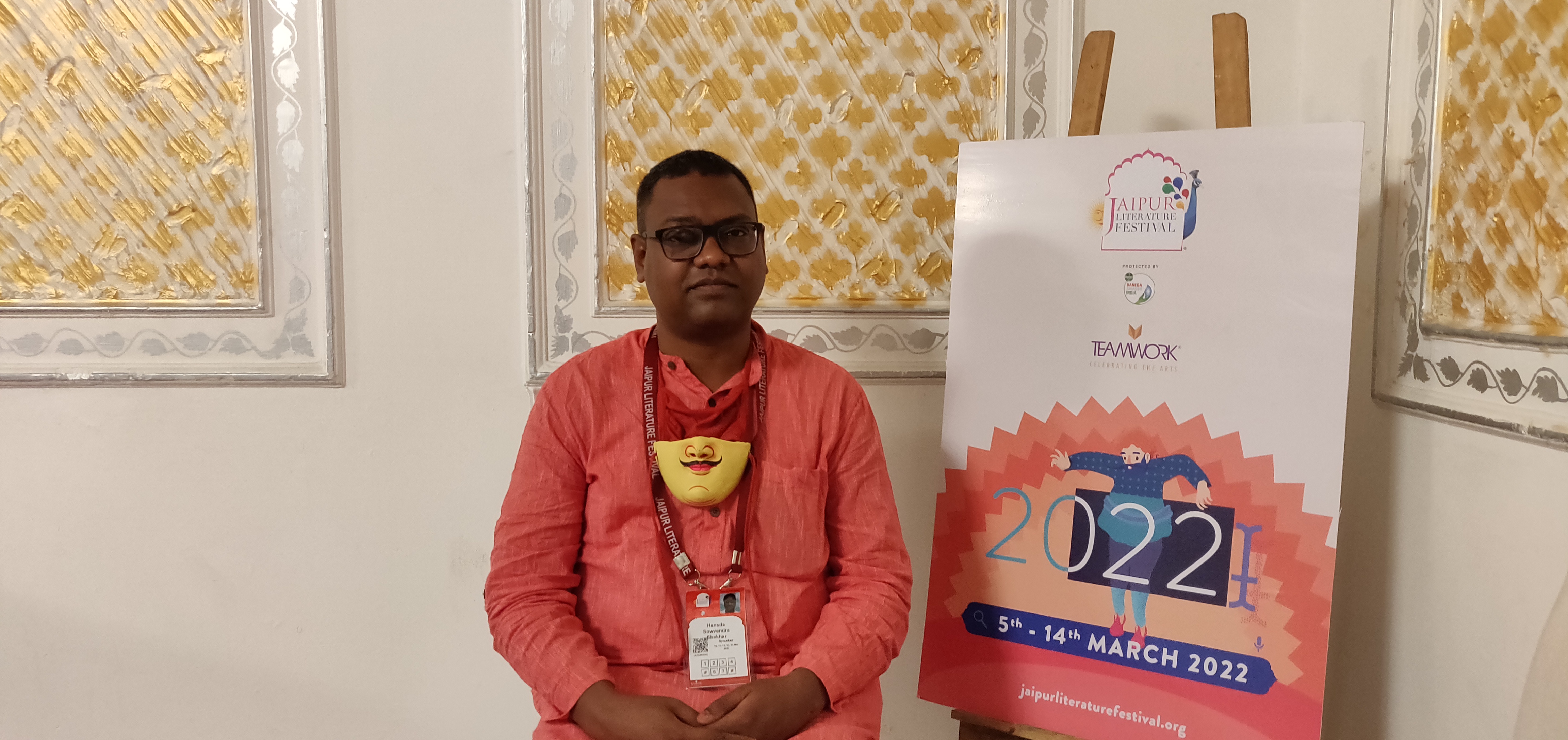 "Again there is a void of strong voices coming from the Dalit communities. Because it depends on where the writer is coming from. For instance, I grew up in hinterland but at the same time, I was privileged as I could go to an English medium school. English medium school gives me language. I can't generalise it but at the same time hinterland gave me stories. And I could use both while narrating a story effectively," he said. 
Stressing on the need for diversity in literature, Hansda said, "While writing about marginalised communities a writer should represent them as someone exotic or someone they should pity. Except for the northeast and a few writers usually, the writers coming from marginalised communities do not write in English. Hence there is a strong need for translation between Indian languages and in English too," added Hansda, whose fourth book, a novel entitled My Father's Garden, was shortlisted for the JCB Prize for Literature in 2019.
Echoing Hansda's views, Meena Kandasamy, poet and activist whose second poetry book India is my Country, believes it's the responsibility of the writers who do not belong to the marginalised community to write about them.
Talking to TwoCircles.net in Jaipur, Meena said, "Those writers who come from other privileged communities, it is their duty and responsibility to write about the marginalised communities. When you already have the audience, it is your responsibility to throw the light on what is happening to our society. I don't think privileged writers should say that it is not my cake or my cup of tea and walk away from it if you have privileged then you must bring light on the oppression."
"Whether you want to write about hunger, midday meals, women or domestic violence. I think writers from all sides will have to write", said Meena, author of the poetry book Ms Militancy.
Talking about her upcoming book India Is My Country, Meena adds, "The book is full of political poems where I am responding to the things around us, situations, issues and circumstances."
"Irrespective of who we are, there is always something that we don't know about. I grew up in Chennai. My first novel was about a tiny village in south Tamil Naidu. Even if you know about caste discrimination, it is not necessary that you would know about landless people, and understand how they live. I don't think one experience in life is the only experience", she added.
"Within the marginalised communities, more voices should come out. My father comes from a nomadic community who do fortune-telling. But do I write about my own family relation? Even if you come from a marginalised community, it is not necessary that you have to write about them. Hunger was the biggest problem, my father narrates stories of these people who resist this hunger. Your writings should also have stories from resistance because that gives you hope. I am interested in fighting back. As long as you treat somebody who is suffering then there are no acknowledgements, but seeing people as fighting back, gives hope, optimism, credible resistance is happening, I listen to them."

Tabeenah Anjum is a journalist based in Rajasthan, reporting on politics, gender, human rights, and issues impacting marginalized communities. She tweets at @tabeenahanjum
SUPPORT TWOCIRCLES
HELP SUPPORT INDEPENDENT AND NON-PROFIT MEDIA. DONATE HERE