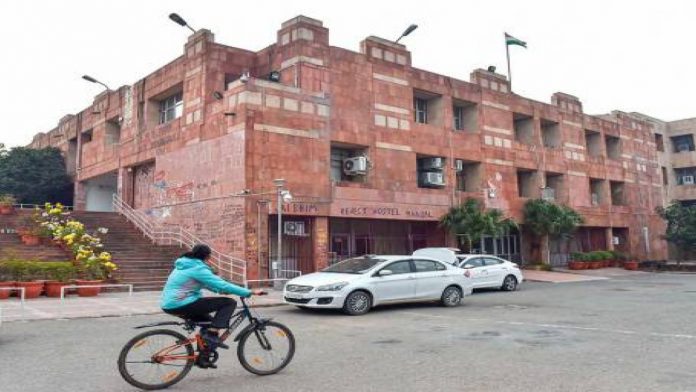 The meat politics has created tensions inside the JNU campus, with Akhil Bharatiya Vidyarthi Parishad (ABVP) beating up students for eating meat in hostels.
Nikita Jain | TwoCircles.net 
---
Support TwoCircles
---
NEW DELHI — Days after clashes erupted at the Jawaharlal Nehru University (JNU) in Delhi, saffron flags—allegedly put up by a right-wing group Hindu Sena—were seen outside the campus on Friday.
The meat politics that has already created tensions inside the campus with Akhil Bharatiya Vidyarthi Parishad (ABVP) youth wing of Bharatiya Janata Party (BJP) beating up students for eating meat in hostels, the new development has left many concerned. 
It has been four days since violence erupted in JNU's Kaveri Hostel, as students sat to eat their lunch on April 10, ABVP members entered the mess and demanded that meat not be given to students. This led to heated arguments that eventually led to violence injuring many students. 
"More than 50 to 60 students were injured, all minor, but the police underplayed the number of injuries," an official inside the campus told TwoCircles.net.
On Sunday, the JNU campus saw violence as two student groups – left-wing student unions and the ABVP, a student body linked to the RSS – countered each other's allegations.
As the environment inside campus still remains hostile, visuals shared on social media showed some posters and flags outside the campus. The posters were later removed by the police, according to reports. There has been no reaction from the JNU administration yet.
Speaking to TwoCircles.net, Neha, All India Students Association's (AISA) State Secretary Delhi said, "Their agenda (right-wing) of infusing hatred by involving food, shops, the very existence of Muslims, the very existence of the daily wage workers of the vendors on the street. You are spewing hate against the very existence of their being and disregarding them."
Udita Yadav, a student at JNU, was beaten up by ABVP members during the clash. "I received some injuries but they were minor. Many students faced the same fate, all because ABVP was creating havoc inside the campus," she said.
An FIR has been registered against "some ABVP members" but does not mention anyone, while the newly appointed Vice-Chancellor Santishree Dhulipudi Pandit said that the university "doesn't impose food choices on students" and stressed that they can debate and agitate but should not indulge in violence. 
"The stage where we have reached, which can be called a fascist onslaught and has also increased, making something as essential as making food that affects everybody, making people think about what they are eating and dividing people on the basis of that, isolating a particular community on the basis of food is very dangerous. It indicates how their hate politics has reached a dangerous stage. This kind of atmosphere where what you eat and whether it is okay for you to eat indicates a larger problem," Neha added.
Using meat to attack Muslims
The right-wing has been using a meat ban as a way to unleash new ways to attack small businesses. In early April as both Ramzan and Navratri were going on, South Delhi Municipal Corporation (SDMC) Mayor Mukkesh Suryaan wrote a letter to the SDMC commissioner, instructing him to ensure all meat shops operating in the SDMC area remain closed during Navratri.
In the letter dated April 4, Mukesh Suryan asked the SDMC commissioner to ensure all meat shops in the SDMC limits remain closed till April 11, the last day of the Navrati festival. Suryan cited that during the Navratri, a majority of Delhi households don't even eat garlic and onions and hence, "keeping in view the sentiments and feelings of the general public" necessary orders may be issued for the closure of meat shops.
However, the Delhi Minority Commission sent out notices to South, East, and North civic bodies, asking under what legal provisions did the three civic bodies order or instruct the closure of meat shops in their areas during the Hindu festival. 
Meanwhile, a few right-wing groups have been carrying out campaigns seeking a boycott of halal meat saying that Muslims perform rituals according to the Islamic faith before killing animals for halal meat which is then consumed by Hindus.
In his paper called "Clash of Cultures in India," professor and social activist Kancha Ilaiah Shepherd who has openly spoken about food politics in the country wrote, "The Muslims and the Christians of India, both socially and politically, got marginalized. A long-drawn-out campaign by the Hindutva forces that Muslims and Christians are un-Indian has an impact on their psyche. Their food culture came under huge attack. The Muslims were attacked as beef eaters, pro-Pakistanis and the Christians were attacked as proselytizers by supplying dollars. The Shudra/OBCs started believing in this propaganda as there were not many intellectuals among them to verify the propaganda from their point of view. Using this situation, the BJP and RSS and their sister organizations took up anti-Muslim and anti-Christian campaigns by massively deploying the vegetarian food cultural practice of a section of Brahmins, Baniyas and Jains and projected India as a vegetarian nation. 
"The simple way to change anything is to give power to those who support your cause. At JNU, the administration is as crippled as the opposition. We have been seeing a different side of JNU because the administration supported the ideology of the ring wing," an official from the university said.
JNU has witnessed major violent attacks with the Delhi police a mute spectator and the culprits are still not arrested.
Nikita Jain is an independent journalist. She tweets at @nikita_jain15
SUPPORT TWOCIRCLES
HELP SUPPORT INDEPENDENT AND NON-PROFIT MEDIA. DONATE HERE