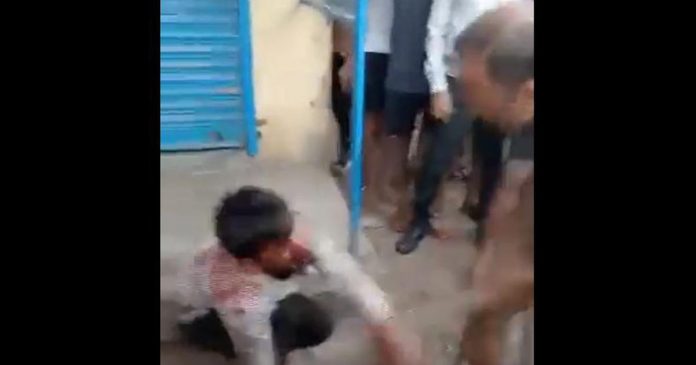 24-year-old Adam Sher Mohammad Khan was severely beaten and is hospitalized with head injuries and fractured leg. 
Sana Ejaz | TwoCircles.net
---
Support TwoCircles
---
NEW DELHI — Police in Pelhar city of Maharashtra's Palghar district arrested five men on Sunday for allegedly attempting to lynch a 24-year-old Muslim man over suspicion of theft. 
The incident took place at Santosh Bhavan, Nalasopara east in Pelhar city. The arrests were made after video of the assault went viral on social media. 
A Muslim Man Adam Khan being lynched in Nalasopara(E) under Pelhar Police Station, Maharashtra. pic.twitter.com/1l2gLxs3Eg

— Ahmed Khabeer احمد خبیر (@AhmedKhabeer_) December 4, 2022
The victim, identified as Adam Sher Mohammad Khan, was left severely injured after the assault. 
He suffered head injuries and a fractured leg and is hospitalised, his family said. 
As per his family, Khan was attacked on the morning of November 29 when he was on his way to his sister-in-law's house. 
Adam's father Sher Mohammad Khan disclosed to TwoCircles.net that "he was falsely accused of being a thief" by people known to him. He called it a targeted assault. 
"We run a cement shop. A man named Vikas Dubey sets up his Jalebi stall next to our cement shop. He (Dubey) lives in our locality. There was a rift between Vikas Dubey and my son. He used to harass my son. On the morning of November 29, Vikas Dubey, along with 6 men first locked my son in a room and beat him. Then he (Dubey) brought him into the road and beat him while falsely accusing him of theft."
The mob assaulting Adam can be heard shouting, "Ye chor hai (He is a theif)" while beating him. One of the assaulters can be heard asking others to hit Adam on his head.
Sher Mohammad Khan said the mob did not listen to the pleas of innocence of his son. "My son had not stolen anything. The mob snatched Rs 10,000 from Adam's pocket and also took his cellphone. They left Adam in a severely injured condition," Khan alleged. 
The police have registered an FIR against five persons, including Dubey, who allegedly led the group of men who assaulted Khan. The FIR has been filed under sections of rioting, assault and causing hurt with grievous weapons.
Khan's father Sher Mohammed Khan said that police has not booked the accused under attempt to murder charges. 
"This case is an attempt to murder and IPC section 307 needs to be imposed. They have only booked the accused under section 326. We demand the administration to impose section 307," Sher Khan said. 
The police have ruled out booking the accused under "attempt to murder charges" as they believe "the assaulters had no animosity against the victim and thought he was a thief."
"We are taking action and section 326 has been imposed. The section 307 has not been imposed as it is not a case of attempt to murder. People beat him up thinking that he is a thief," the sub-inspector at Pelhar police station said, adding, "There are already 10 cases registered against Adam, which include cases of petty theft."
Sana Ejaz is an independent journalist from Bihar. She tweets @SanaEjaz_
SUPPORT TWOCIRCLES
HELP SUPPORT INDEPENDENT AND NON-PROFIT MEDIA. DONATE HERE