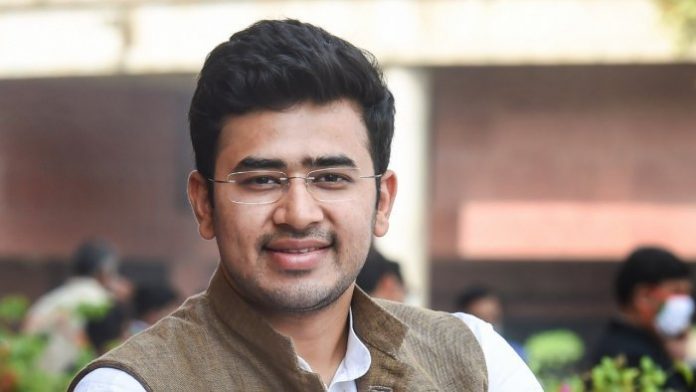 Several Australian Muslim youths said that they were shocked after hearing about Surya being invited for addressing the events in Australia and called it "deplorable and revolting". 
Waquar Hasan | TwoCircles.net
NEW DELHI — Several Muslim groups, academics and rights groups have slammed Australia India Youth Dialogue (AIYD) for inviting controversial Bharatiya Janata Party (BJP) MP Tejasvi Surya to its conference and called upon it to cancel the events where Surya was set to address. 
Surya, who is currently in Australia, was set to address a series of events from 31 May to 4 June organized by the AIYD).
An Indian-origin Muslim youth, who refused to reveal his identity for fear of being targeted, told TwoCircles.net that one of the events where Surya was going to address was cancelled after they built pressure against his invitation. 
"AIYD has a series of events planned for him. One of those events was to be held at Swinburne University's campus in Parramatta (a suburb in Sydney), which was organized by ECA (Education Center of Australia. This was meant to be his first event and yes it was cancelled," he said.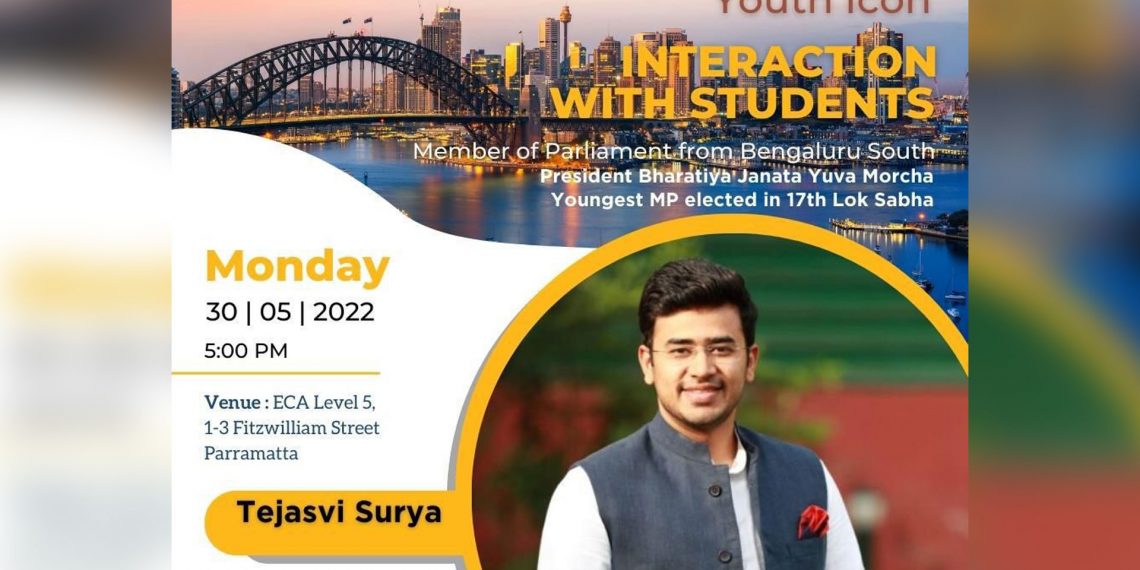 "But he is still set to address a series of events and Muslims in Australia are trying to pressurize the government and the institutions "to do the right thing and revoke his visa (by Govt) and cancel his events (by AIYD/Universities)".
Surya is a controversial figure who is accused of making several hateful and inflammatory comments against Muslims and Christians in India. In December last year, he had talked about bringing Christians and Muslims under the Hindu fold. 
"There are people who belonged to Hinduism but were converted to Islam or Christianity. It is our duty to bring these people back into the fold of Hinduism. Also, Hindus in Pakistan who were converted to Islam should be brought back into the fold," said Surya, who is the national president of BJP's youth wing. 
Earlier in May last year, he forced Bangalore Municipal Corporation to fire 17 Muslim employees because of their religious identity. 
Several Australian Muslim youths said that they were shocked after hearing about Surya being invited for addressing the events in Australia and called it "deplorable and revolting". 
"Shocked at first, but then we had to come quickly to organise through emails, petitions, social media whatever we could," he said.
The Indian-origin Muslim youth pointed out that Indian-origin Hindus and Muslims have no communal feelings with each other in Australia. "They get along well with each other," he said.  
"However, there is a small section of people within Hindu community in Australia that cheer for BJP, Narendra Modi and by extension everything that BJP/RSS stands for," he pointed out. 
Several organizations – the Australian Federation of Islamic Councils (AFIC), Islamic Council of Victoria (ICV) and The Australian Alliance against Hate (AAH), asked the partners of the event to withdraw their support citing Surya's anti-Muslim views. 
In a statement issued on May 27, AFIC expressed its deep concern over Surya's participation in AIYD conferences. 
"Mr Surya has expressed clearly incendiary anti-Muslim views and has stirred hatred and violent sentiments against our Indian Muslims brothers, sisters and childer," AFIC's President Dr Rateb Jneid said. 
According to Jneid, AFIC has sent to the sponsors and the relevant authorities to protest the invitation of Surya to Australia and provide a clear overview of Surya's incendiary remarks and activities to them. It has also urged the government to reconsider his visa status. 
"We have been tracking listed sponsors and Alhamdulillah 4 of them have been removed since the letter was sent. One sponsor wrote to us denying that they sponsored the event and were at a loss as to how their name was included," Jneid said. 
In a statement issued on May 31, the ICV called upon the AIYD to withdraw its invitation to Tejasvi Surya and asked the sponsors and partners of the conference to "express their strong disapproval to the organizers and withdraw their support if necessary to make the point."
It also criticized the Australian government for giving a visa to Surya and asked it to revoke the same. 
The ICV pointed out that Surya is known in India for divisive public comments and anti-Muslim sentiment. 
"He has tweeted that "we must unapologetically agitate for a Hindu Rashtra" which is code for calling for Hindu supremacism. Indian media has reported on Surya's attempts to stoke anti-Muslim anger during the Covid pandemic, a dangerous strategy to fan communal hatred during a time of crisis when social harmony was essential," said ICV. 
Not just Muslims, but other Indian origin people in Australia also protested against Surya's invitation. 
A prominent author of Indian origin in Australia and Lecturer in Creative Writing at UNSW, Roanna Gonsalves, asked people not to support Tejasvi Surya in Australia. 
Hinduism = beautiful, spiritual way of life.
Hindutva = fascist misogynist militaristic supremacist ideology@Sydney_Uni @SwinburneOnline @Swinburne Please do not support such a misogynist Hindutva fascist in Australia. Please sign petitiion here https://t.co/PyHyp7XYrl https://t.co/KUxfc9hikf

— Roanna Gonsalves (@roannagonsalves) May 30, 2022
She also shared a link to an online petition which is demanding the Australian government revoke Surya's visa and urging the organisers and sponsors to dissociate from him.
Waquar Hasan is a journalist based in Delhi. He covers human rights abuses and hate crimes. He tweets at @WaqarHasan1231