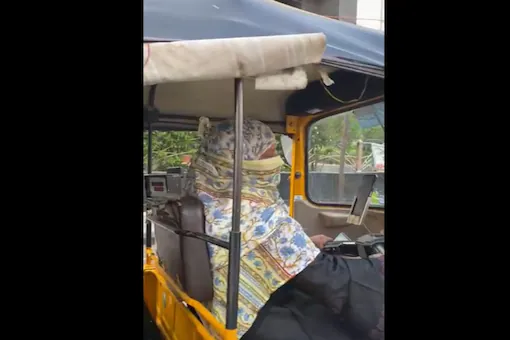 Syed Ali Mujtaba, Twocircles.net
Chennai: Meet Bhiyari Fatima a burqa-clad Muslim woman auto-driver on the busy streets of Chennai. She has broken two myths, one that she is a female auto rickshaw driver, a profession reserved for men, second, she is a burqa-clad woman auto-rickshaw driver who gleefully asserts her identity in this southern megapolis.
Fatima says many passengers are surprised to see her in the auto-rickshaw's driver's seat. Men while sitting in her auto-rickshaw normally say; 'OK or All right, Let's go,' and then realize they are sitting in an auto-rickshaw driven by a woman. Then they are like, 'I'm so sorry, I didn't realize you are a woman'.
Some passengers say, 'I thought Muslim ladies only stay at home, busy in cooking or looking after the children. This is the first time I am seeing a burqa-clad Muslim woman auto-driver. I am really surprised.'
Fatima, born and bought up in Chennai knows the city very well. She is married and has kids. Due to Covid 19, when her husband had lost his job, she chose to drive an auto rickshaw. 'I chose to drive an auto-rickshaw to support my husband's income and contribute to the household', she said.
Fatima thinks that with both of them earning, the couple will be able to make enough money to provide a good education for their children. "I love driving, it helps me earn my livelihood and I don't find anything wrong with it," she said and adds "My job gives me the liberty to pick up my children from school and take them to tuition."
She said her work thrives mostly on women customers as they prefer women auto rickshaw drivers to men. 'I also lend a friendly ear to their problems as they want to talk about their problems and confide in me.'
Fatima says, "I regret not being able to wear the khaki dress worn by most of the auto-rickshaw drivers in Chennai. However, wearing Burka gives me immense pride in my identity," she proudly exclaims.
"I want to make the point that burqa-clad women are not obscurantist or religious fanatics, but normal women who want to earn a living even if it means sweating out on the streets and driving an auto-rickshaw."
Women auto drivers are a growing tribe in Chennai. There are over 100 women auto drivers in the city. While women rickshaw drivers' choices do reflect a degree of empowerment, their workspace is full of challenges. There are no proper public toilets for them and there is no guarantee of their safety. They have to operate from all male-dominated auto rickshaw stand. Likewise, beneficiary schemes for women auto rickshaw drivers are non-existent.
Nonetheless, these women auto rickshaw drivers have a point to make that whatever men can do, women can do much better.
—–
Syed Ali Mujtaba is a journalist based in Chennai. He can be contacted at [email protected]