By Pritam Singh Tinna, Twocircles.net
A protest against the death of Ishwar Singh, a Dalit employee of HAFED (Haryana State Cooperative Supply and Marketing Federation Limited) who committed suicide after being fraudulently charged with stealing goods, was held at Haryana Bhawan by BAPSA (Birsa Phule Ambedkar Students Association) and DBAC(Dalit Bahujan Aadivasi Collective, Ambedkar University Delhi) and the Collective, JNU on Friday, January 20.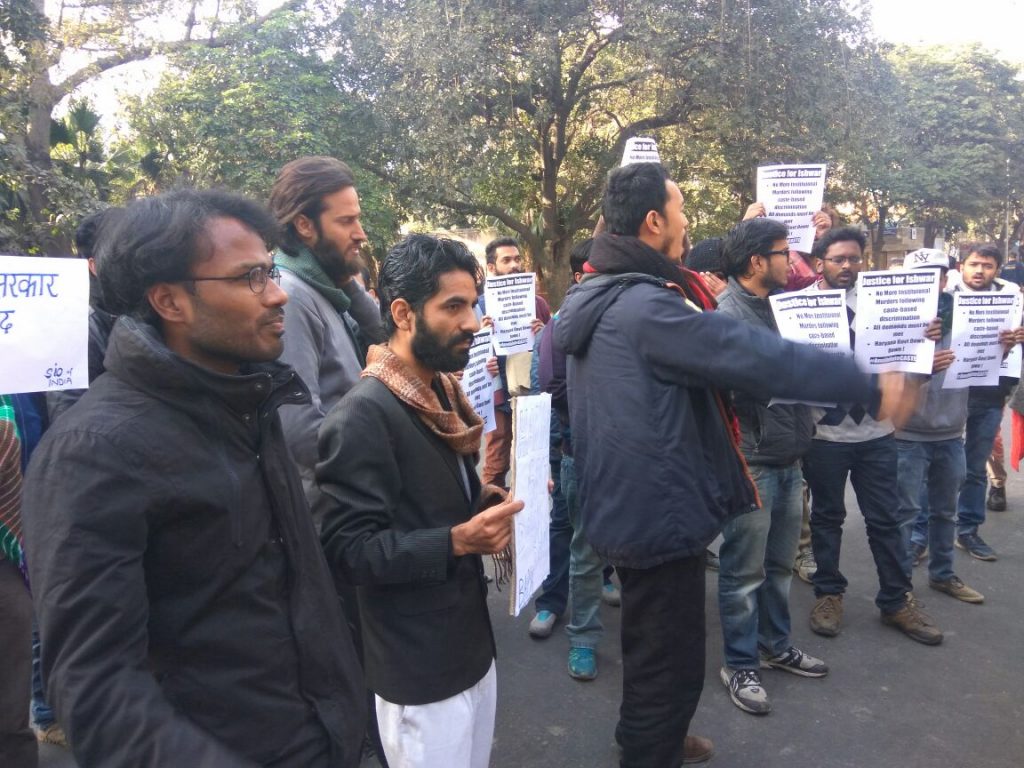 The students alleged that this was an institutional murder on the lines of Rohith Vemula.
A letter was sent to the resident commissioner of Haryana Bhawan signed by 40 students.The letter says, "A suicide note has been recovered in which Ishwar Singh has clearly named sub-inspector Ram Niwas, District food and civil supplies controller, Ashok Rawat and a contractor named Rakesh of CONFED- Haryana State Federation of Consumers, for their involvement in the conspiracy to make him culprit in the alleged 'stealing of food grain and subsequent indictment."
T. Praveen, who is a member of BAPSA, said, "Ishwar Singh was fraudulently charged and was arrested and jailed for 80 days. But he was bailed after the charge was proved to be fraudulent". Shreya Ghosh who is a member of Collective, JNU told Twocircles.net, "Ishwar Singh was a resident of Jind, and storekeeper of one of the food department of CONFED. He was employed even after his retirement because of his honest track record. In September, he was arrested by the SHO Jind district Haryana. Ishwar Singh has written in his suicide note that SHO took a bribe of Rs 5 lakh from the senior officials and contractors of CONFED. This ultimately led to Ishwar Singh's death."
"The SHO Ram Niwas had earlier also been involved in cases like burning alive a mother and her daughter," she added.
More than 200 students have also been protesting against this caste atrocity at Jind civil Hospital Haryana. Ishwar's family members refused to cremate the body, Seeking the arrest of all the three accused, Ishwar's family members refused to cremate the body.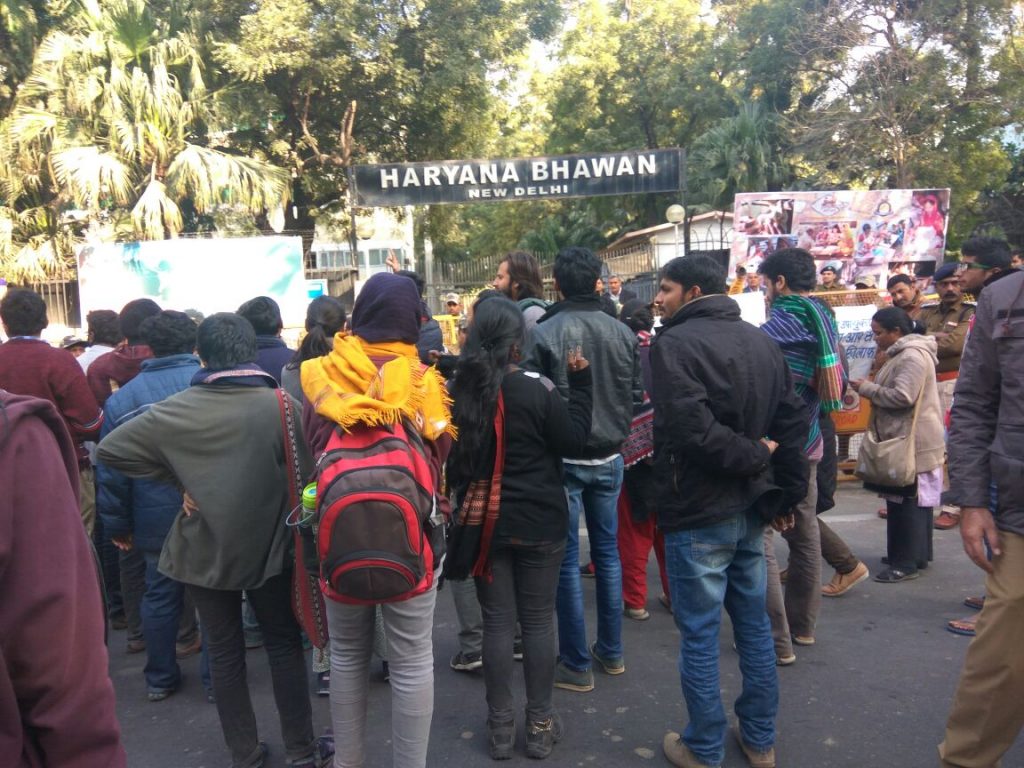 Bhupali Magare, a member of BAPSA who had gone to the Resident Officer Haryana Bhawan to give the letter signed by 40 students, said that the Resident Officer was not available and the letter rather was received the Personal Assistant. She also said that the PA was not even ready to stamp the letter and was rather forced to sign and stamp.
Demands like arresting all the accused persons, and giving a government job to the son of Ishwar Singh, have been raised. The protests against this atrocity would follow in coming days.
SUPPORT TWOCIRCLES
HELP SUPPORT INDEPENDENT AND NON-PROFIT MEDIA.
DONATE HERE