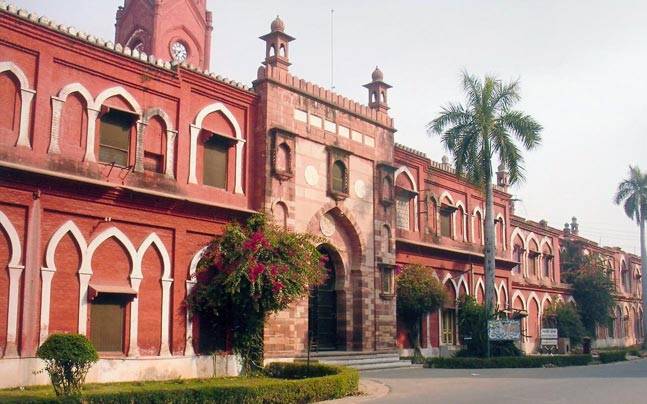 By Sharjeel Usmani
Off times, the Aligarh Muslim University (AMU) becomes the centre of media trials. The recent controversy came in when several right-wing websites claimed that AMU was forcing its non-Muslim students to fast during Ramadan.
The varsity boasts of a population of around 28,000 students from all over the country and abroad. With around twenty percent of non-Muslim students, it is often portrayed that AMU is forcing the 'Muslim' identity on these students. The recent controversy goes around the dining schedule in the campus during the month of Ramadan. Several media outlets claim that the non-Muslim students are not provided with breakfast and lunch while many others claim that AMU is forcing Ramadan fast on the non-Muslim students.
Fact check on this controversy:
The reality goes a bit different. Since the majority of students fast for the whole day after eating the Sehri(morning breakfast) at about 03:30 AM and end their fast (Iftaar) only after Maghrib Namaz (07:10 PM), the non-Muslim students are served in their respective rooms as to prevent them from eating in front of the students who're fasting. Since the number of students eating lunch is very less, so the lunch served is very light. For instance the BR Ambedkar Hall of AMU has 250 students in its dining rolls and only 21 students have to each lunch during Ramadhan. Number of students eating lunch in some other halls are even less, and thus the dining in-charges didn't make lunch for these few people. This however was not in notice of the varsity administration. This is how the controversy begun. Amidst this, one should not miss the fact that it was a Muslim student initially who first wrote to the Vice Chancellor after discontinuance of food for his non-Muslim friends. While I believe too believe that the discontinuance of food during Ramadan cannot be accepted, giving this issue a 'communal' shade should be countered.
Past experiences:
Moreover, this is not the first time that AMU is being dragged into such baseless media trials. Previously, soon after the Yogi Adityanath led BJP government banned illegal slaughterhouses and the varsity was forced to go meatless, the AMU Students' Union President Faizul Hasan wrote to the then Vice Chancellor to arrange meat for the students. No sooner did media found about this, there were reports such as this one that bluntly claimed that students (read Muslim students) were 'crying' due to forced vegetarianism. AMU has students from 21 countries and most of them are completely non-vegetarian and the president had written out of their concern as stated in this report.
There was a huge hue and cry over the 'library issue' where it was alleged that girls were not allowed to enter the varsity library. The whole issue took a new turn after the then Vice Chancellor Shah remarked that 'allowing girls to library would attract boys'. The remark was a bogus one indeed and it cannot be defended come what may. The issue was (as it should have been) reported promptly. However, the AMU students' union had condemned the vice chancellors remark and issued a statement which said, "we condemn the irresponsible and careless remarks of the Vice Chancellor. We would like to reiterate that the VC should stop making statements unbecoming of his stature and should ensure that the grievances and problems of AMU particularly those of the Women's College are addressed immediately". The statement was shamelessly overlooked or intentionally disregarded by most of the media houses. The vice chancellors remark was portrayed as the university's perception towards female gender. Yet again, I must say that like every other Indian institution AMU is no heaven when it comes to patriarchal rules. There are certain gender related issues that must be addressed swiftly.
N.R. Madhava Menon, an alumnus of AMU and chancellor of two central universities, explains in his columnpublished in The Hindu, "If a large section of Muslims refused to migrate to the Islamic Republic of Pakistan and preferred to stay back in India, it is partly because of the influence of AMU education on them and their families. Thus perceived, AMU requires special treatment in Indian scheme of things".
How does the AMU fraternity deal with it?
While what the media is doing is ethically and otherwise wrong, the more problematic thing for me is the way AMU fraternity deals with such cases. The majority of professors prefer to keep mum while all the student body does is to label the media as 'brokers' or agents of Hindu right wing groups which proves no help in creating any counter narrative.
The AMU fraternity needs to understand, accept and work on its critics while try to create some rigid contents that shall help in shattering the narrative created.
"I think we've now learnt to ignore such trials. We did try to get into debate with them but they are simply not going to hear you. They create issues, they cry on it and they go back. Nothing has ever happened", said Muhammad Mohibul Haq, assistant professor at department of Political Science, AMU.
Mohammad Allam, teacher in one of the university school believes that such reporting must be reported to Press Council of India and otherwise legal actions must be taken.
"I believe we should either ignore such propaganda or take legal actions otherwise. Such reporting much be reported to Press Council of India", said Mr Allam.
Post Script:
There are plenty of such examples of selective and rancorous reporting about AMU in attempts to generate a stereotypical image of a regressive, outdated and religiously dominant institution. Ever since such reporting has become more and more common, the AMU fraternity has started ignoring these reports. Ignoring such propaganda is not a solution but responding to such criticisms constructively is.
Now the very reason that AMU is being targeted time and again is certainly because of its 'Muslim' character. Every institution of higher learning develops its own character and identity based on its history, leadership and the student body. It is a matter of fact that AMU might not be a minority institution in rigid legal sense but it is an institution for minorities and it adheres and celebrates a unique minority character of its own. AMU in fact was established by its founder Sir Syed Ahmad Khan to uplift the Muslim community from backwardness and isolation.
 [Sharjeel Usmani is a graduate student of Political Science at Aligarh Muslim University. He can be reached at [email protected]]