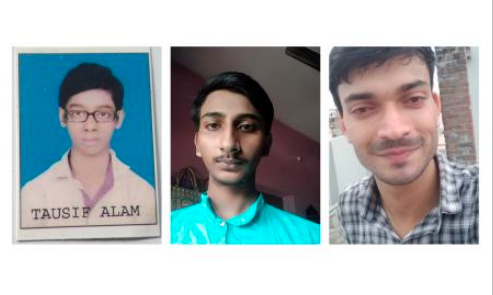 At least 65 students, including one girl, of Rahmani 30 – an educational movement for underprivileged students started in Patna, Bihar by late Wali Rahmani, have qualified for admission in the prestigious Indian Institutes of Techonlogy (IITs) this year. TCN features some of them.
Sami Ahmad | TwoCircles.net
---
Support TwoCircles
---
BIHAR – Zaurez Ahmed (17) has secured 393rd rank this year in India's topmost engineering entrance test known as Joint Entrance Exam (Advanced). His father Shakeel runs a modest general store in Jalwara, Kewti of Darbhanga, one of the most backward areas of Bihar. His family was in no position to afford the expensive private coaching for such exams. It was Rahmani 30 that came to his rescue. 
Like Zaurez, there are atleast 65 students, including one girl, of Rahmani 30 who have qualified for admission in the Indian Institutes of Technology (IITs) this year from the main centre at Patna. All 93 aspirants from Rahmani 30 qualified for JEE (Main). Across India, there are 23 IITs having 16000 seats for which more than 1.6 lakh applicants participated in the JEE (Advanced). These are shortlisted from one million aspirants of JEE (Main).
Rahmani 30 is modelled on Super30, the first such centre for coaching students for the IIT entrance test. Rahmani 30 was founded by the renowned Islamic scholar late Hazrat Maulana Wali Rahmani in 2008. Since 2009, Rahmani 30 boasts of more than 400 successful students who have qualified for admission in different IITs. Apart from this, nearly 1000 students have qualified for JEE (Main) and the National Institutes of Technology (NITs), the second most prestigious engineering institute of India. 
Rahmani 30 offers the top 30 students free stay, food and education which costs around Rs. 60 lakhs for two years. 
What is special about Rahmani 30?
"Apart from the low cost or no cost stay at Rahmani 30, the ever availability of teachers and mentors here is immensely helpful," Zaurez told TwoCircles.net. 
He said that teachers at Rahmani 30 are "quite supportive." 
Zaurez cites 'deeni mahaul (religious atmosphere)' at the centre as helpful in having a 'useful break'. His EWS (Economically Weaker Section) category rank is 28 and he is quite hopeful to get Computer Science at IIT, New Delhi. 
Rahmani 30 has its branches at Aurangabad (Maharashtra), Bangalore and Hyderabad. Apart from the main centre, there is a girls unit in Patna. The main centre is being run in a rented apartment 'Anand Palace' at Anisabad, Patna. 
A normal day for studies starts at 7 in the morning and continues till 9 in the evening. 
Mantasha Firdous (17), who qualified this year, is the first female student of Rahmani 30 since its establishment to compete successfully for JEE (Advanced). Generally, the girl aspirants join Rahmani 30 for the medical entrance test NEET. However, Mantasha has a knack for mathematics. She has secured an EWS rank of 4074 and hopes to get "a good branch at a good IIT'. She said that the "group of girls" at the centre was quite helpful for her to remain focused on studies. 
At Rahmani 30, the aspirants are admitted for a two-year residential course. As Covid-19 hit their preparation, an online mode was learning was started in 2020. Most students attended online classes on mobile phones though there were network issues for those residing in remote areas. 
Tausif Alamhas (17) secured CRL (Common Rank List) 7169 and a category rank of 1339. His father Mohammad Rashid works as a tailor and his mother is a homemaker. His family could not send him to study at any coaching centre as they charged a hefty fee. He came to know about Rahmani 30 from one of his senior and passed the test to get admission. 
Talking to TwoCircles.net, he said the most helping part of Rahmani 30 is "group study where peers help in doubt clearing."
"My motivation level only rose with the continuous encouragement from the teachers. It helped increase my willpower too," Tausif said. His next aim is to crack the country's top exam for civil services U.P.S.C. 
Seventeen-year-old Qais Alam's success has a twist. His father is a small farmer and suffers from poor eyesight. Qais hails from Marar, a remote village in the Khagaria district of Bihar. He didn't have much of an idea about IITs. He appeared for Aligarh Muslim University's entrance test for a three-year Engineering diploma course and qualified. He studied there for two years, and quit before completing his degree. This was during 2016-17. He came to know about Rahmani 30 and was selected for its two-year preparation course. He appeared for JEE (Advanced) in 2020 in his first attempt but was not satisfied with his result. He reappeared for JEE again in 2021. He bettered his All India Ranking to 6025 from his 2020's performance of 28000th rank. His EWS rank also improved to 639 from above 3000. He is hoping to get admission at IIT Delhi or IIT Madras. He too aims to clear U.P.S.C. after graduation from the IIT.
Twenty-three-year old Atif Hussain is in his 3rd year at IIT Guwahati. He originally hails from Bihar but his family is settled in Kolkata, West Bengal. Atif's father Phool Mohammad sells Lahti bangles (lac bangles) which and his business has been hit due to Covid-19 lockdown. His mother is a housemaker. Atif studied in Urdu medium Howrah High School and got 84% marks in his 10th Board examination. He came to know about Rahmani 30 from a senior. He said that getting admission in Rahmani 30 was the 'turning point' of his life. "Teaching guidance and peer study environment at Rahmani 30 was very useful," Atif, who is fond of research and coding, said. 
Though Rahmani 30 was started for helping underprivileged students crack the IIT entrance test, it has ventured into other top examinations like Medical, Commerce and Law. In its CA/CS program, out of 10 successful candidates this year, five were girls. 
Rahmani 30 calls itself "a movement, not an institution" which hankers "to demonstrate that economically, socially and educationally backwards and suppressed students when given the opportunity rise to the occasion." It is "established to be the catalyst for inspiring the minorities to aim high to seek their rightful places." 
Rahmani 30's founder late Maulana Rahmani had a clear vision about this centre. He was of the opinion that, "Utmost service to the religion during these times is to educate our youth and upcoming generations with contemporary subjects while keeping their faith firmly established and their self-confidence high; so that, they excel in religion, are adorned with education, have an appreciation of hard work and therefore are able to navigate and make confident decisions in their life."
Bihar's former Director General of Police (DGP) Abhayanand has been a great help for Rahmani 30 as a mentor since its beginning. Known for his Physics teaching skills, Abhayanand is credited with starting Super30 along with Anand Kumar, to teach poor students of Bihar to crack IIT JEE. 
Talking to TwoCircles.net, Abhayanad was delighted that Rahmani 30 is expanding in size and dimension in the right direction. 
Late Maulana Wali Rahmani had approached him to be the mentor of this centre and he readily accepted the proposal. "There didn't exist a good trend for education in Muslim community, particularly in the weaker sections. I thought it would be in the broader interest of the country to help such students," Abhayanand said. 
His only and interesting condition was, "I will not interfere in the administration of the centre and Maulana will not interfere in teaching at the centre." 
Maulana Fahad Rahmani, the younger son of late Maulana Wali Rahmani is the current CEO of Rahmani 30. 
He told TwoCircles.net that Rahmani 30 initially started with 10 students and "in 12 years the number of students has gone up to 900." 
Maulana Fahad aims to increase the number to 15000 across India at the end of this decade. "If we consider the total number of institutions of national importance to be one lakh, its corresponding number for the Muslim community should be 15 % of it, which is roughly the population of the community in India," he argues, adding, "To achieve this goal the community support needs to be increased. If we can arrange one donor for one student we will need 15000 donors, which is not beyond reach." 
Maulana Fahad insists that he doesn't believe in the traditional fund collection. 
On the success rate of girl students of Rahmani 30, Maulana Fahad said that it was his father and the late chairman Maulana Wali's wish to see the girl students excel in engineering too. "Alhamdulillah, this year it has started, and it get better in the coming years."
Sami Ahmad is a freelance journalist based in Patna, Bihar. He tweets at @samipkb
SUPPORT TWOCIRCLES
HELP SUPPORT INDEPENDENT AND NON-PROFIT MEDIA. DONATE HERE