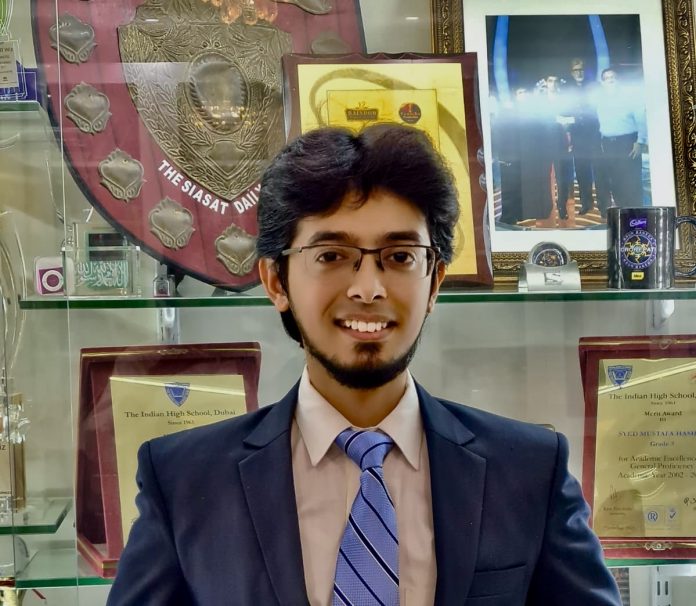 Dr Mustafa Hashmi is the only Muslim candidate from the south Indian state of Telangana making the UPSC list. He is one among the total of 22 Muslim candidates who cracked the UPSC exams this year. 
Nikhat Fatima | TwoCircles.net
---
Support TwoCircles
---
HYDERABAD (TELANGANA) — Of the total 685 candidates who have cracked this year's Union Public Service Commission (UPSC) exams, only 22 are Muslim. 29-year-old Dr Mustafa Hashmi is one of them. He is the only Muslim candidate from Telangana who has cracked the prestigious UPSC, which is India's highest civil services exam. He has bagged 162nd rank. 
Talking to TwoCircles.net, Dr Hashmi, who was a practicing surgeon at Government District Hospital King Koti, Hyderabad, said that he was very happy to crack UPSC. 
He said his motivation to crack UPSC came from seeing the experiences of economically backward people while accessing health care. "It dawned on me that the problems of these people are not confined to health alone and that I should do something else to ease their problems and serve the society in a much more beneficial way," he said.  
Dr Hashmi cracked UPSC exams on his fourth attempt after preparing for more than a year without attending any coaching institute.  
"The first three attempts were like practice tests for me so I could get to know the pattern of the tests. I don't have any regrets about that. It was only during my 4th attempt that I dedicated more time after my hours at the hospital," Dr Hashmi said. 
Maintaining a balance between work and studying for UPSC wasn't easy. After an exhausting day at the hospital, where he was sometimes posted in the intensive care unit (ICU), performing surgeries and treating Covid-19 patients, he would come home and devote the remainder of his time to studies. 
"I was determined and remained focused," he said. 
Dr Hashmi said that during his studies, his parents supported him by running his errands and doing his chores. "It is not just my hard work but even my parents' put in so much to ensure that I was not disturbed while studying. They took care of every little need of mine. I owe my success to them and their upbringing," he shared. 
Born in an educated family, Dr Hashmi said that he was inclined towards science from his childhood because of his grandfather. "My grandfather was a Deputy General Manager in the Water Works Department, and used to advise me to become an administrative officer because he would say I could serve people better in that way," he said. 
After completing his MBBS in 2016, Dr Hashmi pursued his MS degree at Osmania Medical College, Hyderabad. He graduated in 2020 and joined the district hospital, King Koti, as a surgeon. 
Besides excelling in academics, Dr Hashmi has memorized the entire Quran.
Eldest of the four siblings, who are also doctors, Dr Hashmi said his parents were working comfortable jobs in the Gulf before deciding to return to India. "My parents wanted me to serve the country. I am thankful to Allah for this result," he said.  
Dr Hashmi believes that after counselling, it is more likely that he will be posted in the Indian Police Service (IPS).  
"Whatever is assigned to me, I will serve the people. I will be able to reach out to more people who are underprivileged and I am happy with that," he said.
Dr Hashmi said that the youth of the country who wanted to pursue UPSC should not think of serving themselves but "serve society at large and contribute to nation-building." 
"Youth (cracking UPSC) should think about improving the lives of the less privileged in whatever way they can. Understanding the larger purpose and working hard towards that is the key to success and satisfaction," he added. 
Nikhat Fatima is a correspondent with TwoCircles.net based in Hyderabad, Telangana. She tweets at @snikhatf
SUPPORT TWOCIRCLES
HELP SUPPORT INDEPENDENT AND NON-PROFIT MEDIA. DONATE HERE