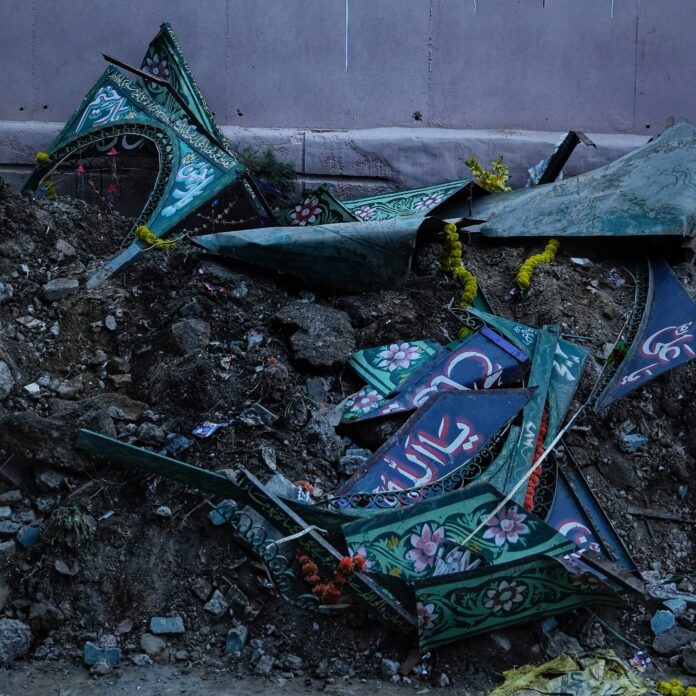 Arbab Ali| TwoCircles.net 
Amir Hussain Siddique had barely slept after eating the pre-dawn meal when he was woken up by a frantic call from Yusuf Beg at 9 am on April 1, the ninth day of Ramadan.
Beg, a caretaker at the dargah of Syed Abdullah urf Bhure Shah, informed Siddique that a bulldozer had arrived at the shrine. A half-asleep, fasting Siddique got out of his bed, grabbed his grinder-cutter and cycled from his home in Zakir Nagar to the dargah, located 6.5 km away on a plot near the Sabz Burj, a 16th-century monument in Nizamuddin area of south Delhi. "When I arrived, the entire area was filled with men dressed in chitkabra (camouflage uniform). It felt like there was a curfew," Siddique, a devotee who regularly visits the shrine, told TCN.
---
Support TwoCircles
---
In addition to hundreds of police and paramilitary personnel, bulldozers, and officials of the Public Works Department (PWD) were present at the site. PWD is the premier agency of the Government of the National Capital Territory of Delhi engaged in the planning and maintenance of government assets.
Siddique wired up his grinder-cutter to an electricity board and got to work.
"I cut the poles that supported the tin sheds over the graves, but the officials said that wouldn't be enough and that they'd remove everything," Siddique, who works as a repairman, said.
PWD demolishes a portion of the dargah; Muslims allege disrespect to their religion.
The demolition lasted an hour and ended around 11 a.m, bringing down the dargah's 75-foot-long wall, the metallic canopy atop the graves, the ibadat khana, and four rooms. According to the dargah committee, the PWD and district authorities also asked that the graves be "removed or shifted". TCN attempted to contact PWD but got no response.
There are seven graves near the roadside, including that of Baba Bhure Shah. Now, the graves have all become exposed as the metallic canopy has been removed.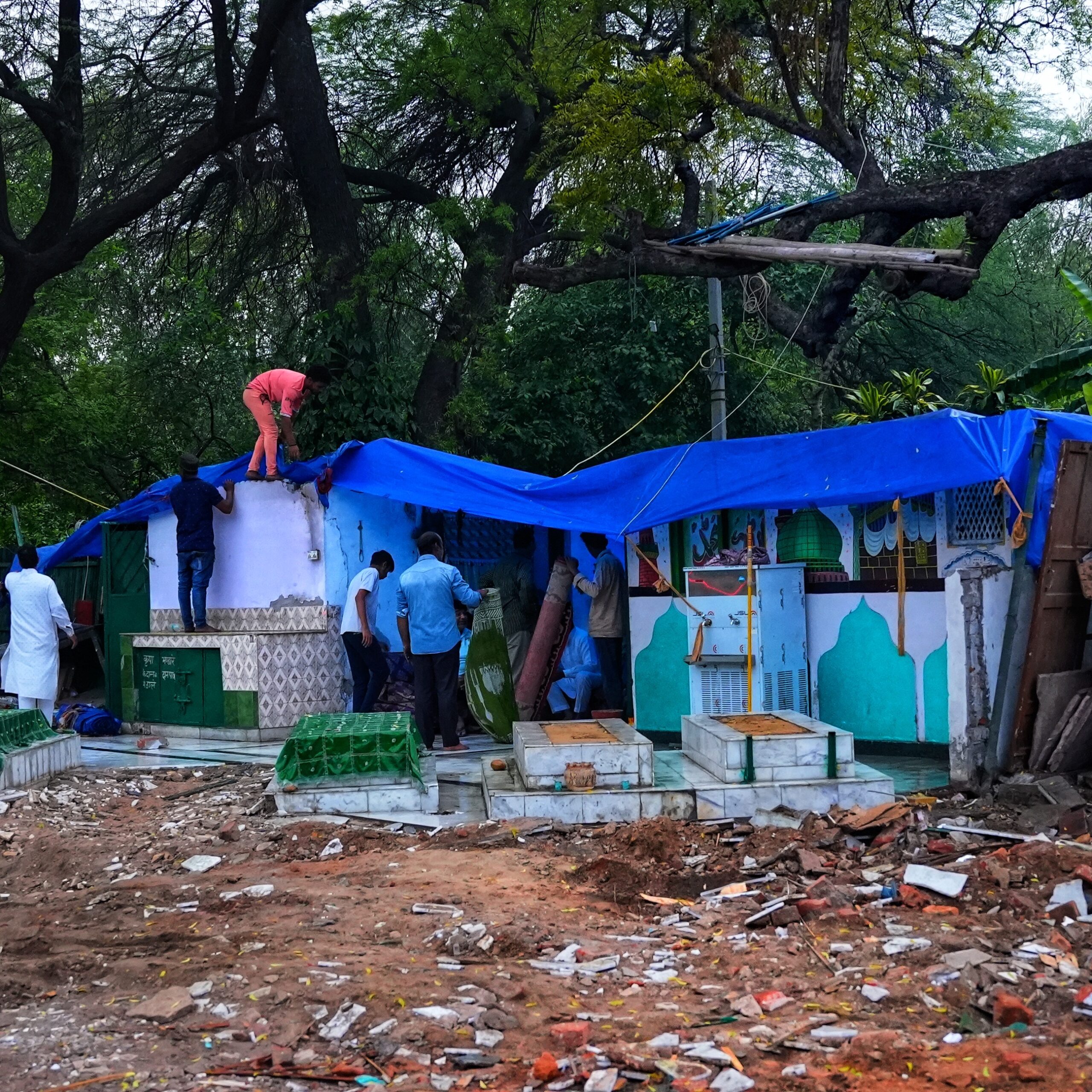 "I used my grinder to cut the metallic canopy so that there would be no beadbi (disrespect) to our religion. However, they loaded it into a bulldozer bucket and dumped it 50 meters away at an unclean spot," said Siddique.
TCN went to the location and discovered the mangled metallic canopy that once stood over Syed Abdullah urf Bhure Shah's grave. It carried ayats (verses) from the Quran.
Dargah authorities earlier removed parts of dargah 'under pressure'.
According to dargah committee member Mohammad Tufail Khan, they have been in talks with district administration officials for a month. "District Magistrate Isha Khosla told us that we encroached on the pavement, but we said the dargah dates back centuries, and was built much before the pavement," Khan explained.
The dargah committee, however, "complied with their demands under pressure". "Officials came to take measurements, and we removed the wall lining the pavement on March 15," Khan said. They built another wall, away from the pavement, so as "not to encroach on it" but that too was taken down on April 1.
On March 23, Beg claimed to have received a phone call from the DM ordering him to remove the gate and the mihrab (a niche in the wall of a mosque that indicates the direction of the Kaaba in Makkah). "They said if we didn't remove these structures, they'd file a case against us, so we complied," he said.
The DM did not respond to TCN for a response to the allegations.
No notice; Dargah authorities alleged AAP councilor didn't answer calls
Several people on the ground told TCN that no notice was given to them. "We will take this to court," Beg said. The dargah committee has hired a lawyer to contest the demolition.
A person who requested anonymity told TCN that they phoned Sarika Choudhary, the Aam Aadmi Party councilor from the area, seven times but she did not answer.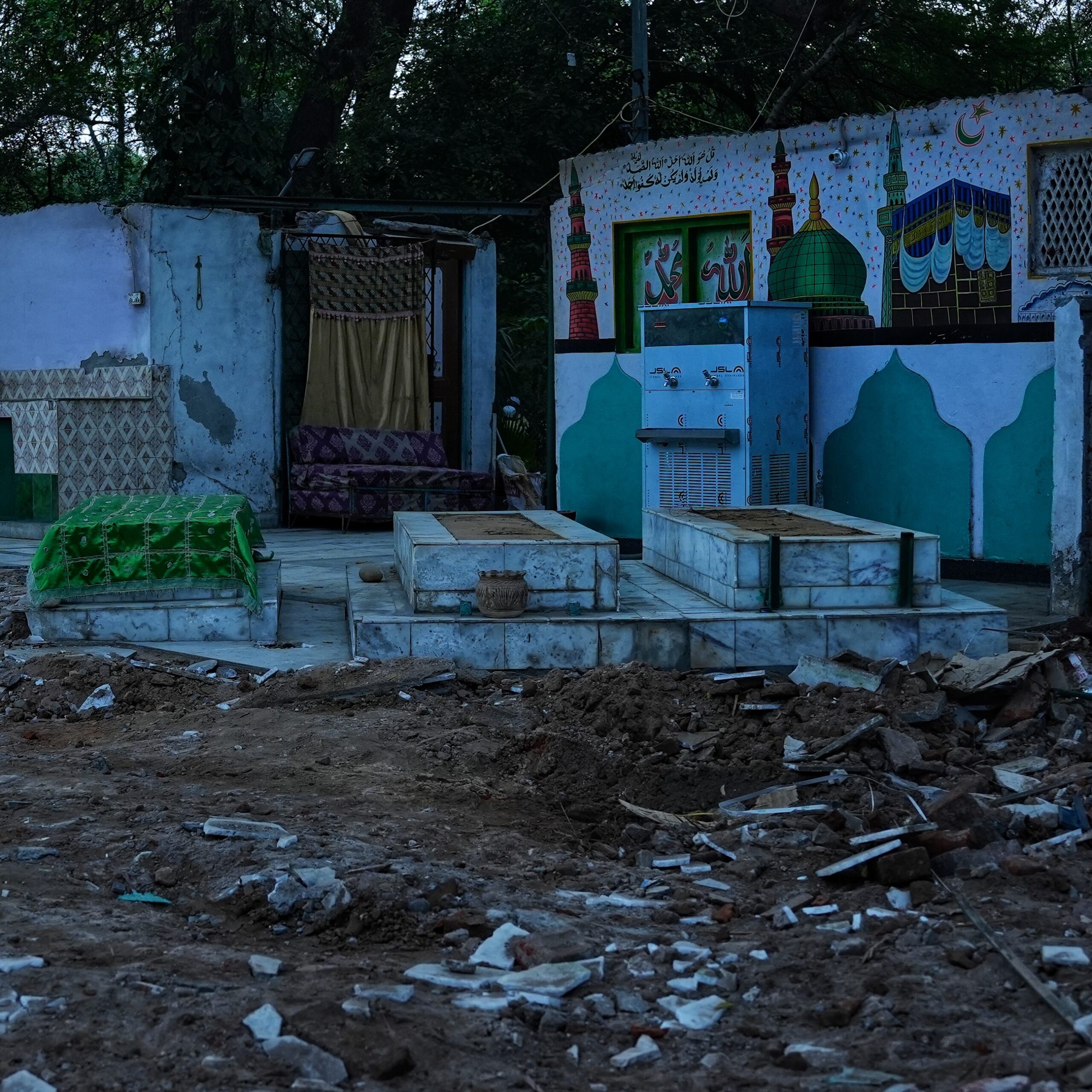 TCN reached out to Choudhary over a phone call. "I don't know a lot about the matter. What I know is that they encroached on the pavement… the masjid or something [sic] was built illegally, which is why it was demolished," she said.
When asked why the demolition took place without prior notice, Choudhary stated, "PWD does not demolish without a court order." The Delhi High Court, in an order on March 14, 2022, said the government was "duty bound" to remove all unauthorised constructions on public land.
Choudhary denied receiving phone calls from dargah officials.
TCN contacted Praveen Kumar, the local Aam Aadmi Party legislator. Asif Ansari, a member of his office, answered the phone and informed us that he is only available on call from Monday to Friday. We also attempted to contact Kumar via WhatsApp text but did not receive a response. This story will be updated when and if we receive a response.
'Demolitions were communally motivated': Locals
"We spent today's fast running from pole to post trying to stop the demolition. They shouldn't have done this (demolition) during Ramadan. This is the same as what is happening elsewhere with Muslims in India," Beg explained to TCN. Many persons on the ground alleged that the demolitions were communally motivated.
At 6:41 p.m., the dargah members broke their fast under a tarpaulin as it rained heavily outside.
Arbab is a SEED fellow at TCN
SUPPORT TWOCIRCLES
HELP SUPPORT INDEPENDENT AND NON-PROFIT MEDIA. DONATE HERE