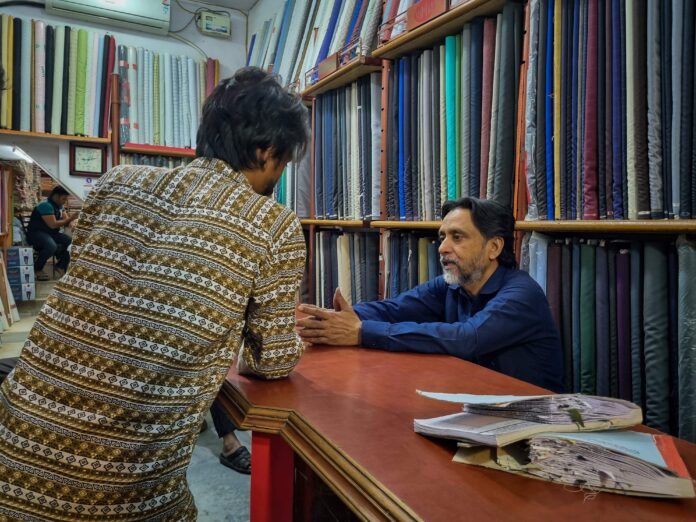 Between attending to customers and praying in the mosque, Shakeel Ahmed Khan is on his feet after iftaar
 UbairUlHameed
---
Support TwoCircles
---
As the night begins to draw to a close, at 10 pm, Shakeel Ahmed Khan's work picks up top speed. In the last hour before the shutter goes down at Sufia Cloth House, where 58 years old Khan works as a salesman, a rush of customers walks in for shopping for clothes for Eid.
After finishing his Tarahwih namaz, congregational prayers held in mosques in the night in Ramadan, Khan walks back to the shop, takes a seat on a cushioned chair, and welcomes customers with an eager smile. He has been waiting for this moment for over 12 hours. "Ours is among the very few shops in the area that open in the morning, as early as 9 am, in the holy month of Ramadan," says Khan of Sufia Cloth House, a store that sells fabrics for men and women and offers tailoring services, in Zakir Nagar, a Muslim-majority area in southeast Delhi.
With a twinkle in his eye, Khan picks up a bolt of fabric and unfurls it in front of his customers, showcasing its unique texture and drape. He explains the intricate details of the fabric and how it will fall on the body when worn.
With a keen eye for detail and precision, Khan measures the selected fabric with a metre rod. His movements are fluid and precise, reflective of his rich experience of 20 years on the job. He carefully marks the measurements with a piece of chalk, making sure each cut is straight and accurate. Once the measurements are marked, he picks up his scissors and begins to cut the fabric, and then packs it carefully. In just a couple of hours, Khan effortlessly manages to deal with around 20 customers, each with their own unique demands.
He starts his day with suhoor, the pre-dawn meal, and the Fajr prayers around 4.45 am before taking a nap for a few hours. As the sun rises and a new day begins, he heads to work. The shop remains calm during the day, but after the iftaar (breaking of fast) meal at sunset, people start trickling in to purchase clothes for the upcoming Eid festival. "Men, women… both come to our shop to buy cloth. The rush is especially high a few days before Eid when our sales are over double that of other days of the year," Khan says.
The shop is a small, cosy space with shelves lined with bolts of vibrant fabrics, each with its own unique print and texture. The walls are painted in bright colors, adding to the atmosphere of the store. The air is filled with the scent of fresh fabric, and the sound of fabric being cut and measured by the Khan adds to the buzz of the store.
Khan, who hails from Sultanpur, Uttar Pradesh, lives in a rented accommodation, along with his wife and children, in nearby Abul Fazal neighbourhood. He claims to be related to famous Urdu poet Majrooh Sultanpuri, while reciting one of his couplets.
The low footfall during the hot day hours gives Khan the time to pray and recite the Quran. At around 1 pm, he leaves for the mid-day prayers to the nearby mosque.
For Khan, balancing his religious practices and his business is among his priorities.
"Prayer is a fundamental part of my life, and I never compromise on it," says Khan.
"But at the same time, I have a responsibility to my customers and my business, and I try to balance both as best as I can. Sometimes I miss the congregational prayers but I make up for them later," he says.
As the time for Iftar approaches, Khan begins to set out the meal on a small table in the corner of the shop. He carefully arranges dates, fruits, and other snacks, along with a glass of water or Rooh Afza. The meals usually come from the shop owner's house, which lies a few hundred meters away from the shop.
"We break our fast together, It's a beautiful thing to share meals with others," Khan says.
After Iftar, he returns to work, as a significant number of customers starts to arrive at the shop. He stands behind a wooden table, displaying textiles of different materials and colours to the customers according to their liking. Khan's knowledge and experience in the industry have helped him assist customers in choosing the perfect fabric for their needs.
"I have learned a lot about fabrics and customer service over the years, and I enjoy helping people find the perfect fabric for their clothing," says Khan.
At around 8.30 pm, he heads to the mosque for the one-and-a-half-hour-long Taraweeh prayers, and then returns to his shop to attend to another round of customers. He is constantly on his feet, either showing fabrics to customers, or praying in the mosque, after breaking his fast.
As Eid draws near and customers become more demanding, sometimes impatient, regarding tailoring services, Khan attempts to remains calm. "I believe that we should always seek to understand others, even if we don't agree with them," he says.
As the day comes to an end, Khan begins to wrap up his business at the shop. He takes a moment to glance around the shop, checking for any leftover fabrics or products that need to be put away. With everything in order, Khan gathers his belongings and downs the shutter.
At the end of a long, fasting day, Khan says he does feel tired but not in a manner of complaining. "Ramadan is a month of spiritual growth and reflection, and even though it can be challenging, it's a time for immense reward and blessings," says Khan.
Ubair Ul Hameed is a fellow at TCN-SEED mentorship program
SUPPORT TWOCIRCLES
HELP SUPPORT INDEPENDENT AND NON-PROFIT MEDIA. DONATE HERE