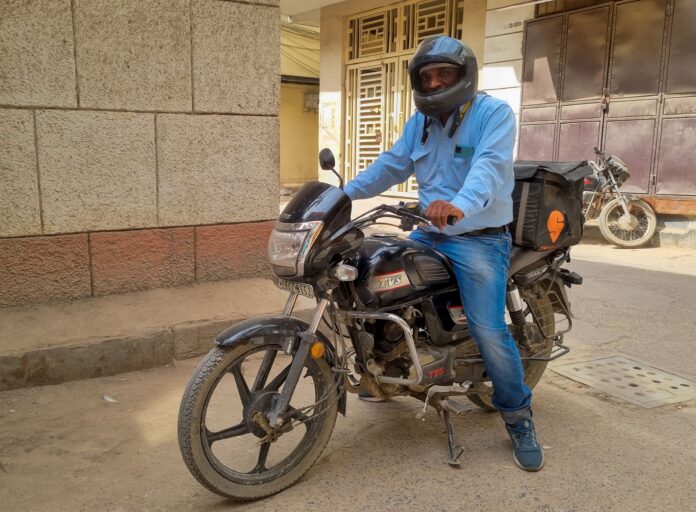 Shehzad Ahmad drives 120 km, delivering food in southeast Delhi, and breaks his fast on the road
 Ubair Ul Hameed
---
Support TwoCircles
---
It's 6.15 pm and the clock is furiously ticking away towards sunset, but there is no chance that Shehzad Ahmad, a delivery partner working with food delivery app Swiggy, can make it to home for iftaar. His vehicle parked in one of the many narrow lanes of southeast Delhi's Jamia Nagar, Ahmad waits for a customer to collect his order, before he can move on to his next delivery.
As people settle in their homes for iftaar at 6.45 pm, and the bustling streets of the Muslim-majority neighborhood break into momentary calm, Ahmad pulls out a lunchbox from the boot of his motorbike. Breaking his 14-hour-long fast with dates, pakodas, and a bottle of water, he says, with marked brevity, "I don't get much time to eat". Sometimes he breaks his fast at restaurants but "rarely" gets to do so with his family.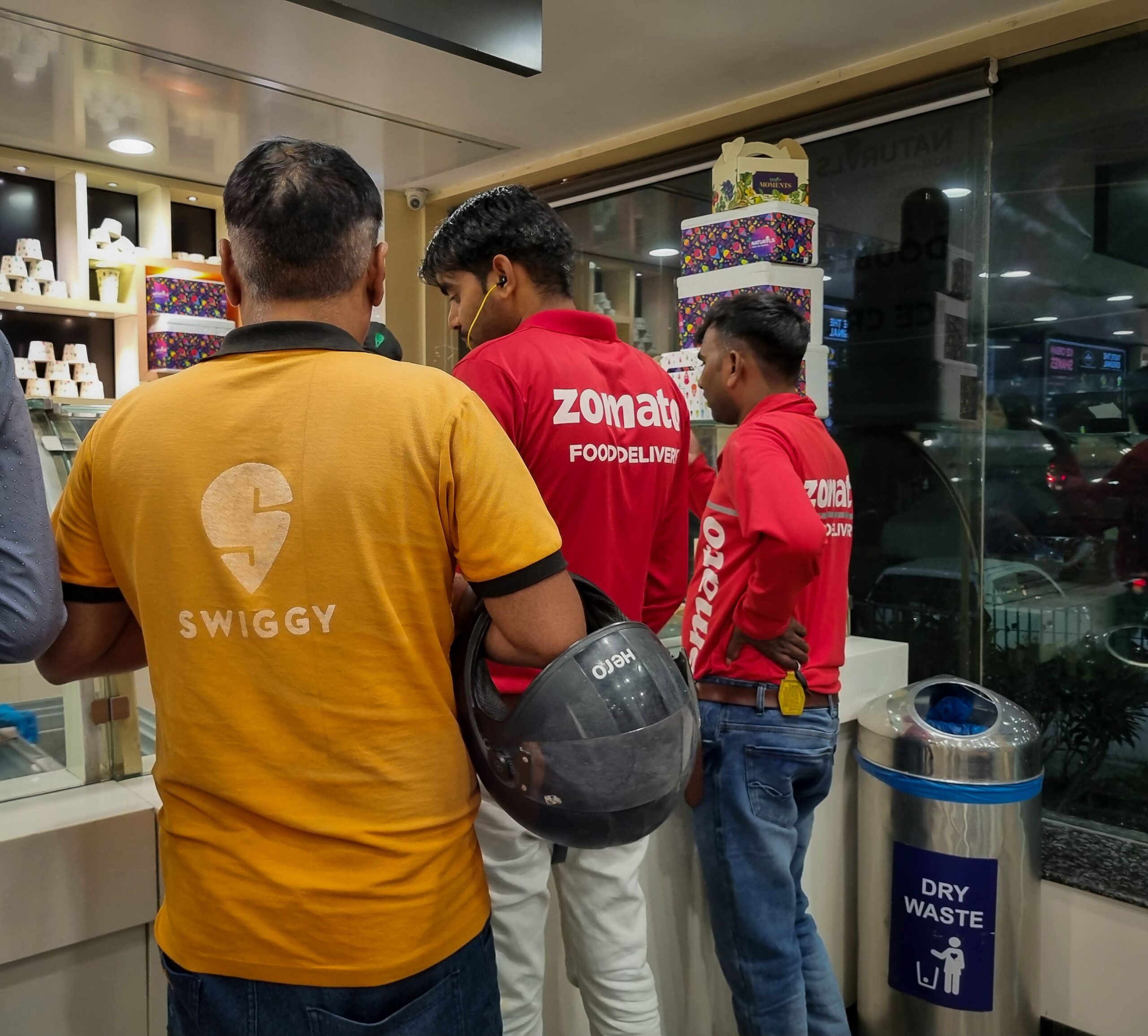 After finishing his iftaar, he offers his evening prayers in a nearby mosque – "the advantage of servicing a Muslim-dominated locality," he says. But that's not always the case. Besides Jamia Nagar and other surrounding Muslim-majority neighbourhoods, Ahmad serves localities of diverse faiths too, such as New Friends Colony, Maharani Bagh and Lajpat Nagar, where finding a mosque is not so easy.
"If there is no mosque in the vicinity, I make up for my prayers at a later time," he says.
Wearing a blue shirt and jeans, with a black and orange Swiggy delivery bag slung over his shoulder, 47-year-old Ahmad is a tall and well-built man, wearing a beard and a friendly smile. A native of Meerut in Uttar Pradesh, Ahmad previously worked as a motorcycle mechanic before joining Swiggy as a contractual employee four years ago.
After he finishes his prayers, his phone beeps, notifying him of a new order. He quickly gets on to his motorcycle and weaves his way through the busy evening traffic, dodging cars and pedestrians with ease. Just as he stops at a restaurant serving Mughlai cuisine to collect an order of chicken tikka, chicken kababs, and biryani, his phone buzzes with an order notification from an ice cream parlour. He quickly confirms the order details, deftly packs the first order and leaves for the next.
The ice cream parlour is several kilometers away, but he is undaunted. He revs his engine, and drives quickly, but safely, to pick up the second order. He carefully places the delicate cups of frozen treats in his delivery bag, and with his phone's GPS guiding him, sets off to the customer's location. In this way, Ahmed clocks 20-25 deliveries and 120 km on average in a day.
"I am fully focused on my job, even when faced with the difficulties of managing multiple orders. To me, every delivery is important," he says, recalling that he had to carefully drive through waterlogged streets when it rained in the first week of Ramadan. "It's difficult to see, the roads are jam-packed and slippery, but you cannot delay yourself much," he says.
Ahmad divides his workday in Ramadan into three shifts: 11 am to 2 pm, 5 pm to 7 pm, and 7.30 pm to 11 pm, a departure from his usual routine of 12 noon to 11 pm, with a break of 1 hour in between. Since he's a full-time delivery partner, he has to work for 10 hours a day, for 6 days. Swiggy allows delivery partners to revise their shifts according to their convenience.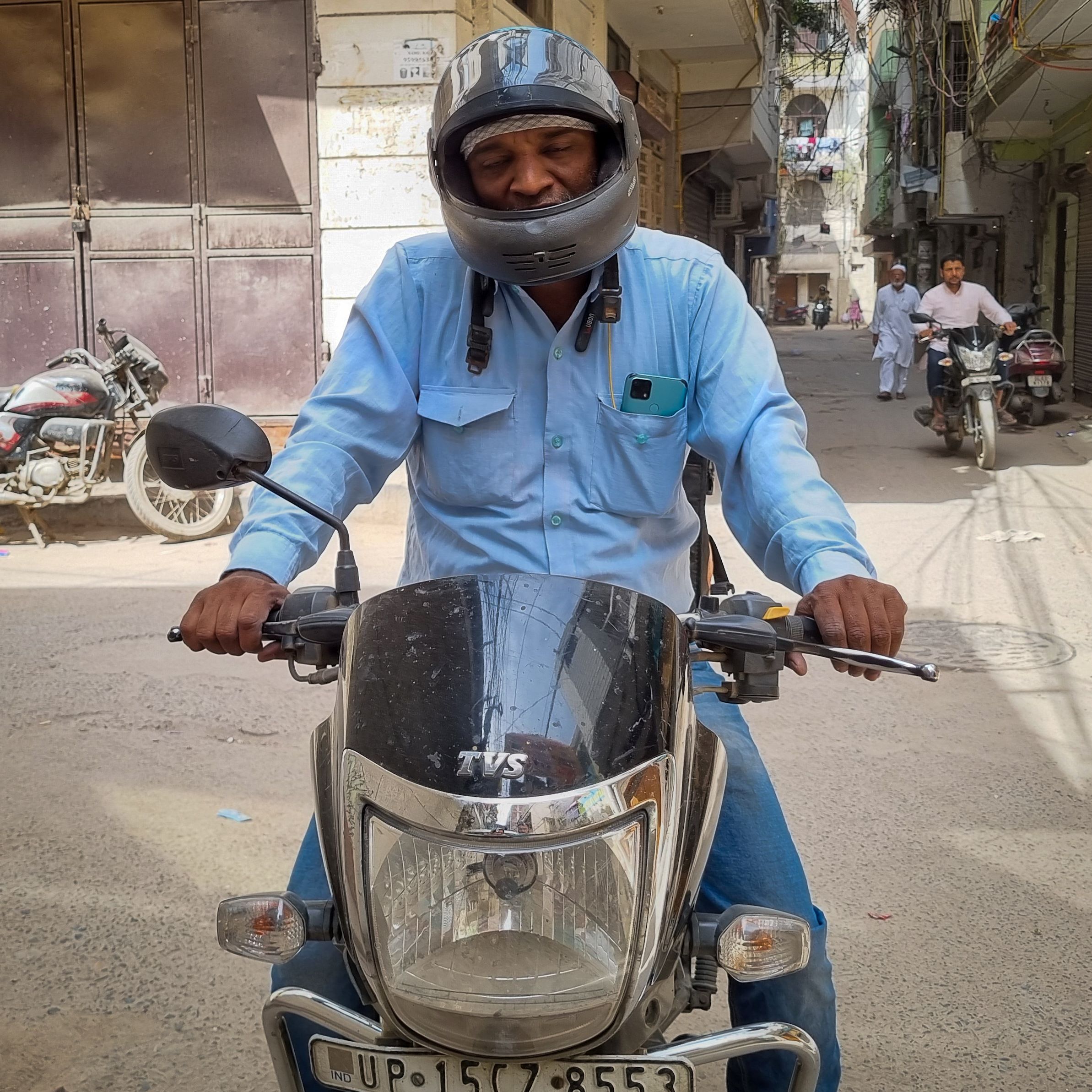 After completing his first shift, Ahmad observes his noon prayers and takes a much-needed short nap. Then, with renewed energy, he sets on his second shift at 5 pm.
As the day wears on and the sun begins to set, Ahmad eagerly anticipates his final and busiest shift of the day, which begins at 7 pm, after iftaar. Though his body is tired, his "spirit remains strong", he says. He fearlessly takes on the urban jungle, carrying his delivery bag with purpose.
Since he primarily serves a Muslim-majority area, the orders start to come in large numbers after iftaar. Fatigue threatens to overtake him, but Ahmad remains steadfast in his commitment towards his job."As a father of three school-going children, I hold the responsibility of providing for and feeding my family," he says matter-of-factly.
As the clock strikes 11 pm, Ahmad keeps his phone away, no longer needing to check it for order notifications. He returns to his rented accommodation, eats home-cooked dinner, and offers his Taraweeh prayers, which he is not able to perform in congregation at a mosque as he is on the road at that time.
Content with "doing his duty", he hits the bed, looking forward to another day of serving food to the hungry.
Ubair Ul Hameed is a fellow at TCN-SEED mentorship program
SUPPORT TWOCIRCLES
HELP SUPPORT INDEPENDENT AND NON-PROFIT MEDIA. DONATE HERE