The administration has recovered thousands of acres of state land throughout the Union Territory, and hundreds of structures erected on the encroached territory have been destroyed. 
Afnan Habib | TwoCircles.net
---
Support TwoCircles
---
SRINAGAR (JAMMU & KASHMIR) — Widespread anxiety is prevailing in Jammu and Kashmir amid the ongoing land retrieval drive launched by the administration, despite verbal assurances that farmers and impoverished people having houses or stores on very small areas of state land and 'Kahcharie' (grazing land) will not be evicted.
Authorities have stated that the land recovery campaign will exclusively target influential individuals, politicians, and businesses who have illegally taken possession of "state land." However, many believe that under the guise of land recovery, the administration is humiliating and targeting ordinary poor people.
"While authorities claim that the demolition drive won't impact the poor, the reality on the ground is quite different. Poor people are being targeted. The administration must ensure that shopkeepers, if evicted, must also be rehabilitated," Fayaz Ahmad Bhat, a shopkeeper from the Ganderbal district, told TwoCircles.net.
After several shops were demolished in the Padshahi Bagh and Mehjoor Nagar area of Srinagar, the distraught locals appealed to the Lieutenant General to spare the poor from eviction.
Stone pelting in Jammu over anti-encroachment drive
On Saturday, people resorted to minor stone-pelting and protests during an anti-encroachment drive at Malik Market in Jammu.
The protesters gathered around a commercial structure in Malik Market when it was being dismantled by four earthmovers in presence of civil administration, and a strong contingent of police.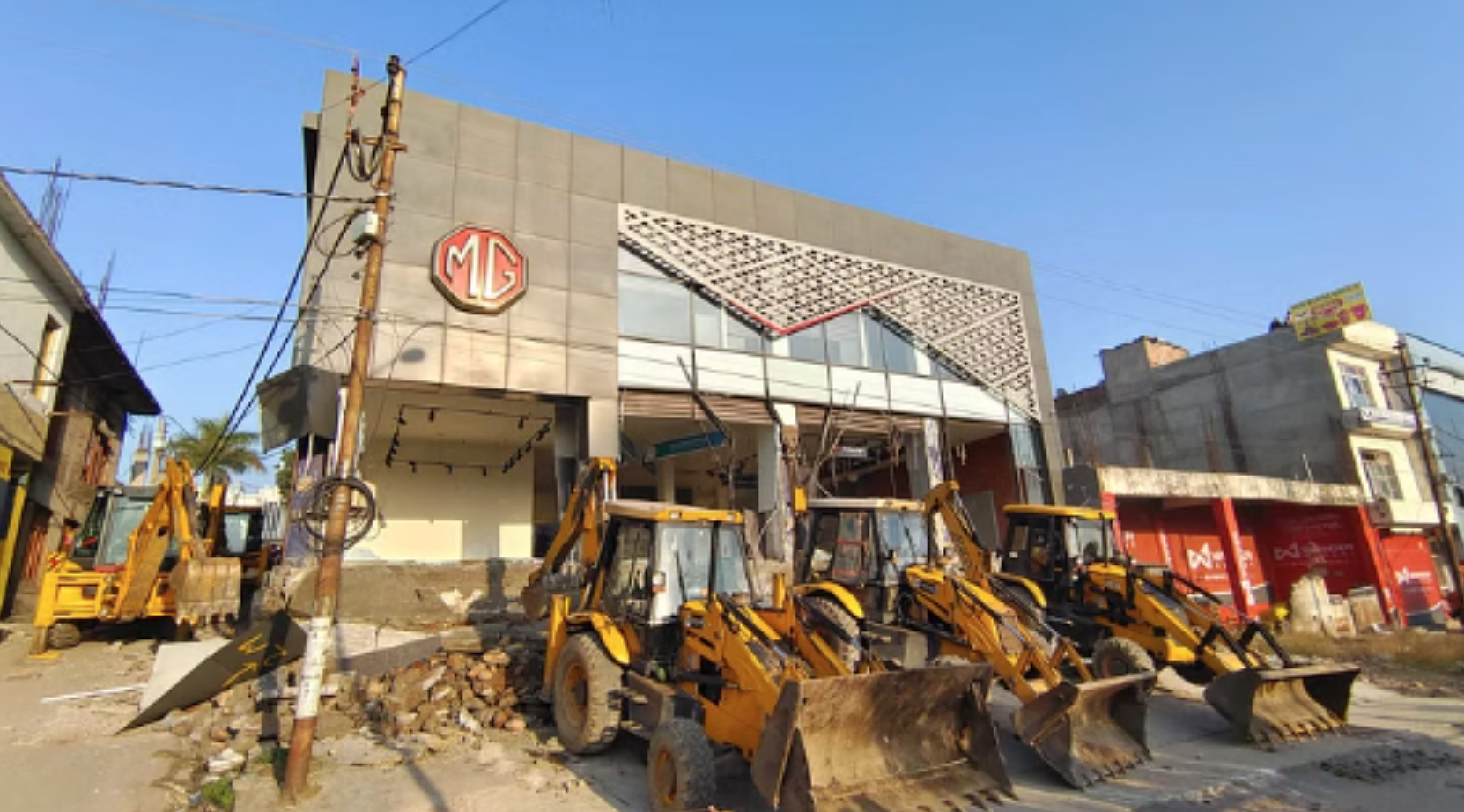 As JCBs were busy in dismantling the building's stairs and outer side, the people who had gathered there from the neighbouring residential colonies protested against the drive.
Police on Monday said that five people were arrested and four detained in connection with stone pelting during an anti-encroachment drive here on Saturday.
Three policemen were injured in the stone pelting that took place on Saturday during the drive to demolish a vehicle showroom built on encroached land in Malik Market in Narwal bypass area.
The owner of the showroom, Sajad Ahmed Beigh, is among those arrested, according to police.
"We have arrested five people and detained four others in connection with stone pelting that took place during an anti-encroachment drive here," a senior police officer told PTI.
BJP has transformed JK into Afghanistan: PDP
The Peoples Democratic Party (PDP) carried out a demonstration against the demolition drive here in Srinagar today. Denouncing the authorities' ongoing action, Najmu Saqib, Spokesperson for PDP, told reporters that people are being evicted from their homes by the heartless administration.
Mehbooba Mufti, the leader of the Peoples Democratic Party (PDP), claimed that the BJP has transformed Jammu and Kashmir into Afghanistan by employing bulldozers to destroy the poor people's homes as part of the anti-encroachment campaign.
"People who were formerly above the poverty threshold have now fallen below it ever since the BJP came into power. They want to make Jammu and Kashmir like Palestine and Afghanistan," Mehbooba stated during a press conference on Monday.
Amid the ongoing state land retrieval drive, the administration has recovered thousands of acres of state land throughout the Union Territory, and hundreds of structures erected on the encroached territory have been destroyed.
There are 3,04,366 kanals of Kahcharie (grazing land) in 10 districts of the Kashmir Valley.
Out of this, Anantnag district has 34,309 kanals of Kahcharie land, Kulgam 22,616, Pulwama 50,537, Shopian 19,514, Srinagar 10,180, Budgam 36,244, Ganderbal 9,261, Baramulla 47,476, Kupwara 53,342 and Bandipora 20,887 kanals.
The authorities claim that till Sunday 1,70,918 kanals of state land have been restored after the eviction of illegal occupants.
Former ministers, officials, and well-known business people are some of the encroachers from whom the land has been reclaimed.
Omar Abdullah, vice president of the National Conference and former chief minister of the erstwhile state, said that the ongoing demolition drive throughout J&K has caused frustration and chaos among the populace.
He argued that the government should make the bulldozer its last resort, give people a chance to prove their claims, and issue proper notices to those possessing state land illegally.
Addressing a press conference at Srinagar on Monday, Omar said, "Everywhere, bulldozers are dispatched to destroy homes, apartment buildings, and other structures. However, no one is aware of the procedure or the justification for this demolition drive."
The former chief minister said the government needs to release a "genuine list of those who have occupied State land."
"It appears that the current campaign aims to draw a breach between groups. This drive is lacking in the protocol," he remarked.
Peoples Conference President Sajad Gani Lone stated on Monday that "New Delhi shouldn't be represented by bulldozers in Kashmir, but by love and compassion."
Lone accused the Jammu & Kashmir government of causing homelessness. "What is the objective of the government? Do they want to retrieve land or humiliate people? I think humiliation is more important for them," he said.
Lone said that as the J&K government is not an elected one, it should defer to an elected government on such major decisions.
Afnan Habib is a freelance journalist based in Srinagar, Jammu and Kashmir. He tweets @afnanhabib
SUPPORT TWOCIRCLES
HELP SUPPORT INDEPENDENT AND NON-PROFIT MEDIA. DONATE HERE