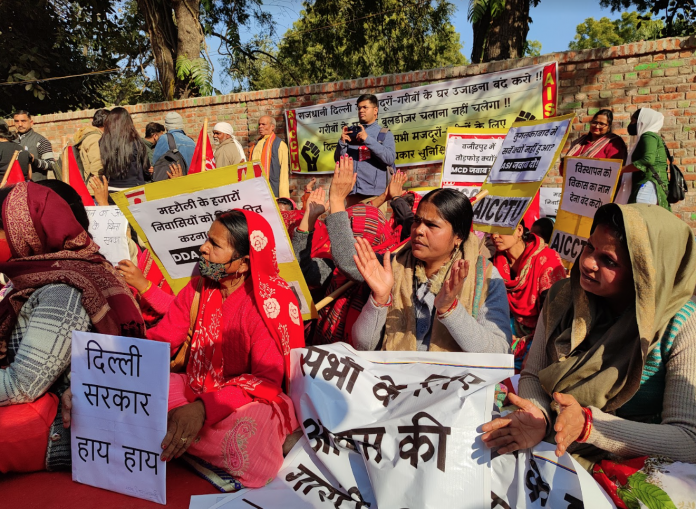 A Dalit majority area consisting of more than 25,000 houses situated near the Tughlaqabad Fort in New Delhi is facing the threat of evictions after the Archaeological Survey of India (ASI) served an eviction notice to residents last month. 
Shruti Sharma | TwoCircles.net
NEW DELHI — On January 11, the Archaeological Survey of India (ASI) served an eviction notice to more than 2,000 houses of the Bengali Colony of Tughlaqabad village in south Delhi. The notice said that the houses need to be vacated within 15 days failing which the houses will be demolished. Residents of the colony have since lived in fear and anxiety even if no demolition has taken place till now. 
This Dalit and Muslim majority area consisting of more than 25,000 houses is situated near the Tughlaqabad Fort, a ruined fort in Delhi, built by Ghiyasuddin Tughluq, the founder of the Tughlaq dynasty, of the Delhi Sultanate in 1321 AD.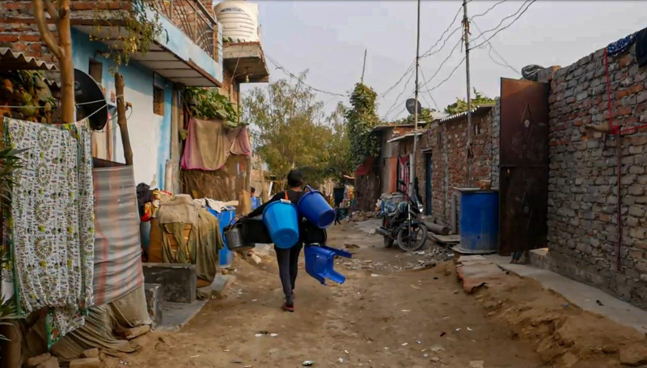 The locals claim that the notices were served only to the colonies where the majority of the population is poor. The notices haven't been served to the people who live in big buildings, they said.
"BJP MP Ramesh Bidhuri's house is also nearby the fort but he has not been served any demolition notice," locals said.
Sumati, 55, a local resident who works as a maid, claimed to TwoCircles.net that they bought the land after paying money to dealers. "We are not living here for free. We have invested all of our earnings in this house. We have nothing else except this house. If we lose it, we will be left with nothing," she said. 
Most of the residents of the colony work as labourers and are migrants from states like West Bengal, Bihar, Uttar Pradesh, and Uttarakhand, while the women from the colony work as house helpers in a nearby locality of CR Park, a posh colony of migrants from West Bengal.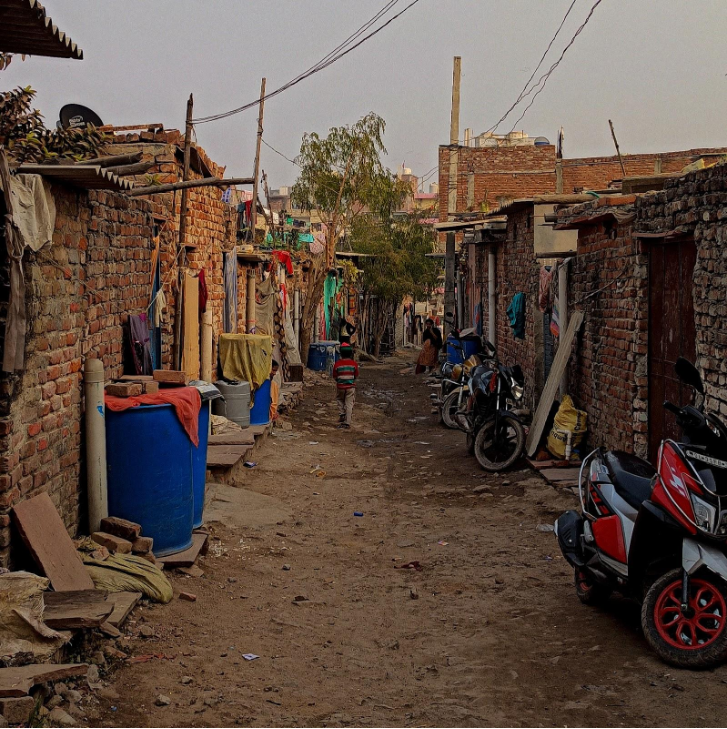 ASI has issued over 1800 notices to houses that as per them have been "illegally constructed," asking people residing in those houses to vacate their houses and bear the cost of eviction.
ASI's eviction notices came after the Delhi High Court on November 24 last year granted six weeks as the "last indulgence" to ASI to remove encroachments and file a status report.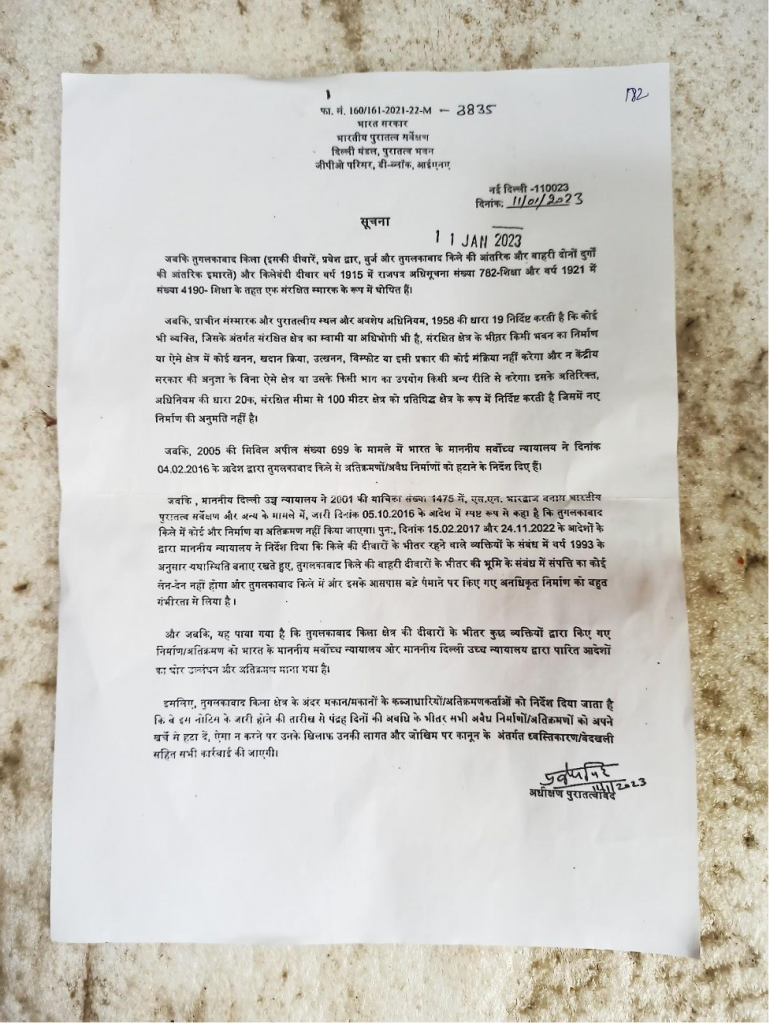 ASI officials claimed that "in 1995, more than 2600 bighas of land around the fort was handed over to ASI by the land and development office of Delhi Development Authority (DDA) for care and maintenance purposes. To date, more than 50% of the area has been illegally occupied by people."
Supreme Court in February 2016 ordered the removal of the illegal encroachment and structures from the fort area, declaring the entire Tughlaqabad Fort as a protected monument, and directed the ASI to not allow any encroachment there.
The court hearing was a result of a public interest litigation (PIL) filed in 2001 by an applicant named S.N. Bhardwaj. The PIL stated that "the ASI has failed to protect, maintain and preserve the historic Tughlaqabad Fort, and that various illegal occupants have entered the fort premises and constructed their houses intending to grab the Government land for dwelling purposes."
The residents contest this saying if their houses were on encroached land, "then why were they being charged for electricity bills, water bills, and other government facilities?" 
The residents have voter ID cards, gas connections and even passports. 
Many of them showed copies of their electricity bills and Aadhaar cards to this reporter.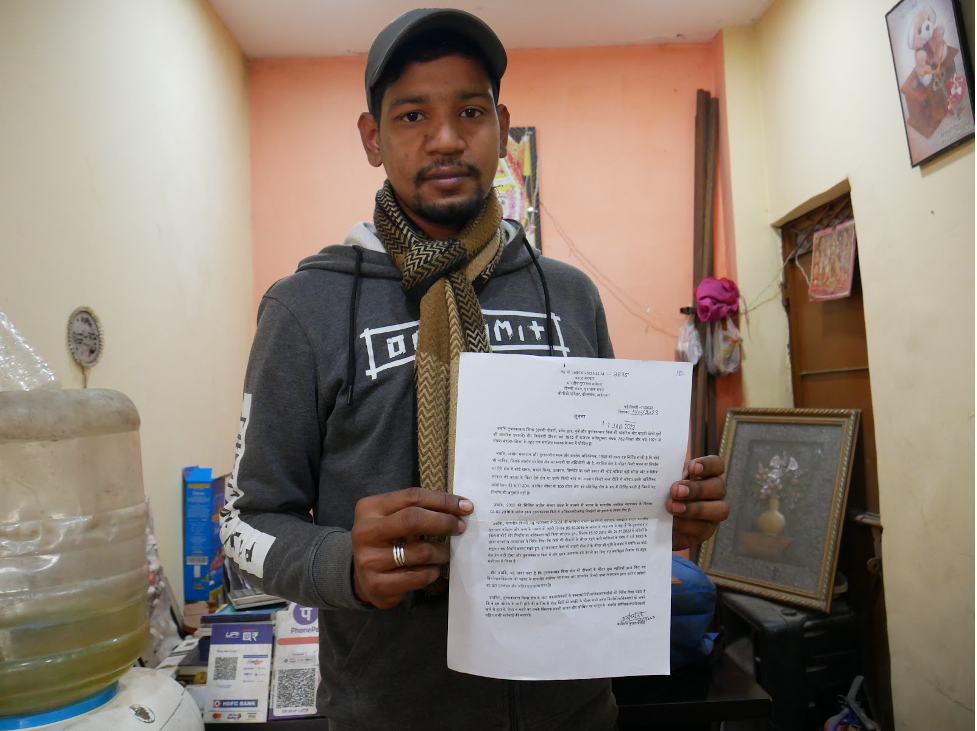 This reporter visited a rag-picking business outlet in the locality that has also been served the eviction notice. The owner of the outlet, 28-year-old Jeevan Das purchases litter from rag pickers in Delhi. 15 employees, including women and men, segregate plastics, metals, and cardboard from the litter. The outlet is on rented land. 
"The survival of 15 people depends on this litter business. If this gets demolished then how will those people provide for their children?" said Das. 
Das accused the police and ASI officials of taking bribes while the colony was being established.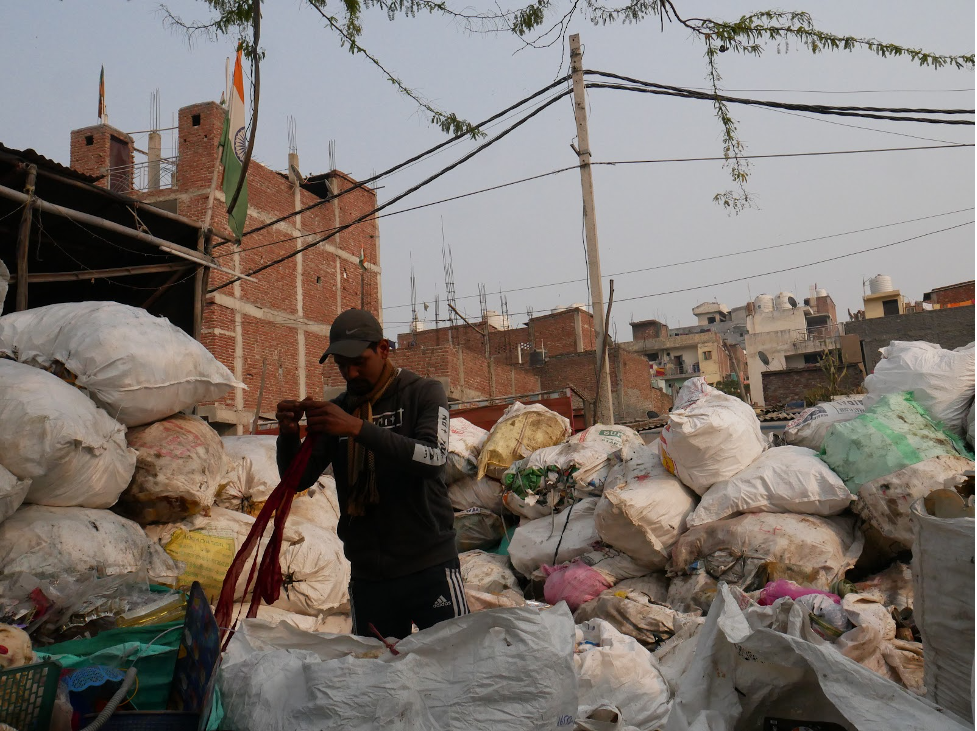 Taking cognizance of the notices issued to slum dwellers of the Tughlaqabad area, the Delhi Commission for Protection of Child Rights (DCPCR) on January 18 called for the suspension of the drive until rehabilitation of all the children of the area is ensured. The DCPCR issued a notice to the ASI in this regard.
On January 20, on the behalf of the residents, the All-India Students Association (AISA) and All India Central Council of Trade Union (AICCTU) organized a protest at Delhi's Jantar Mantar against the demolition notice.
Residents of Tughlaqabad took part in the protest along with Mehrauli residents, who too were served eviction notices by the authorities. 
On February 10, the Delhi Development Authority (DDA) launched a demolition drive in Mehrauli amid police security. DDA claimed that the land on which the alleged encroachment had taken place belonged to multiple agencies including DDA, Waqf Board, and ASI. 
"The Mehrauli demolition drive has triggered fear among residents of Bengali colony," Lakshman, a local of Tughalaqabad told TwoCircles.net.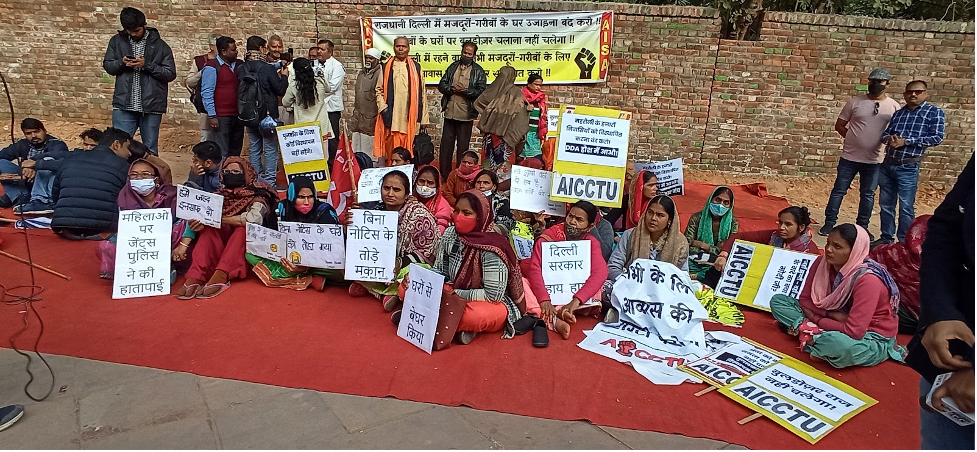 People of Bengali Colony questioned Prime Minister Modi's slogan of 'Jahaan Jhuggi Wahaan Makaan' (Where there are slums, there will be houses)."
"Prime Minister promised us pucca (concrete) houses, but what has he done? He is even snatching our slum from us." 
The residents have pasted posters released by the Bharatiya Janata Party (BJP) during the 2015 assembly elections on walls in the area.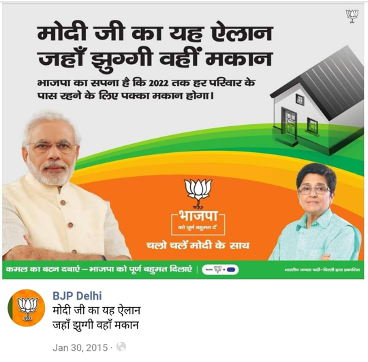 "Modi ji often says that his mother raised him by cleaning dishes at other people's houses. I am also raising my children by washing dishes. I too had thought of making my children like Prime Minister Modi, but now I will dream of that," said Suman, a domestic help.
Suman believes that these demolition drives against poor people are happening for the G20 summit, which India is going to host later this year.
"Do the foreigners say that they will visit India only when there are no poor people here," she said. 
Reports have also said that the demolition drive in Tughlaqabad is part of G-20 preparations.
Loyal supporters of BJP
Suman said that poor people are the most loyal voters of the BJP, and claimed that they brought the ruling party to power. "And now they are doing this to us. We went to the houses of every influential person and politician in the area, but no one is helping us," she said. 
"I regret being born in India. There's no one here to listen to us," she lamented. 
Manisha, 24, who is a divorcee living with her parents and her three-year-old kid, is anguished with the mainstream media. 
"Media always suppresses the voice of the poor. They show sensational news day and night, but they do not convey our voices to the people of the country. They will show the nonsense news of Dhirendra Shastri throughout the day, because they will get TRPs from it, but they won't show the news of the poor," she said. 
Manisha pointed to her 3-year-old son and said, "If he becomes homeless, what option will he have in life? His life will be over and there is a high chance that he will indulge in wrongful means [to make a living]. Then if he becomes a criminal, the media will prominently highlight that," she said. 
Manisha's mother Kanika Das works as a domestic help in CR Park and is the sole breadwinner of the family. She was in tears while recounting her ordeal. 
"I suffer from a brain tumour, but I could not get my treatment done. Whatever money I earned, I used to build my house because I have nothing else except this house," she said. 
"I am not going to leave my house. If they want to bulldoze our house, then they will have to bulldoze us first," she said. 
60-year-old Parveen said that they voted for Modi in the last elections. "We have voted for him and made him win and now he is doing this to us," she said. 
On January 28, an organization named Majdoor Awas Sangharsh Samiti filed a petition against the eviction notice at Delhi High Court. 
Nirmal Gaurana, the lawyer who filed the petition on behalf of the residents, told TwoCircles.net that the High Court in its February 1 order directed the officials to hold a meeting on February 25 to discuss the rehabilitation plan for the people whose homes are about to be demolished. 
The matter will be heard next on March 3.
Shruti Sharma is a freelance journalist based out of New Delhi. She tweets @imsshruti77
[Edited by Irfan Mehraj. Tweets at @IrfanMeraj]