Nearly 40 families, most of whom Dalits and Adivasis, were rendered homeless after railways destroyed their basti on December 28 last month. 
Aquilur Rahman and Vipul Kumar | TwoCircles.net 
NEW DELHI — A week before the Supreme Court of India halted evictions in the Haldwani area of Uttrakhand that would have left over 50,000 families (mostly Muslim) homeless, nearly 40 Adivasi and Dalit families were evicted on December 28, 2022, from Lohra Kocha basti (slum) near Ranchi Railway Station in Ranchi, Jharkhand. Hours later, the slum was demolished by the Indian Railways. 
Some of those evicted from the slum lived here for over 50 years. People have now put up temporary establishments over the rubble and are forced to survive the chilling winters with no roof and sanitation. 
On January 10, the affected families submitted an application to Deputy Commissioner Ranchi giving details of the matter and demanded rehabilitation along with compensation.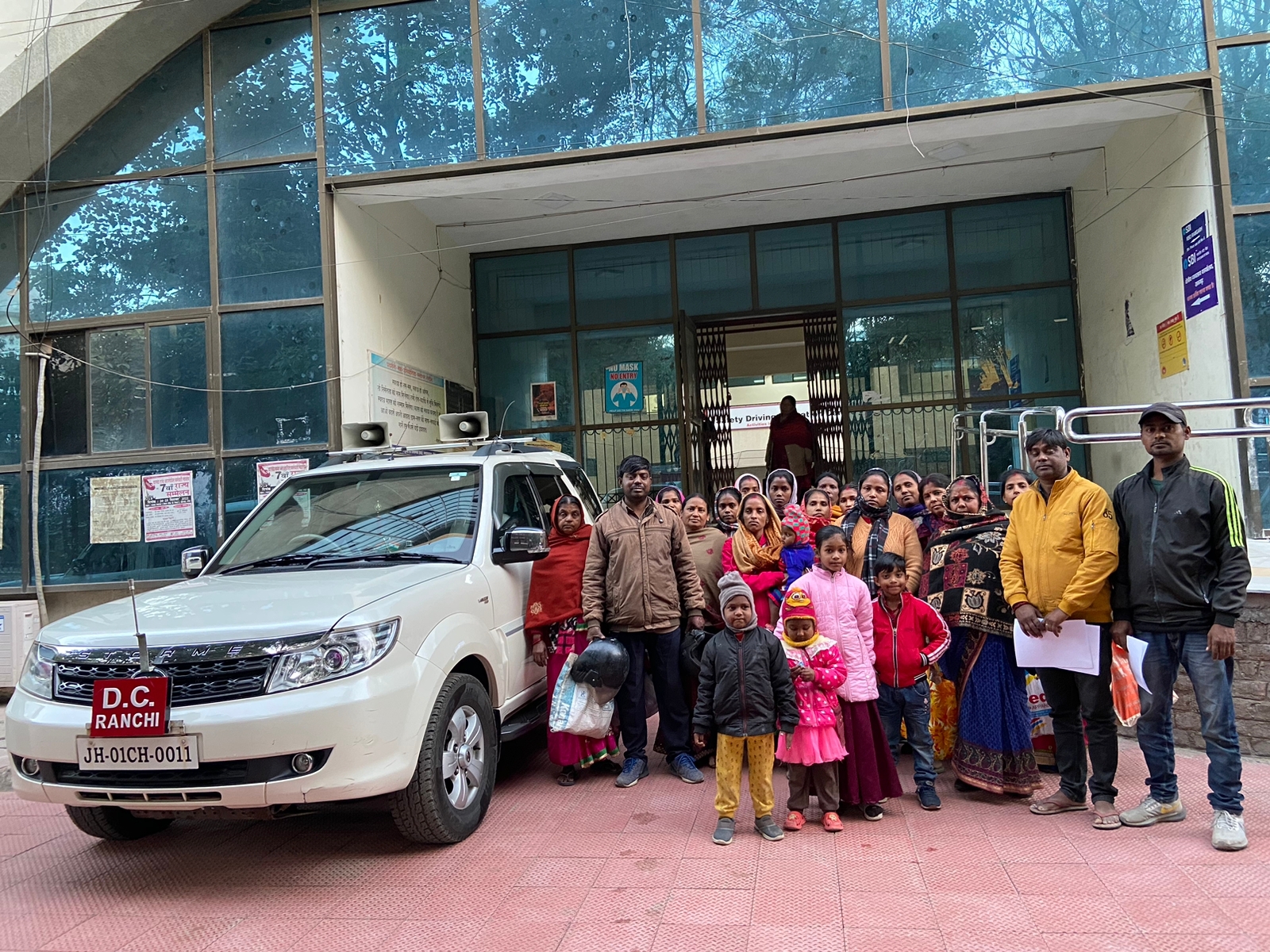 According to Rajesh Ram, an e-rickshaw driver and father of two, a notice was served in October 2022 but no action was taken due to festivals. Almost two months later, an audio announcement was made on December 26. "And on December 28, at around 10 a.m., bulldozers arrived at the location and in presence of the police force, the demolition of houses was carried out," he told TwoCircles.net. 
As per locals, several leaders from different parties, including both the Centre-ruling Bharatiya Janata Party (BJP) and state-ruling Jharkhand Mukti Morcha (JMM) had met with the families. 
Siraj, a local activist associated with Jharkhand Janadhikar Mahasabha, which is a state-level coalition of people's organizations, told TwoCircles.net that a notice was served on September 22 last year, when a meeting between the locals and representatives of various parties was held. 
Rajesh claimed that BJP Member of Parliament Sanjay Seth, JMM Rajya Sabha MP Mahua Maji, BJP Ranchi MLA CP Singh, BJP Hatia MLA Naveen Jaiswal and Ranchi Municipal Corporation Deputy Commissioner Sanjeev Vijaywargiya visited the area and assured the locals that no eviction will take place without proper rehabilitation.
Ranchi's BJP MP gave assurance to people in Oct 2022 that their basti would not be demolished and they would be rehabilitated first. Also seen is the local BJP MLA and leaders of other parties. Easy to play with the lives of poor Adivasis and Dalits? @svaradarajan @bhanwarmegh https://t.co/V4YHf6pmnE pic.twitter.com/lBayZZf9UM

— Jharkhand Janadhikar Mahasabha (@JharkhandJanad1) January 8, 2023
"Everyone talked about our rehabilitation. Sanjay Seth even talked about the fund received for railway beautification and said no house will be demolished before proper rehabilitation," Rajesh said. 
Having spent over three generations in the area consisting mostly of daily wage labourers, people had shifted to the locality in search of jobs and settled in the slums. 
Alpha Devi, a resident and mother of three and the sole bread earner of the family, is disheartened. 
She mentions the meeting held between locals and the elected representatives.
"We weren't even given time to take out our belongings. Now, we are unable to go to work. Our kids are not going to school. How can we leave them here on the roads?", Devi said.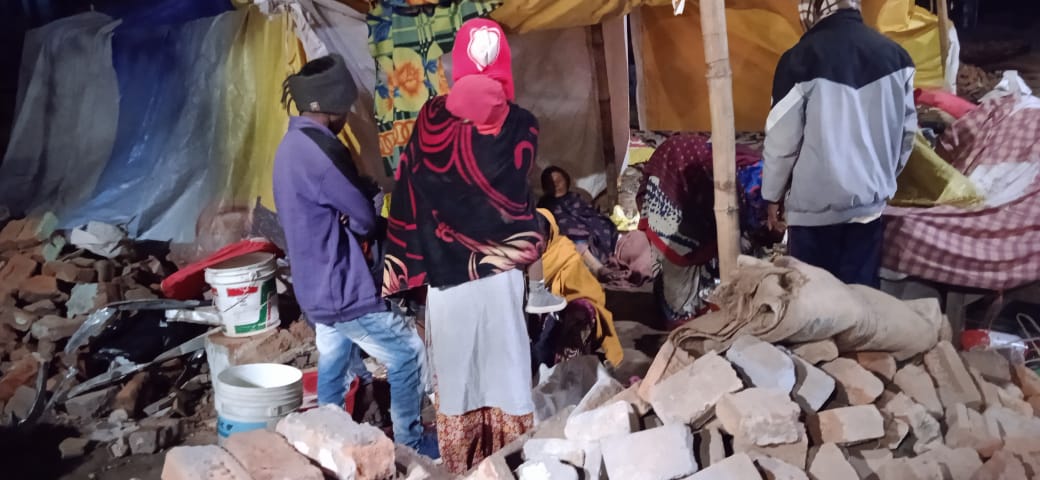 Both Devi and Ram mentioned the fear of rising Covid-19 cases in India and the high demand for rent as the main reasons for their difficulty in finding accommodation.
"We have made a temporary space using sarees and clothes for the women present in the area, to use it for sanitation purposes," Devi said.  
Devi said that most people had Ration cards, Aadhar and Voter ID registered at the same address. Among the government facilities available in their now-demolished houses included an electricity connection and a water tank developed by the Ranchi Municipal Corporation for the colony which too demolished. People now have to rely on a nearby tap to arrange water for their daily use.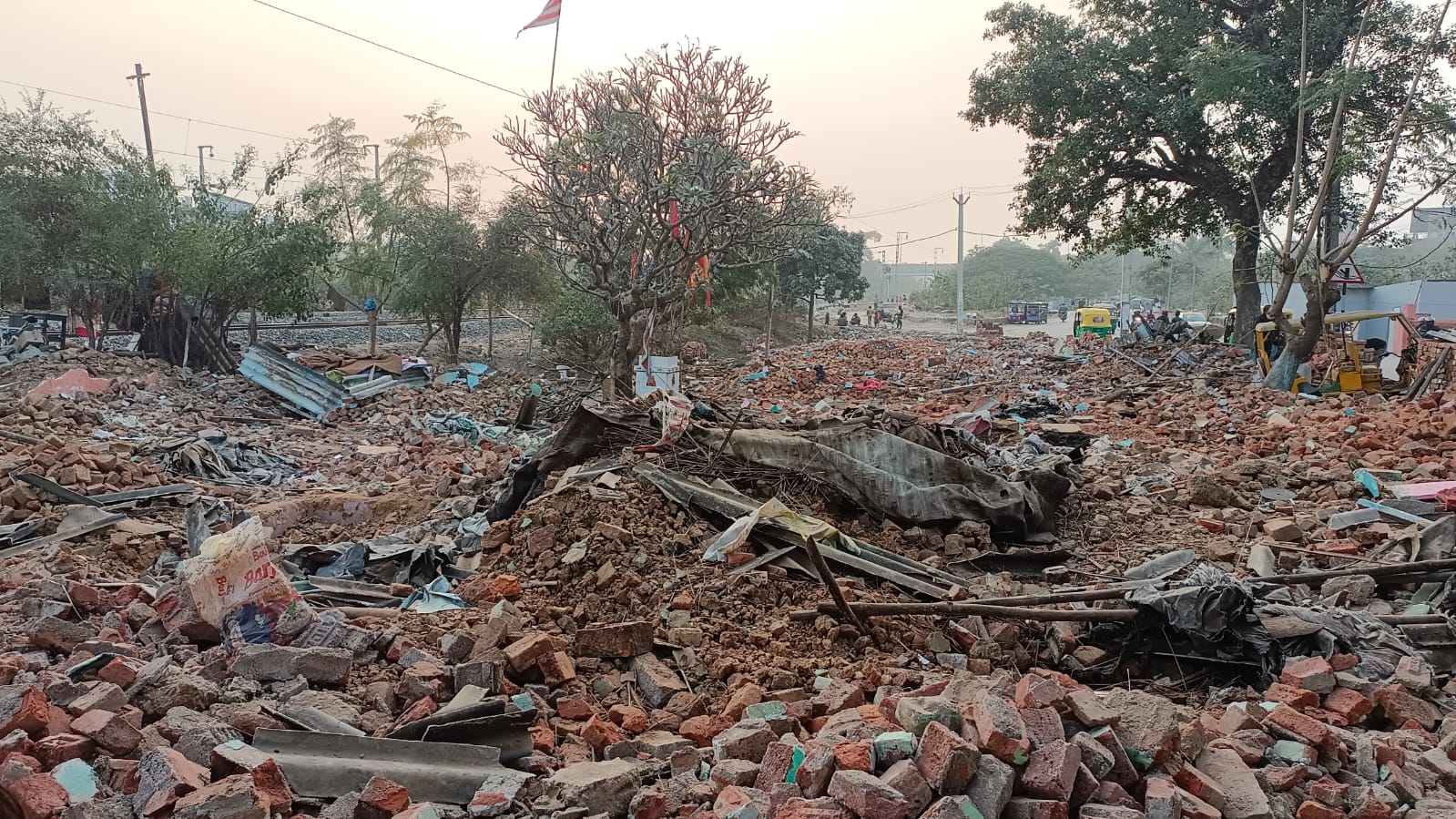 30-year-old Ajay Kachhap, who earlier used to work as a delivery agent for a courier service lost his job during the Covid-19 pandemic, had set up a tea shop near his now-demolished home. He is the eldest child among eight siblings and is without any source of income now and lives in a temporary hut made out of flex posters. 
According to locals, the demolition action has been taken after a Jharkhand High Court order on a case they weren't aware was ongoing. "Humein toh case ka ABC bhi nahi pata tha (We didn't even know anything about the case)," Kashyap said.
"We now rely on food donated by the locals as we are unable to go to work," Kashyap added.
7. महासभा मांग करती है कि @RailMinIndia तुरंत अतिक्रमण हटाने के अभियान को रोके एवं केंद्र व @HemantSorenJMM सरकार सुनिश्चित करे कि लोहरा कोचा समेत अन्य क्षेत्रों में बेघर किए गए लोगों को तुरंत मूलभूत सुविधाओं के साथ वैकल्पिक ज़मीन, घर व मुआवज़ा दिया जाए. @vinodbagodar pic.twitter.com/po1Cr0yKLS

— Jharkhand Janadhikar Mahasabha (@JharkhandJanad1) January 6, 2023
Jharkhand Janadhikar Mahasabha in its January 6 statement on the eviction, had mentioned similar action taking place in areas like Birsa Chowk and Hatia in Ranchi. The statement called for rehabilitation and compensation for all the affected families, providing essentials like blankets, warm clothes and tents for winter, and action against the officials responsible for this eviction.
CP Singh, BJP MLA of Ranchi, while talking to TwoCircles said, "After people were served notice, we visited the area and the railway delayed the eviction drive for a month. Now the Railway says it has to carry out the beautification and complete its work as it has received over 450 crores for it. What can be done here? Should the Railways stop their work?"
"We have requested the state government for their rehabilitation," Singh added. 
Multiple calls made by TwoCircles.net to several officials went unanswered. A questionnaire has been shared with Sanjay Seth, Mahua Maji and other officials. The story will be updated as and when responses to each will be received.
Aquilur Rahman is a freelance journalist based out of New Delhi. He tweets at @AQuill_inscribe
Vipul Kumar is a freelance journalist and a student at the Faculty of Law, University of Delhi. He tweets at @vipulizm
Edited by Irfan Mehraj. Tweets at @IrfanMeraj