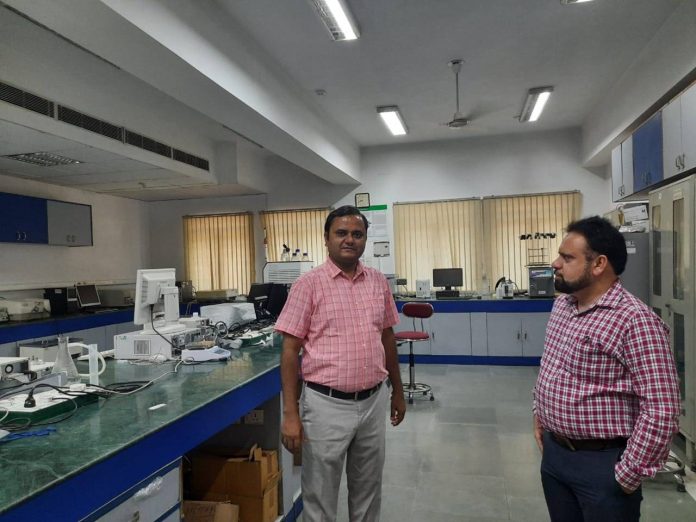 By Maariyah Siddique, TwoCircles.net
 As India became the seventh worst-hit country by global COVID-19 pandemic, a team of researchers at Centre for Interdisciplinary Research in Basic Sciences at Jamia Millia Islamia (JMI) have released a study concerning possible medicinal combinations for treating the virus.
---
Support TwoCircles
---
"Our research work has far-reaching practical applications for therapeutic implications," said Dr Imtiyaz Hassan, the lead researcher of the study.
Dr Hassan has remarkable scientific credentials including experience in identification and validation of novel drugs for targets in pathogenic organisms and structure-based design. He is currently associated with the Royal Society of Biology (FRSB) and Royal Society of Chemistry (FRSC) in the UK.
"Faster transmission rate, more incubation time, and genetic modifications have provoked scientists in the search for an immediate solution," said Dr Hassan, when asked about the reason for starting his study even before the announcement of the lockdown on March 24.
Assisting him closely in his laboratory were Dr Anas Shamsi, Taj Mohammad and Saleha Anwar, all of who are senior research fellows with records of international research and development collaboration.
Glecaprevir and Maraviroc are the two drugs identified by Dr Hassan's team for the potential treatment of Coronavirus in the study. He detailed that structure-based virtual screening of the FDA approved drugs were performed to search high-affinity binding partners of the main protease inhibitor and it was found that these two are the best inhibitors of SARS-CoV-2 main protease. While Maraviroc has a role in HIV-1 infection, clinical trial data and animal studies suggest the protective role of MVC in different diseases including cancer GVHD and other inflammatory diseases. Glecaprevir is another antiviral drug that acts on Hepatitis C virus (HCV) NS3/4A protease inhibitor thereby targeting the viral RNA replication.
Glecaprevir in combination with pibrentasvir has proven to be a highly effective pan-genotypic treatment for HCV patients without cirrhosis and with compensated cirrhosis; hence the development of an antiviral molecule either targeting the main protease of SARS-COV-2 or in combination with other potential strategies could be very useful to develop an effective treatment of COVID-19. In addition to the two, the research has revealed possible therapeutic combinations such as hydroxychloroquine, quinolone and cytokine storm regulator (Tocilizumab). From the available antiviral drugs Remdesivir, mesenchymal stem cells, anti-inflammatory medications could also prove to be beneficial. Dr Hassan added that passive antibody transfer from convalescent patients' sera has already shown positive clinical outcomes on severe COVID-19 patients admitted in different hospitals of the country.
Speaking about the significance of this study, Dr Hassan highlighted that his lab is working in the area of drug design and development for clinical management of varying types of Cancer. His team has been using structure-based drug design and development approach to discover novel therapeutics and the same strategy was applied to find potential therapeutic measures to address Coronavirus disease.
"Our research has proven to be very promising in elucidating mechanisms of many biological phenomena," he informed, remarking that the newer drug molecules acting upon newer targets impede the process of cancer cell proliferation and hence, potential cures to Cancer are no longer a mere dream but a reality.
"The timely development of effective and safe drugs for clinical purposes is time-consuming as well as capital consuming task," said Dr Hassan when asked about resource crunch as an implication of working under a nationwide lockdown. He explained that the research was conducted within a span of three months in which his team worked in an intensive schedule despite the lockdown, considering that putting all their efforts into the study was their duty as "Corona warriors." He expressed his gratefulness to the team members who, as an act of responding to the urgency of the conventional drug development process, agreed to continue the study in such a "challenging" time.
He further said that during the later stage of lockdown, it became quite difficult to coordinate with the research team along with difficulties in having access to the laboratory. He said that they received "timely support from Jamia Administration that gave special permission to the research team to access the lab."
With vaccine development being conducted widely in the labs' world over, Dr Hassan noted that the repurposing of FDA approved drugs could be an alternative approach to rapidly identify potential leads in developing effective and safe drugs against COVID-19. In this regard, the study has recommended that inhibition of the main protease of SARS-CoV-2 by FDA approved drugs is an attractive therapeutic choice to handle the urgent need of treating COVID-19.
The JMI faculty's study serves "as a guiding light in the domain of COVID-19 therapeutics and can significantly contribute towards the quick discovery and development of potential drugs to manage COVID-19." As far as a breakthrough vaccine is concerned, "there is a major problem faced during clinical trials," he said.
When inquired about clinical trials in hospitals, Dr Hassan said that more than 100 groups have developed vaccines and their clinical trials have already started around the globe. Ideally, these drugs are FDA approved so no other validations and approvals are required but he cautioned that "the team of doctors must review the clinical symptoms of patients and a suitable guideline should be developed to start clinical trials in hospital admitted patients."
Talking about the feasibility of conducting such trials in India, Dr Hassan added, "A strong collaboration among researchers, doctors and pharma companies is lacking here and the government should take a serious concern."
SUPPORT TWOCIRCLES
HELP SUPPORT INDEPENDENT AND NON-PROFIT MEDIA. DONATE HERE