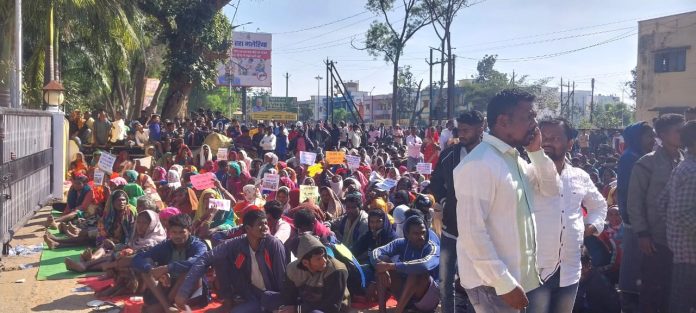 The tribal Christians from various villages in Chhattisgarh allege large-scale violence against them because of their allegiance to the Christian faith forcing them to flee.
Sami Ahmad | TwoCircles.net
PATNA (BIHAR) — Weeks after being allegedly driven out of their villages in the Narayanpur district of Chhattisgarh following attacks allegedly by members of Hindutva outfits, over fifty tribal Christian families are camped at the Indoor stadium in Narayanpur.  
The families are living in fear and demand safety for them in their villages and stringent action against the perpetrators. 
Earlier this month, hundreds of tribal Christians who had fled from their villages protested for several days in front of the district collector's office in Narayanpur, which is around 250 kilometres south of the capital Raipur. The protesting tribal Christians demanded that a first information report (FIR) under stringent sections be filed against the perpetrators of the attacks, who they alleged to be members of Hindutva outfits. 
The protesting locals submitted a memorandum to the district collector along with a complaint. 
The memorandum, a copy of which lies with TwoCircles.net, records scores of attacks on Christian communities from various villages in Bastar in Narayanpur. The memorandum records that over 59 instances of violence against Christians were reported across various villages in Bastar. 
In the memorandum addressed to the district collector and the superintendent of police, the signatories allege large-scale violence against them because of their allegiance to the Christian faith. 
The memorandum states that some people in the area are inciting others against them. 
According to the victims, they have been abused, beaten, socially boycotted, deprived of water and road connection, and accused of practising witchcraft and spreading disease. 
"Our houses were vandalized and crops were cut and looted," the memorandum states. 
The memorandum is signed by the residents of different villages of Narayanpur district. They state that they have been living there for years and observing prayers peacefully as per their Christian faith. 
One tribal Christian Nilesh Nag, who was forced to flee from his village, shared his agony with TwoCircles.net. 
"On December 18, in our village Dhruva we got phone calls to assemble and meet 'some people'. When we came out of our homes, we saw hundreds of 'those people' gathered there. As we were aware of the incidents which took place in nearby villages, we decided to run away as we feared violence from them. We were a total of 20 families. We all are now living in this stadium," he said. 
Currently putting up at the Indoor stadium in Narayanpur with his wife and son, Nilesh claimed the people who had come to their village belonged to some Adivasi organization which is said to be affiliated with the Rashtriya Swayamsevak Sangh (RSS).
"We were living peacefully but for the last few months, some disturbances started. I am an Adivasi and have faith in 'Prabhu Yeshu (Jesus Christ)' which 'those people' don't like and insist on abandoning it," Nilesh said. 
Carved out of Bastar in 2007, Narayanpur is one of the two new districts of the central Indian state of Chhattisgarh where more than 70% of the population is tribal, according to the official website of the district. Tribals such as Gond, Maria, Muria, Dhruv, Bhatra, and Hala tribes etc are the main social groups of the district. The land belonging to the tribals is surrounded by dense forests, mountainous hills, rivers, waterfalls and natural caves. A large number of Narayanpur tribals are still living in deep forests and do not meet with outsiders to keep their own unique culture safe. More than one-fourth of the Adivasi pollution of the state is found to be in this district. 
Failure to act against culprits
On December 19, the local administration promised prompt action against the culprits but according to the victims, only a few perpetrators of violence were booked under sections 294, 333 and 505 of the IPC. 
This did not satisfy the protesting tribal Christians who say that the sections invoked are easily bailable and deal with public order and bear light punishment. 
In the Bhupesh Baghel-led Congress government, getting FIRs registered is difficult, as per lawyers. 
According to one lawyer, who did not want to be named, members of the Christian community are being denied their basic rights and are being driven away from their villages. 
"It is like a parallel government acting against the Christian community. People, mostly attached to RSS-affiliated organizations and religious heads, gather from the villages and hold the so-called Pargana meeting. They announce that their traditional Gram Sabha (Village Assembly) is above the Lok Sabha and Vidhan Sabha. They claim that they have every right on Jal-Jungle-Zameen (Water, Forest and Land), and whoever has changed their faith to Christianity is barred," the lawyer said. 
When TwoCirles.net contacted the Naryanpur district magistrate over email to inquire about the matter, there was no response. This story will be updated as and when a response is received.  
Chhattisgarh President of human rights group People's Union for Civil Liberties (PUCL) Degree Prasad Chauhan expressed concern that "Adivasis are being invited to attack their fellow Adivasi just because their religion is Christianity."
"We have moved a petition in the court for registering FIR and providing protection to the victims," he told TwoCircles.net. 
A tribal Christian activist, requesting anonymity, told TwoCircles.net that tribal Christians are living in fear. "Those who have signed the letter to the collector are being harassed and asked to withdraw their complaint individually," he said. 
Sami Ahmad is a journalist based in Patna, Bihar. He tweets at @samipkb