Some religious texts and furniture were destroyed in the fire and the word 'Ram' was written on the wall inside the prayer hall. 
Huneza Khan | TwoCircles.net 
BHOPAL (MADHYA PRADESH) — Three men have been arrested for torching and vandalising a church and a prayer hall in the Narmadapuram district of Madhya Pradesh, police said. 
The church, located in the Chaukipura area with a considerable tribal population, was set ablaze on Sunday (February 12). Some religious texts and furniture were destroyed in the fire. At a prayer hall in Chaukipura village, furniture was found burnt and the word 'Ram' was written on the wall.
The vandalists had allegedly entered the Church by barging through the window net and leaving the place of worship on fire from the inside. The Church was built around five years ago. The incident came to notice when the local Christian community gathered on Sunday for their monthly prayer meeting. They discovered the broken windows of the meeting hall. It had turned black because of smoke and "Ram" was carved on the walls.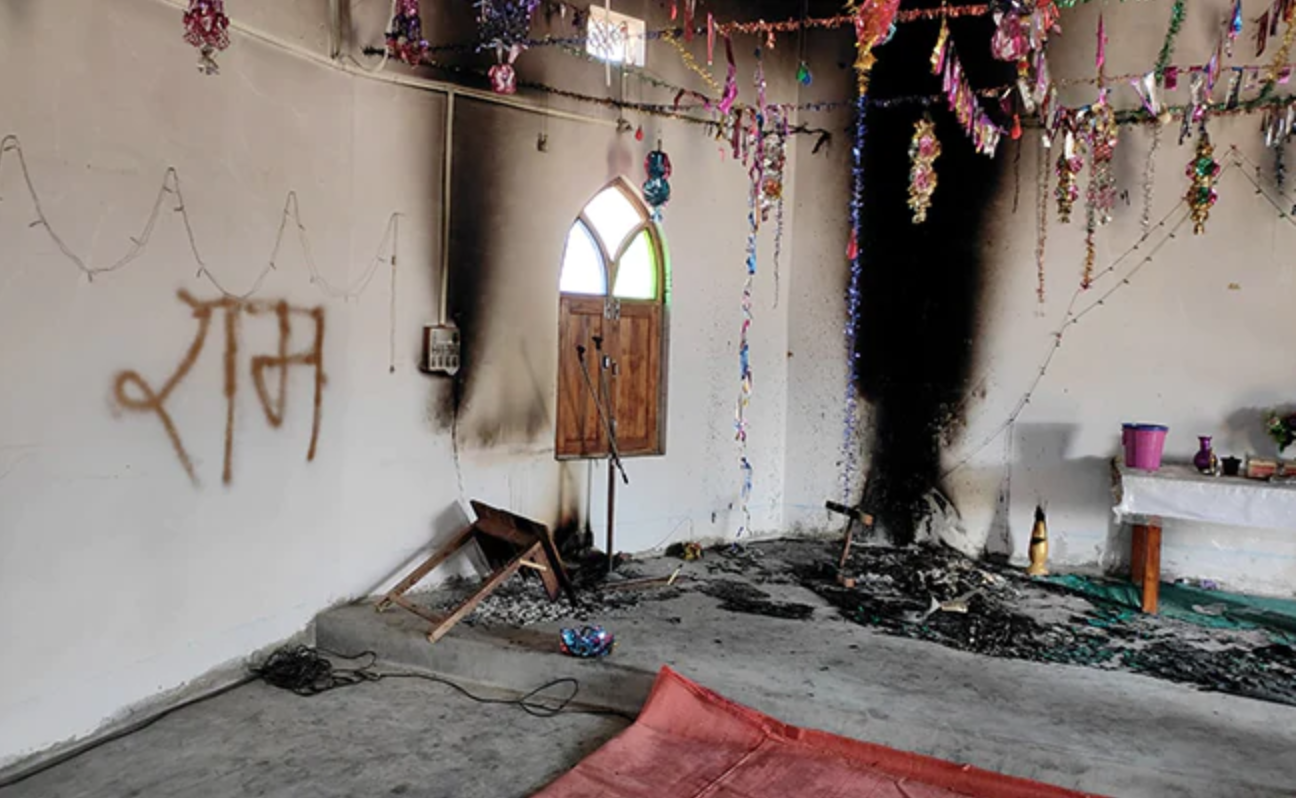 Police filed a first information report (FIR) under section 295 (injuring or defiling a place of worship, with intent to insult the religion of any class) of the Indian Penal Code (IPC). 
Narmadapuram Superintendent of Police Gurkaran Singh briefed the reporters during a press conference that a prayer hall of a church was set on fire. 
Three suspects, Avanish Pandey, Shiva Rai, and Akash Tiwari were arrested by the police on February 14, he informed. 
He said that only a month ago, a similar incident had occurred in the Kheda village of Itarsi. 
Police have taken both instances seriously, and an investigation team was established under the Additional Superintendent of Police, he said. 
Police arrest Avneesh Pandey, Shiv Rai & Mastermind Akash Tiwari from #Jhansi for attack on #Churches in #Sukhtava block on #MadhyaPradesh's #Narmadapuram. pic.twitter.com/X8kaY1aRer

— Hate Detector 🔍 (@HateDetectors) February 14, 2023
The main accused Avanish Pandey is a resident of Faizabad, Uttar Pradesh. He works for Railways and has been living in Itarsi for over a year. 
Another accused, Shiva Rai is an electrician who also works for Railways. These incidents were planned by Jhansi resident Akash Tiwari, who is the mastermind. He was taken into police custody from Uttar Pradesh and brought to Narmadapuram. 
According to Gurkaran Singh, "Tiwari used to send locations of Churches and shrines on WhatsApp, and the other two accused used to get paid for executing the work." 
Singh said that the accused had greed for money as the mastermind used to do online transfers of funds to them. "They wanted to do something for their religion and had planned big incidents in near future," he said. 
Last month in Chhatisgarh's Narayanpur city, a church was damaged as part of a protest over purported religious conversion in the tribal-dominated region. Eleven individuals were arrested as a result of the event, including the district head of the BJP, for using violence and attacking policemen. TwoCircles.net had earlier reported how scores of tribal Christian families are fleeing villages in Chhatisgarh's Narayanpur districts following attacks by right-wing groups. 
Notably, Madhya Pradesh and Chhattisgarh will be going to polls later this year ahead of the General Elections in 2024.
Huneza Khan is a journalist from Bhopal, Madhya Pradesh. She tweets @KhanHuneza