Started by social activist Aasif Mujtaba, the Sunrise Public School in Loni, Ghaziabad offers free education to children from riot-affected families. 
Arbab Ali | TwoCircles.net 
NEW DELHI — Khushi sits unusually quiet in her classroom, as she looks away from other students. "She is not smiling today," said her teacher Islamuddin.
"It's been three years, but I still feel like it was yesterday," she finally opens up.
Khushi remembers every chilling detail of that fateful day of February 25, 2020. She was at home with her parents and younger brother in Bhagirathi Vihar, a neighbourhood in Gokalpuri, north-east Delhi, when a group of around 30 men yelling "Jai Shri Ram" broke open their door. Brandishing iron rods, knives and chains, and wearing motorcycle helmets to evade being identified, they began hitting Khushi's father, 35-year-old Musharraf, with blunt objects. After he fell unconscious, they burned him alive and dumped his body in a nearby drain. "I begged them not to hurt Abba. But they laughed," she said.
Musharraf was among 53 people, mostly Muslim, who were killed during the riots that engulfed north-east Delhi from February 23 to 27, 2020. The violence began after Bharatiya Janata Party (BJP) leader Kapil Mishra publicly threatened to remove anti-CAA (Citizenship Amendment Act) protestors from the streets of northeast Delhi. Several hundred were also injured and thousands were displaced during the violence.
Since Musharraf, who worked as a driver, was the only earning member of the family, Khushi had to drop out of her previous school. "I was unable to pay the fees," said Khushi's mother Malika.
In November 2020, however, Malika enrolled Khushi and her brother, four-year-old Rihan, in Sunrise Public School, located in Rashid Ali Gate, a Muslim-inhabited enclave in Loni, Ghaziabad. The family moved to a rented, unplastered, one-room accommodation in Loni, on the outskirts of Delhi, after the riots. It was here that a volunteer with the Sunrise Public School visited Malika and convinced her to send her children to the school.
Sunrise Public School
A narrow lane, with large drains flowing on both sides, leads to a gate behind which is a neat blue and white building and a small playground. This is the campus of Sunrise Public School, where 148 children affected by the northeast Delhi riots of 2020, are enrolled.
The school threw open its gate to the riot-affected children, offering them free education and a safe environment, in November 2020, after Aasif Mujtaba, a PhD scholar at the Indian Institute of Technology (IIT) Delhi took it on rent from its owners. "It was in a deplorable state, and because it was not functioning during the Covid lockdown, the school administration decided to permanently shut it or convert it into a shopping complex," said Mujtaba, who has worked extensively for the relief and rehabilitation of riot victims.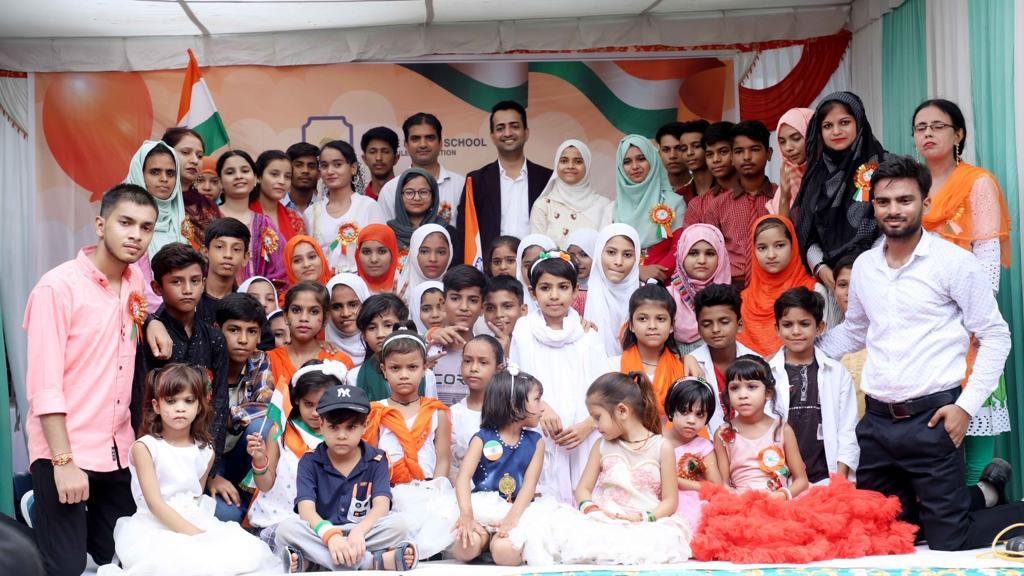 With the help of publicly raised funds, Mujtaba, and a team of volunteers, renovated the school with a fresh coat of paint and new furniture.
Mujtaba decided to start a school for riot-affected children after meeting Arsh, a 14-year-old boy, who was "afraid of returning to school" in the aftermath of the riots. A two-dozen-strong mob burnt down Arsh's father Mohammad Saleem's salon, forcing the family to permanently flee their home in Shiv Vihar.
"It was being alleged that the owner of Manoj Public School, a prominent school in Shiv Vihar, was part of a mob that burnt and looted Muslim homes during the riots," Mujtaba said. The rioters had also laid waste to the campuses of DRP Convent Public School, Victoria Senior Secondary School, Rajdhani School, and Arun Modern School.
"We wanted to free the children from the toxic environment. I met other children who had similar fears," said Mujtaba.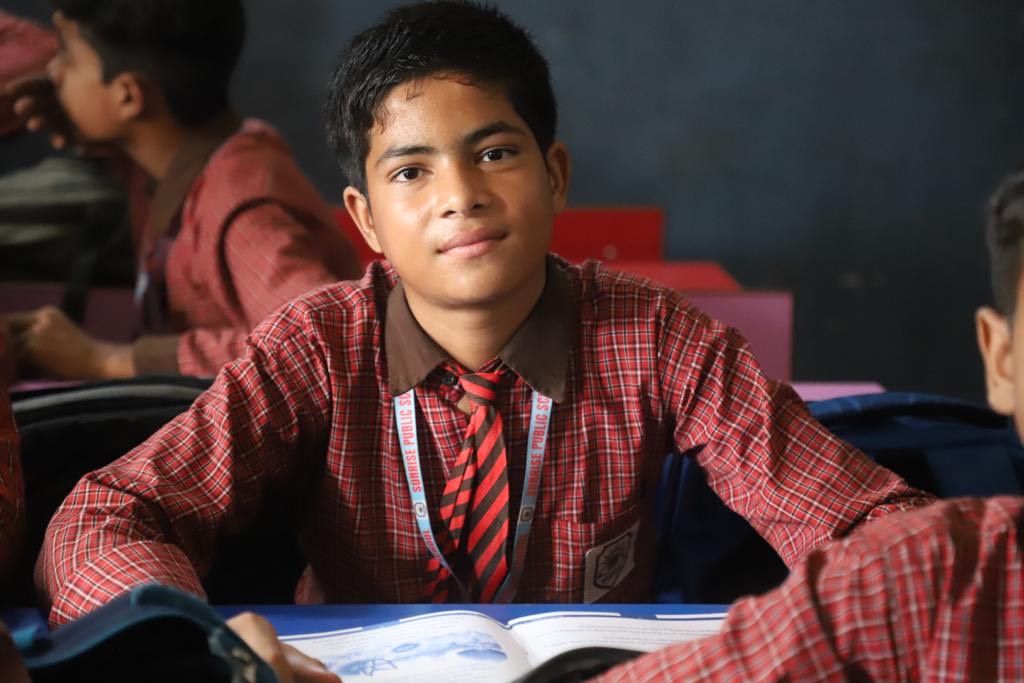 The Covid-induced lockdown worsened the economic condition of Arsh's family, and they were planning to send him to work at a jeans factory on the outskirts of Delhi. That was when Mujtaba met the family and convinced them to send Arsh to school. It was about the same time that Mujtaba had learnt about the imminent shutdown of Sunrise Public School.
"Arsh became our first student," said Mujtaba. Arsh attends Sunrise Public School with his brother Ishan and sister Sebi.
Over 385 students on roll
In its first year, the school enrolled 148 students, all affected by the Delhi riots, including 23 having lost their fathers to the violence.
In its third year, it has 385 students on roll. No fee is charged for the first 148 students, while others pay a nominal fee of Rs 30-40 a month.
Expenses are mostly covered through publicly-raised contributions such as online donations.
The school has a total of nine classrooms, for children from kindergarten to eighth grade. Special classes are held for those who previously never went to school or studied only in religious schools. The campus also has an assembly ground and a playroom, and the administration regularly takes the students for picnics in Delhi.
Registered under Uttar Pradesh's Madrasa Board, the medium of instruction is English and the subjects taught include Mathematics, Science, Social Studies, English, Urdu, Hindi, Islamic Studies, Computer Science, Arts, General Knowledge and Physical Education.
'Shared trauma': Teacher-student bond
The school primarily hires teachers from Shiv Vihar and other riot-affected colonies. "Many teachers have also suffered as a result of the violence. Here, there is shared suffering and trauma," said Islamuddin, a math teacher at the school.
"What happened three years ago has left the students traumatized. Most had no idea why their homes had been burned down, but now they do," he said.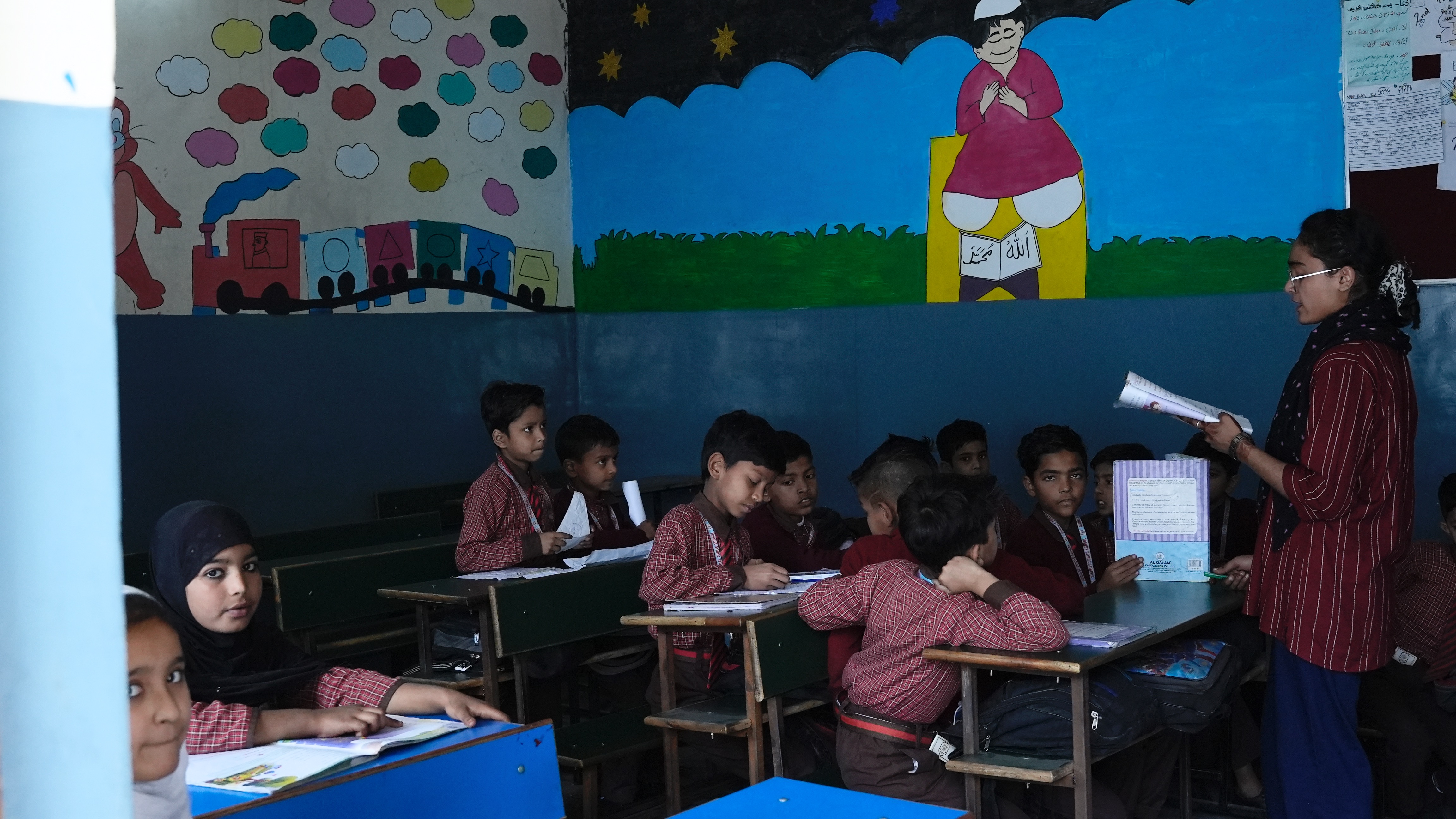 To help them heal, the teachers engage them in fun activities, encourage them to make friends, and "hold one-on-one sessions when we feel a student is depressed," said Islamuddin.
According to a 2005 UNICEF report titled "Childhood Under Threat", children are among the first and worst affected by conflict, whether directly or indirectly. Even if they are not killed or injured, direct exposure to violence, dislocation, poverty or the loss of loved ones can leave them with deep emotional scars and trauma, according to the report.
Sunrise Public School continued to hold classes during the pandemic as the lockdown was not fully enforced in Loni. This helped children like Anash, whose father Jamaluddin Mansoori was killed while returning to his Shiv Vihar home during the Delhi riots. He was unable to attend online classes at his previous school because he lacked a smartphone. "I could only study once this school opened," he said.
According to his teachers, Anash is one of the brightest students at school.
Three years on, children like Khushi, Arsh, and Anash are still struggling to put their lives back together.
"This is their only chance at a good education," said Khushi's mother Malika.
Arbab Ali is a fellow at the TCN-SEED mentorship program.