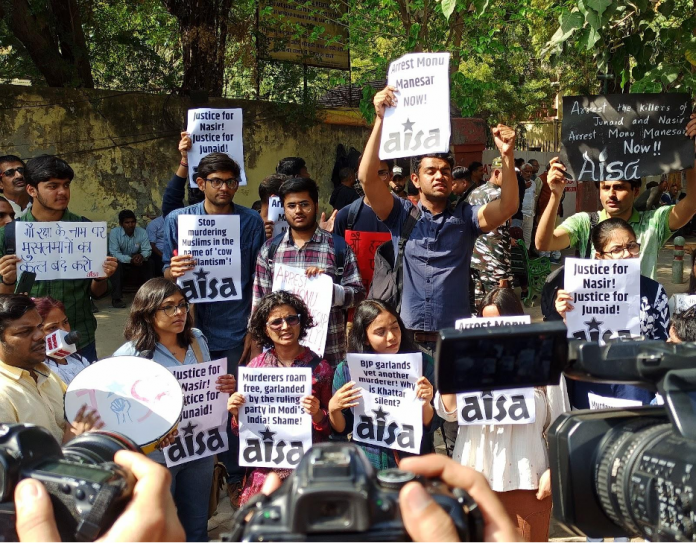 At a protest on Friday at New Delhi's Jantar Mantar, student bodies urged the government to arrest the accused in the killing of two Muslim men in Haryana.
Shruti Sharma | TwoCircles.net 
---
Support TwoCircles
---
NEW DELHI — Student bodies on Friday protested at New Delhi's Jantar Mantar against the killing of two Muslim youths allegedly by cow vigilantes in Haryana and demanded the arrest of the accused.
Last week, two Muslim men Nasir and Junaid from Ghatmika, a village situated near the Haryana-Rajasthan border were kidnapped, lynched and set ablaze alive allegedly by members of the Bajrang Dal over suspicion of cow slaughter. They were allegedly abducted on February 15 and their bodies were found in a charred car in Loharu, Haryana a day later.
"We are specifically protesting against the lynching of Junaid and Nasir but as a whole, we are protesting against increasing Islamophobia in India which has the government's backing," said Shrijan, a student at Aurobindo College, University of Delhi.
Shrijan said the government has failed to fulfil its promises. "The government is only benefiting 1% of the rich while increasing the gap between the rich and the poor. To hide these flaws, the government is weaponizing religion. Earlier, religion used to be a personal matter for everyone, but now the government is telling people that they have to fight for their religion. They are garlanding those who kill Muslims in the name of cow vigilantism. The government wants Muslims to feel like second-class citizens inside India," he said.
"Our demand from the government is to give Monu Manesar and other perpetrators the harshest possible punishment," he said.
Nine persons have been named as accused in this case, including Monu Manesar, by Rajasthan Police. However, only one [Shrikant] has been arrested so far.
Monu Manesar, a right-wing social media influencer and a YouTuber with more than 2 lakh subscribers is known for posting videos of chasing vehicles, firing and posing with alleged cow smugglers, many times in an injured state. He is an active Bajrang Dal member and on several occasions, he has shared photos of himself with high-profile BJP leaders and police officials on his social media account.
Lawlessness rife in country
Our country is in a state of complete lawlessness, Naushad, a student of Jamia Millia Islamia said at the protest.
"The incident of burning and killing Nasir and Junaid is a vivid example of this fact," she said.
Naushad lamented that the government is not taking any action against the accused. "A few days ago, a call was made in this very Jantar Mantar to kill Muslims and Christians. However, not a single FIR has been filed against them," she added.
Pertinently, a 'Hindu Mahapanchayat' was organized by the members of Vishva Hindu Parishad in support of the accused Monu Manesar in the Manesar town of Haryana on February 21. Speakers at the event warned the Rajasthan government and the Rajasthan Police of "dire consequences" if they dare to arrest Monu Manesar. A second 'Hindu Mahapanchayat' was called by members of the Bajrang Dal and Vishwa Hindu Parishad at Hathin in Haryana on February 22, again in support of Monu Manesar.
The students at Jantar Mantar were protesting on the behalf of All India Student Association.
"We are demanding immediate arrest of the accused. The state is giving protection to them. Everybody knows that it's very difficult to organize such a huge protest but such a big event (<ahapanchayat) happened in support of the lynching accused. So it's clear cut that the government and the police are supporting him," said Amir, a student.
Protesters claimed that after the Mahapanchayat, the name of Monu Manesar from the FIR was removed. However, the Rajasthan police denied this.
Some protesters said that they are fearing for their own well-being too. "If the people with such big accusations keep getting support from the administration, then the morale of all criminals will boost up, and they won't have fear of law and order. In such a situation, no one is safe irrespective of religious identity," a student said.
The protesting students said their faith in the democratic values of the country is shaking.
Notably, on the same day, hundreds of people from the Nuh district of Haryana gathered in Ferozepur Jhirka demanding justice for Nasir and Junaid. Their demands included the immediate arrest of all the accused and fair financial help to the family of Junaid and Nasir. They also demanded a ban on the Hindu right-wing outfit Bajrang Dal.
Shruti Sharma is a freelance journalist based out of New Delhi. She tweets @imsshruti77
SUPPORT TWOCIRCLES
HELP SUPPORT INDEPENDENT AND NON-PROFIT MEDIA. DONATE HERE