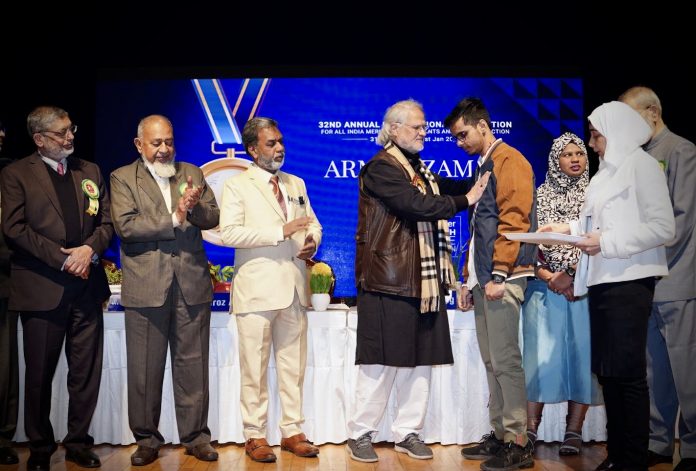 The two-day event was organized by the Delhi Youth Welfare Association (DYWA) and the American Federation of Muslims of Indian origin (AFMI) in New Delhi. 
Snobar | TwoCircles.net 
---
Support TwoCircles
---
NEW DELHI — 84 meritorious school students from across the country were felicitated during a two-day event in New Delhi which concluded today.  
Organized by the Delhi Youth Welfare Association (DYWA), which works for promoting education for underprivileged children and the American Federation of Muslims of Indian origin (AFMI), the event saw students from 19 states, who passed 10th and 12th grades in 2022, awarded with medals, certificates, and cash prizes. 
"I was truly impressed when I got to know that people in America are so committed to contributing to the welfare of students here in India. This is very motivating," said Ifrah Rauf, who received a silver medal. 
Ifrah scored 95.6 per cent in class 12th and is now pursuing a BCA from Indraprastha University in New Delhi. 
Her parents were elated with her success. 
"This is encouraging for parents as well. This makes us believe that we took the right step by getting our daughter educated," said Ifrah's mother, Tayyaba Rehman who was present at the convention. 
Girls outperform boys
61 of the 84 recipients were female. The gold, silver, and bronze medalists each received Rs 7,000, Rs 5,000, and Rs 3,000 respectively.  
"It is fantastic to see so many students, especially girls, scoring so high in schools," said Najeeb Jung, former LG, Delhi, who was the chief guest at the programme. 
He warned the audience about the dangers of technology. "It's great that we are learning and using social media, but we must avoid addiction and make sure that tech companies don't manipulate us," he said.
Khalil Ahmed, the patron of DYWA, said that in current times education should not be associated with jobs and careers."
"Get educated to understand yourself, the world and the journey of life," he said. 
"If you get a job, it is an added bonus. If you don't get one, it is not the end of the world. If you have a family business, focus on expanding the same and take it to new heights. Don't look down at it," said Ahmed.  
The awardees included two sisters from Telangana. Nargis Sultana (gold medal) and Nafees Sultana (silver medal) scored 95 per cent and 93 per cent in 12th grade. Nargis wants to be a doctor and is preparing for NEET. Nafees is pursuing a bachelor's degree in pharmacy in Telangana. Their father, Mohammad Abdul Saleem accompanied them to the ceremony. "Both I and my wife could not finish school education. We were clear that we would get out daughters educated and make them self-dependent," said Saleem who works as a supervisor in a borewell. 
"Events like this one boosts our morale," he added. 
This was AFMI's 32nd convention to recognise the country's top student achievers. Founded in Detroit, United States in 1989, AFMI has recognised over 4,000 students from over 400 districts in India.
Dr Kavita Sharma, former president of South Asian University, Dr Akhtarul Wasey, president of Maulana Azad University in Jodhpur, and historians Swapna Liddle and Samina Mishra attended the event.  
SUPPORT TWOCIRCLES
HELP SUPPORT INDEPENDENT AND NON-PROFIT MEDIA. DONATE HERE