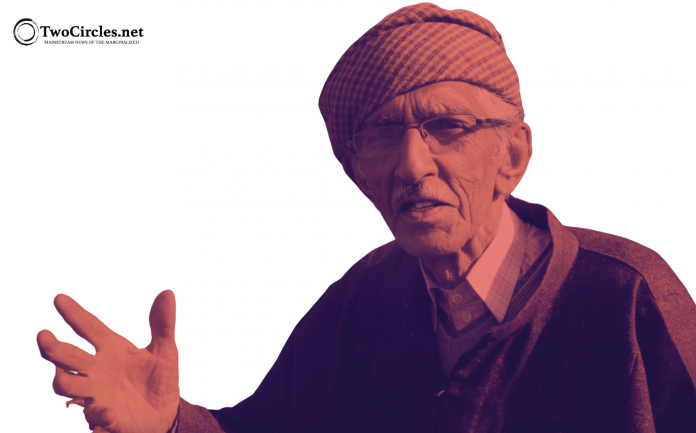 Rehman Rahi has profoundly impacted Kashmiri culture and literature as a respected poet, forward-thinking critic, and literary theorist.
Afnan Habib | TwoCircles.net 
---
Support TwoCircles
---
SRINAGAR (JAMMU AND KASHMIR) — Professor Abdul Rehman Rahi, a well-known Kashmiri poet, critic, and scholar, passed away at his residence in the Nowshera area of Srinagar city on Monday. He was 98.
Born on May 6, 1925, Rehman Rahi published several poetry volumes and translated some of the most renowned poets' works into the Kashmiri language. Rahi has profoundly impacted Kashmiri culture and literature as a respected poet, forward-thinking critic, and literary theorist.
In 2007, Rahi was the  first Kashmiri author to receive the Jnanpith, the country's highest literary honour, for his lyrical collection "Siyah Rood Jaeren Manz" (In Black Drizzle), published in 2004.
His artistic achievements have considerably widened the lyrical and imaginative potential of the rich Kashmiri language. For his poetry collection "Nawroz-e-Saba," Prof. Rahi received the Sahitya Academy Award in 1961. He was also honoured with the Padma Shri in the year 2000.
Prof. Rehman Rahi did a stellar job translating the original Punjabi Sufi poetry of Baba Farid into the Kashmiri language. While Dina Nath Nadim's influence on his poetry is also evident, especially in his early works. The work of French philosophers Albert Camus and Jean-Paul Sartre also had noticeable effects on his work.
Many members of society, notably those in the literary community, have expressed their condolences upon his passing.
Remembering Prof. Rehman Rahi, Zeeshan Jaipuri, a young poet, told TwoCircles.net that losing him was a personal as well as a collective loss for society. "As far as I can tell from his writings, Rehman Rahi spoke for the Kashmiris as a whole. He had unparalleled skill in his field. Prof. Rahi used poetry to express what the average Kashmiri felt," he said.
Regarding Rehman Rahi's contributions and works, Zeeshan added, "When it comes to Kashmiri poetry, Rehman Rahi occupies a significant place. With him, Kashmir saw the start of a new poetic era. Rahi's poetry employs metaphors in a complex, psychological way that is uncommon elsewhere. He gave me the motivation I needed to keep writing poetry. I personally mourn his passing."
Shakir Shafi, president of Halqua e Adab Sonawari (HAS), recalled Prof. Rahi's contribution to the Kashmiri language and literature and his close relationship with Halqua e Adab Sonawari. He termed Rahi's passing a significant loss to the Kashmiri language and literature.
"Prof Rahi has always been of great support to the organisation. He has rarely missed any major events of the organisation and would always ensure his presence on Prof Mohi ud Din Hajini Day. His magnificent absence in such events would be badly missed by all of us and his fans," he said. 
The Lieutenant Governor of Jammu and Kashmir, Manoj Sinha, expressed his sorrow over Prof. Rahi's passing. "Deeply saddened to learn of the passing away of Jnanpith awardee Prof Rehman Rahi, one of the most influential poets in Kashmiri in recent times. His passing marks the end of an era. My sincere condolences to his family, friends, and well-wishers," he said in a tweet.
"Saddened to hear about the sad demise of towering literary personality and Gyaanpeeth Awardee Jinab Rehman Rahi sb. In his death, Kashmiri Literature and society has been left with a void that can never be filled," Mehbooba Mufti, a former chief minister of J&K, said while condoling his death.
Afnan Habib is a freelance journalist based in Srinagar, Jammu and Kashmir. He tweets @afnanhabib_
SUPPORT TWOCIRCLES
HELP SUPPORT INDEPENDENT AND NON-PROFIT MEDIA. DONATE HERE