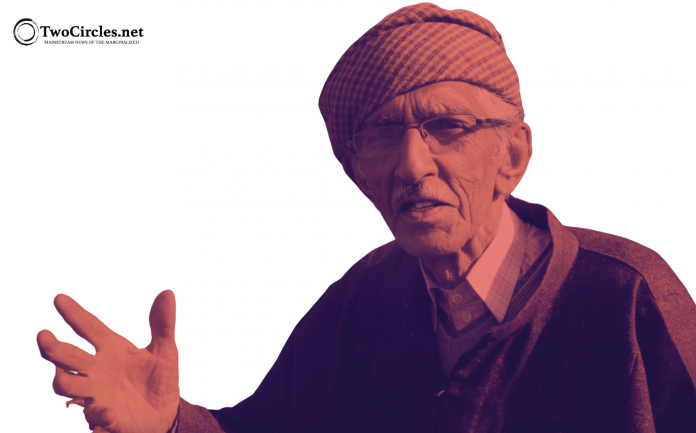 Rehman Rahi's death on January 9 was mourned across Kashmir. 
Afnan Habib | TwoCircles.net 
---
Support TwoCircles
---
SRINAGAR (JAMMU AND KASHMIR) — Professor Abdul Rehman Rahi, a well-known Kashmiri poet, critic, and scholar, passed away at his residence in the Nowshera area of Srinagar city on Monday (January 9). He was 98. 
Here are ten facts about Kashmir's renowned poet, whose death was mourned across literary, social and political circles in Kashmir. 
1. Born on May 6, 1925, Rehman Rahi published several poetry volumes and translated some of the most renowned poets' works into the Kashmiri language.
2. He is the first Kashmiri author to receive the Jnanpith, the country's highest literary honour for the year 2007, for his lyrical collection "Siyah Rood Jaeren Manz" (In Black Drizzle), which was published in 2004. 
3. In 1948, he began working as a clerk in a government department. He then pursued his education and earned an MA in Persian and English in the 1950s and 1960s.
4. For his poetry collection 'Nawroz-e-Saba,' Rahi received the Sahitya Akademi Award in 1961. 
5. Rehman Rahi received the highest literary distinction bestowed by India's Sahitya Akademi, the Sahitya Academy Fellowship, in 2000.
6. Prof. Rehman Rahi was honoured with the Padma Shri award in the year 2000.
7. Prof. Rahi did a stellar job translating the original Punjabi Sufi poetry of Baba Farid into the Kashmiri language. 
8. Rehman Rahi is credited for redeeming Kashmiri literature from Persian and Urdu languages, which had previously held sway over Kashmir's literary culture.
9. The emergence of an indigenous critical idiom for Kashmiri is credited to Rahi's critical writings in Kahwat (Touchstone, 1980). This book won him the Best Literary Critic Award of the State Cultural Academy.
10. A large portion of Rahi's poetry explores the themes of alienation, existential crisis, and human predicament on a personal, societal, and universal level.
Afnan Habib is a freelance journalist based in Srinagar, Jammu and Kashmir. He tweets @afnanhabib_
SUPPORT TWOCIRCLES
HELP SUPPORT INDEPENDENT AND NON-PROFIT MEDIA. DONATE HERE