Most residents of Brahmpuri expressed displeasure against the appearance of such posters while some supported it. 
Shruti Sharma | TwoCircles.net 
---
Support TwoCircles
---
​​NEW DELHI — Early last week, posters emerged in some parts of Brahmpuri in the Shahdara area of northeast New Delhi asking Hindus not to sell their properties to Muslims with a threat that any registration of such a property would be opposed.
The posters were issued in the name of one Pradeep Sharma, a lawyer from Lane no 13, Brahmpuri. It directed that all future transactions in the Brahmpuri area would be between Hindus alone.
Photos of the posters had gone viral on social media, sparking outrage. 
हेल्लो @DelhiPolice क्या इन पर कोई कार्रवाई होगी या इस लिए कार्रवाई नही होगी क्योंकि पोस्टर लगाने वाले हिंदू समाज से आते हैं? pic.twitter.com/qR1AFsZALJ

— Mohammad Tanvir تنوير (@TanveerPost) January 11, 2023
Written in Hindi, one of the posters said, "All the land owners of Brahmpuri area are informed that no one will sell their house to Muslims. And if they do so, then the residents of the area will not allow the registry to take place. And for this action, he will be held responsible. Any deal in the future should be done with Hindu parties only."
"Requested by Pradeep Sharma, advocate, Gali Number 13, Brahmpuri," the poster read. 
Brahmpuri is one of the localities in northeast Delhi's Shahdara district that witnessed the horror of the 2020 Delhi riots leaving 53 dead and nearly 600 injured. The riots happened around the time anti-Citizenship Amendment Act (CAA) protests were going on across India, including Jafrabad, the Muslim-majority area near Brahmpuri. 
This reporter visited Gali numbers 13 and 6 of the Brahmpuri area, where the posters were allegedly put up. Residents of Gali number 13 showed the spots where posters were allegedly put. Most of the posters have now been torn.  
In Gali number 6, one poster was still pasted on a wall.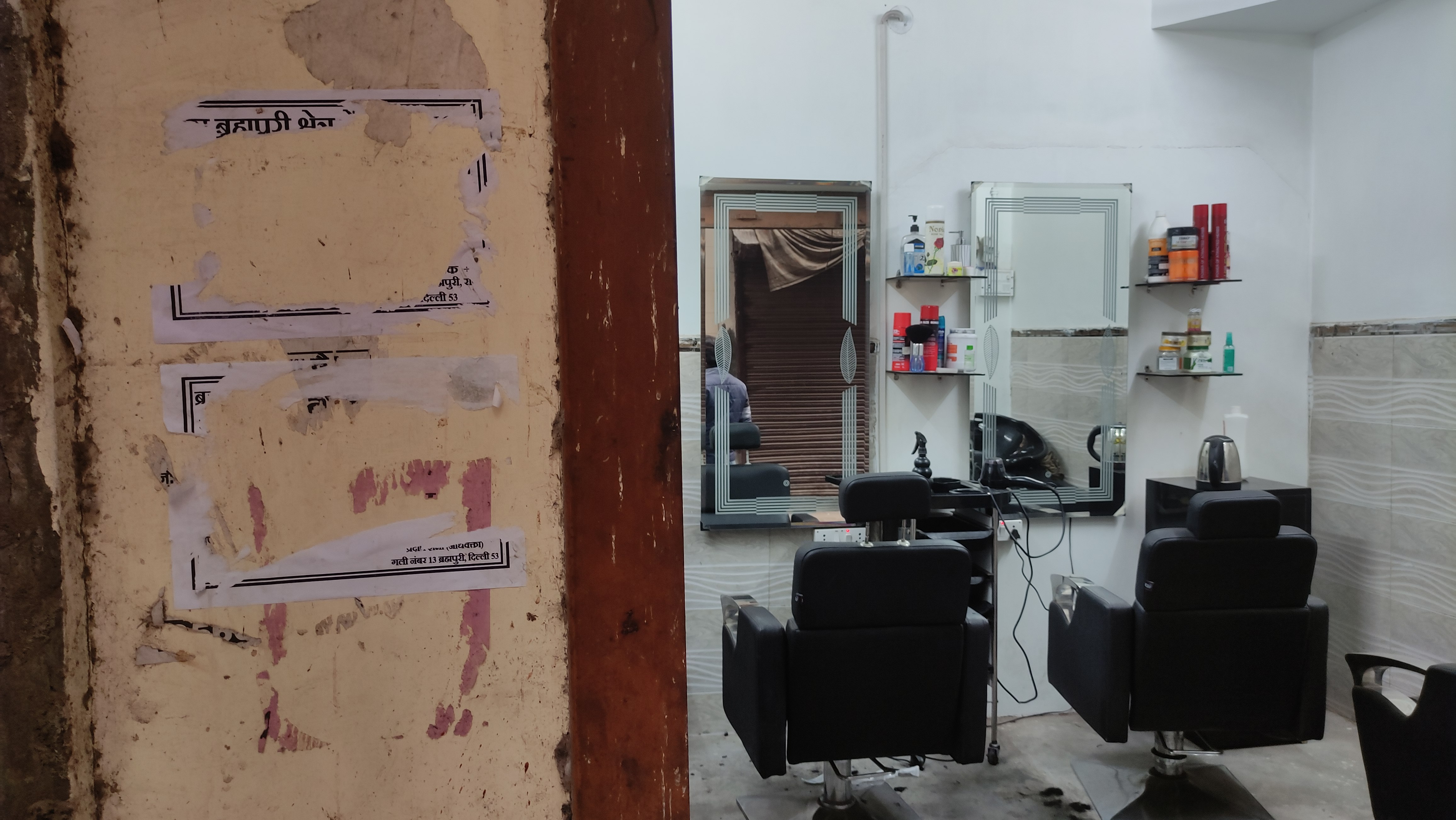 Similar posters were also put up outside of a hair salon run by one Gautam Saxena, a Hindu.  
Gautam told TwoCircles.net that he saw the poster on the morning of January 10.
"This [posting of such posters] is quite wrong and this might lead to communal distress in the locality. I have witnessed the 2020 riots and its horrors still haunt the people of Brahmpuri," Gautam said. 
He admitted that the 2020 riots have a role in putting up such posters.
Mohammad Iqbal, who works at the hair salon, said that people in the area live in harmony and blamed outsiders for the appearance of such posters. 
"I saw it for the first time on January 10. Whatever is written on the poster is completely wrong. A locality where people from different communities live together, it is disgusting to write such a thing," Iqbal said.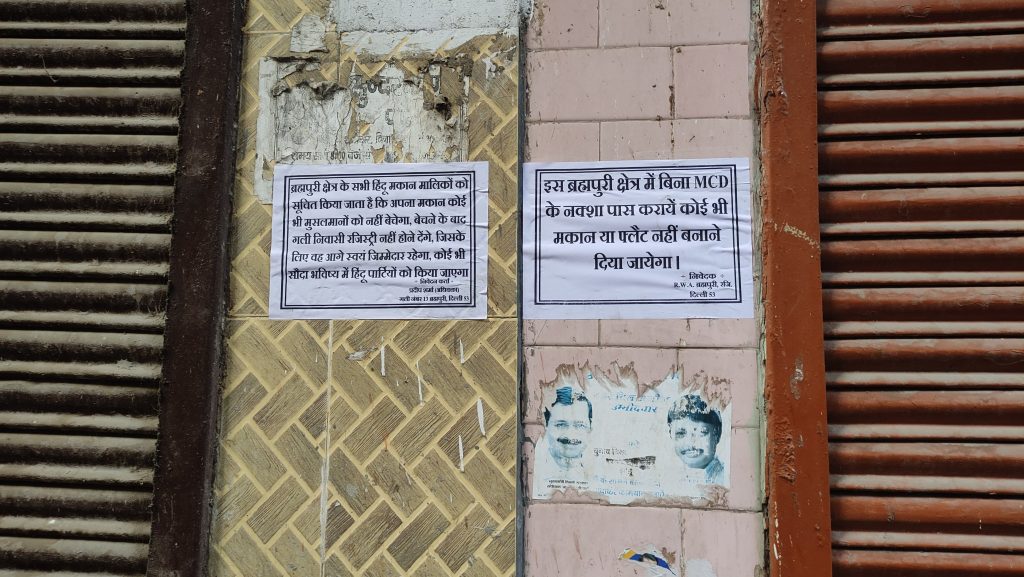 ​​Locals said they are not sure whether the said person [who is named in the poster] put up those posters or not. 
This reporter reached out to the lawyer Pradeep Sharma of Gali number 13, who denied his involvement. 
"The said posters are not in violation of any article of the Indian Constitution," he said. 
Tensions between Hindus and Muslims since riots
A 50-year-old man told TwoCircles.net on the condition of anonymity that there is a constant rift between Hindus and Muslims in the area. "This [appearance of posters] is inevitable. Things have changed since 2020. So if people want people of their religion to live in their area, it is not wrong."
Another Brahmpuri local Mahesh Goel, the owner of a paint shop, had a different opinion on the matter. "If the Muslims are ready to pay us good money then why would we not sell our houses to them?" he said. 
Deepak Gupta, who lives in Gali number 6, said that the property belongs to them [Hindus] and they can sell it to anyone they want. "After the 2020 riots, many people moved from Jaffrabad to live in Brahmpuri. They came only because we sold our property to them," he said, adding, "What is written on the poster is useless. After the riots of 2020, communal bitterness has arisen in everyone's mind. Even the children of the area know who is a Hindu and who is a Muslim. So such things are going to spoil the atmosphere further," he said. 
While most residents of the area expressed displeasure against the appearance of such posters, some supported it. 
Jitendra Rastogi, a resident of Gali number 6, supported the appearance of such posters. 
"The population of Muslims is increasing very rapidly. These people are everywhere. Because of them the road also remains jammed. These people eat meat and throw the leftovers everywhere. We are Brahmins, and we have a problem with that. Muslims are also not ashamed to do any work. They drive rickshaws and do all kinds of work. So if their population increases in our area, then we will have problems," Rastogi said. 
Shruti Sharma is a freelance journalist based out of New Delhi. She tweets @imsshruti77 
[Edited by Irfan Mehraj. Tweets at @IrfanMeraj]
SUPPORT TWOCIRCLES
HELP SUPPORT INDEPENDENT AND NON-PROFIT MEDIA. DONATE HERE