Over the last few months, hundreds of Adivasi Christians have fled their homes across several villages of Chhattisgarh after alleged attacks by Hindutva groups. 
Riya Talitha | TwoCircles.net
NEW DELHI – Pastors, nuns, congregants, social workers, activists, and concerned citizens came together on the afternoon of January 21 at Jantar Mantar, New Delhi road to protest the violence and displacement suffered by Adivasi Christians in Chhattisgarh over the past couple of months. 
According to a fact-finding committee by the Centre for Study of Society and Secularism, between December 9 and 18, almost 1000 Adivasi Christians from multiple villages from the Narayanpur and Kondagaon districts in Chhattisgarh's Bastar region were attacked and fled their homes. There were also reports of destroyed houses, lands, property and churches. Currently, over 50 families of victims of persecution are camped at an indoor stadium in Narayanpur in deplorable conditions, doubting if they will ever be able to return to their homes and fearing for their safety. 
Chhattisgarh: What made tribal Christians flee from their villages amid anti-Christian violence?
Around 150 people gathered for the protest organised by several women's organisations of various mandates to condemn the atrocities unleashed on women and children. The area was buzzing with activity and conversation. Slogans calling for freedom and speeches contextualising the recent events as part of a much longer history of persecution and religious intolerance abounded.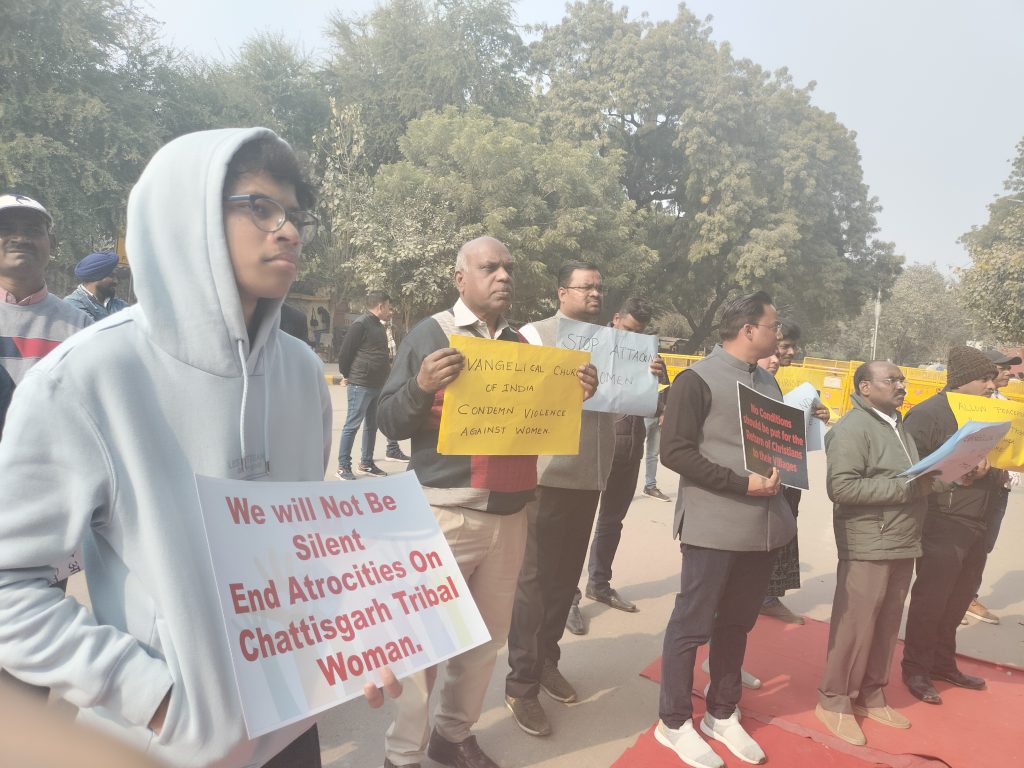 "Why are they segregating the Christian minority? Why are you attacking a vulnerable minority? So this protest is to condemn that violence and intolerance. This is not a Christian issue; this is a constitutional issue. If the constitution gives me the right to worship what I want, who else can say object?" questions Sister Manju Devarapalli, national secretary of the National Dalit Christian Watch (NDCW).
No place for Vishwasis
On January 8th, faith leaders of various communities came together for a candlelight march and to pray together for the victims while also condemning the persecution of Christians in Chhattisgarh, as well as the inaction of the government and the inability of the local police forces to protect the victims or stop the perpetrators adequately. The Adivasi Christians or vishwasis under attack claim that while events came to a head around Christmas, they had been facing assault, sustained ostracisation, false accusations of witchcraft, ultimatums for them to renounce their faith, and even desecration of their graves for a much longer time. 
Last year, Chhattisgarh was the site of the second-highest count of documented attacks on Christians. Christians make up less than 2% of Chhattisgarh's total population of almost 30 million, which makes intolerance mainly targeted. 
Hindu groups in the Narayanpur area responsible for whipping up violence and division claim that the number of Christians is much higher and that as they have converted, they are barred from accessing "Jal-Jungle-Zameen"(Water, Forest and Land). This sorry state of affairs is made even more tragic considering that those engaging in violence and bigotry towards the Adivasi Christians are themselves Adivasis who have joined right-wing groups and political affiliations. 
Forced conversions?
One of the main ways that right-wing groups justify and encourage attacks on Christians is by claiming that "forced conversions" are taking place. The pattern repeated itself even in these attacks, particularly in Narayanpur on January 2, which resulted in a church being vandalised after tensions ran high at a public meeting meant to protest against "illegal religious conversions".
One of the January 8th march's organisers, A.C. Michael, convener of the United Christian Forum and a former member of the Delhi Minorities Commission, also addressed the crowd on Sunday. "Stop putting false allegations against us. If you are attacking us in the name of 'forced conversions, where are they taking place? We want evidence of the so-called forced conversions that are apparently happening," he says. 
While India lacks a central anti-conversion law, most states have adopted variations over the years; Chhattisgarh's anti-conversion law was instituted in 2000 and amended in 2006. The amendment establishes that "the return [to one's] ancestor's original religion or his own original religion by any person shall not be construed as 'conversion'". At the same time, it seeks to make the punishment for forced conversion even more strict while also giving the district magistrate the power to refuse or permit any person to convert their faith – an order that will only be appealable to a district judge who then has the final say. However, it is unclear whether it is in force but is still used in electoral politics to appeal to voters. As the validity of conversion is debated, and Christians are framed as engaging in these illegal conversions that erode indigenous identity or national unity, the victims of persecution are caught in limbo. 
According to Sister Devarapalli, "the reason why repeated attempts have been made to come out and protest is because it was only last night (January 20) that the Chhattisgarh High Court gave an interim budget of relief for the victims, but till then, they hadn't sent anything. The archbishop of the diocese went and met the Chief Minister, who assured him but didn't do anything until we protested."
Christian assertion
"Have we come here to beg? No, we've come here for our rights. And remember -rights aren't given; they have to be taken," said a senior representative from the Conference of Religious India as the protest drew to a close. 
A speaker from the NFIW proclaimed on stage, "Dalits and Adivasis have given their blood to build this country, and yet the greedy ones still want to take from them."
This idea was a popular assertion throughout the protest and one that many speakers brought up. 
"This country has grown to this level only because of Christians' contributions to education and medicine, but we are still victims of such hatred. It broke my heart when I heard this news from Chhattisgarh," shared Pastor Edwin Matthew from the Church of Pentecost Delhi, who was one of the last speakers.
According to a 2003 paper by scholar Lancy Lobo, it is estimated that "Christians who compose 2.4 % of the total population, run 25 % of India's voluntary service sector, a totally disproportionate undertaking." Lobo writes, "such a minuscule minority has been making a giant contribution to the progress of the nation."
While Sunday's protest was primarily organised by women's groups, the Christian community and city-wide coalition of Christian organisations across denominations plan to host a mass protest on February 19 at the Ramleela Grounds. 
Michael, one of the 200-strong body of Christian organisers and religious community leaders working towards the February 19 protest, says that the collective intention behind it was to tell both the government and mainstream society, "please don't take us lightly. We are a god-fearing community, peace-loving, but enough is enough. We need to show our strength. The time has come. If you show your strength, even the government takes you seriously."
The protest was organised by AIDWA, All India Confederation of SC/ST, All Indian Mahila Sanskritik Sangathan (AIMSS), Anhad, Conference of Religious Freedom India, Evangelical Church of India (ECI), Forum of Religious for Justice and Peace, International Social Service (ISS), National Council of Churches in India (NCCI), National Dalit Christian Watch, National Federation of Indian Women (NFIW), United Christian Front (UCF), United Christian Initiative (UCI) and Young Women's Christian Association (YWCA), among others. 
Riya is a fellow at the SEEDS-TCN mentorship program.