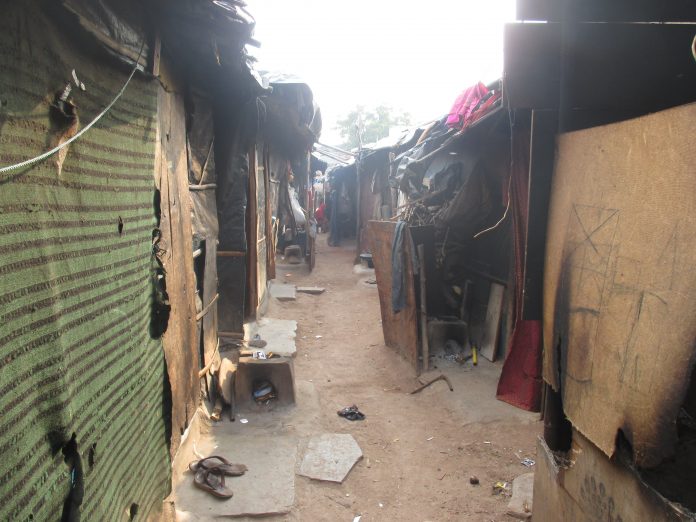 Mohsina Malik | Twocircles.net
Sajida Begum, 26, had just finished fajr prayers when the anti-terrorism squad (ATS) barged into her shanty in the Rohingya refugee camp in Allapur village in Uttar Pradesh's Mathura district on July 24 and asked for her husband Mujib Ullah who was asleep. Mujeeb was forced into a police van and driven away.
---
Support TwoCircles
---
"We have not done anything and were never involved in any crime," Begum told Twocircles.net.
Mujib Ullah is the sole breadwinner of the family and works as a rag picker. Ullah's family came to India 12 years ago, fleeing the violence in Myanmar. "We are Rohingya Muslims, and that is the sole reason for our detentions and deportation," she explained.
Anti-Terrorism Squad Arrests 74 Across 6 Districts of Uttar Pradesh
On July 24, similar scenes of Rohingya refugee detentions were unfolding at refugee camps in six other districts of Uttar Pradesh — Mathura, Aligarh, Ghaziabad, Hapur, Meerut, and Saharanpur — with the ATS arresting 74 Rohingyas and alleging that the arrested individuals are residing in UP after crossing the border illegally.
According to an ATS Uttar Pradesh notice, 31 Rohingyas were jailed on July 26 after a charge under Section 14 of the Foreigners Act was filed against them for illegal stay.
Begum's next-door neighbour, Kausar Fatima, 29, was arrested along with her 30-year-old husband, Ali Johar.  Fatima was released after a female police official pleaded for her release, citing the fact that she has seven children at home and no one to care for them. Her husband who works as a laborer and is the sole breadwinner of the family is still in jail.
"We don't understand why we have to go through this every time. Our refugee documents were taken from us the day our shanty was raided, and we were arrested," Fatima told Twocircles.net.
Begum and Fatima both say it is becoming increasingly difficult for them to support their families since their husbands have been taken away by the police. 
"I want my husband released immediately so that I do not have to worry about how my children and I will survive without him," Begum said.
Rohingya Men 'Hiding in Forests To Escape Detention'
Many Rohingya refugees left their camps after the raids and arrests on July 24 in order to avoid arrest. 
"Since unlawful detentions began, we are hiding in forests, facing starvation, and moving from one spot to another to escape arrests. They are afraid that the authorities will come after them at any time," said Iqbal Naseer, a 45-year-old Rohingya refugee from the Mathura camp.
On July 24, Naseer's brother-in-law, whose name he did not give for fear of reprisal, was also arrested. 
Rohingya Refugees Allege Police and Landlords Asked Them To Vacate the Camps
"We're all in trauma. We are not illegal immigrants or terrorists. We have all the documents to prove that we are refugees, but unfortunately, nobody is concerned about our safety," he said, adding that several police officers visited the camp on July 29 and told them that if they did not vacate, they would be forced out of the place.
Naseer is concerned that if the authorities force them to leave the camp, their families will have no place to go. "Our children do not have a secure future," he stated.
Fatima claims that, in addition to the police, their landlords are threatening them to vacate the shanties as they will be demolished within the next few days. "Our electricity and water supplies have been cut. We are being harassed. We do not have any alternative place to take our children," she explained.
200 Rohingya Refugees Detained 'Unlawfully': Rohingya Rights Body
The Rohingya Human Rights Initiative, a non-profit that works for Rohingya refugees, said on July 24 that more than 200 Rohingya refugees, including women and children, were unlawfully detained without the police even filing a FIR.
According to Sabber Kyaw Min, Director of the Rohingya Human Rights Initiative, the Rohingyas in India have been awarded a refugee card by the United Nations High Commissioner for Refugees, and many of them have long-term visas. 
"We came to India to seek refuge on humanitarian grounds, but unfortunately, it happened the other way around. The Uttar Pradesh government is calling us terrorists and illegal immigrants, which we are not," he said.
When asked what the organisation is doing for the release of the detained Rohingyas, Min stated, "We are helpless. What can we do?"
Arrests of Rohingya Refugees in Haryana's Faridabad and Nuh
On the same day when Begum's and Fatima's husbands were arrested by police in Mathura, police searches were also carried out in Haryana's Faridabad and Nuh districts.
According to Mohammad Ismail, a 35-year-old Rohingya refugee from Faridabad, four Rohingya refugees were arrested on July 24. Abdul Shukoor, 33, Ismail's brother-in-law was among the four nabbed in Ghaziabad by Uttar Pradesh police.
"Since the arrests, we have all been fearful that the authorities will not allow us to live freely. They're after us for no reason," he explained.
According to Hafiz Abdul Qureshi, a 35-year-old Rohingya refugee, it is becoming increasingly difficult for the affected families to financially support themselves following detentions at the Nuh refugee camp. 
The family members went to look for their relatives in the detention center but were told they had been transferred to Uttar Pradesh, said Qureshi.
According to Qureshi, the arrested men are kept in a cramped cell with 10-12 other convicts and no appropriate utilities. 
"The detainees are crying about their situation and have asked family members to help them get out," he said.
Prashant Kumar, Additional Director General of Police, Law and Order, Uttar Pradesh, did not respond to a phone call from Twocircles.net. This story will be updated if and when he responds.
Begum hasn't seen her husband in five days. "I have no idea where he has been taken. I have no money," she said, adding that she is not the only woman in the camp who is worried "we all have no idea where our dear ones are."
SUPPORT TWOCIRCLES
HELP SUPPORT INDEPENDENT AND NON-PROFIT MEDIA. DONATE HERE