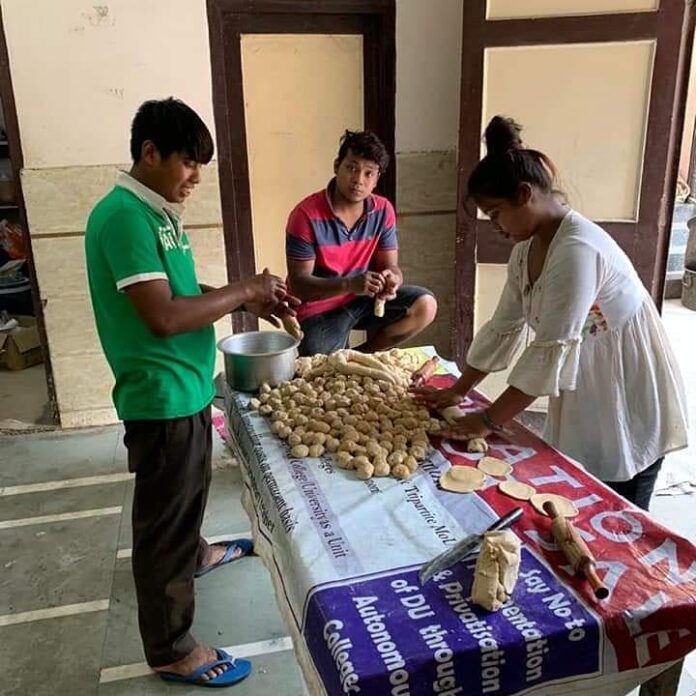 By Aatika S | TwoCircles
Nida Ansari, is a Delhi based development practitioner and consultant with over 12 years of experience in working with national and international non-profit foundations, grassroots organisations and funding agencies in the field of youth centric development, organisational development, agency and ending violence, community development and social entrepreneurship. She describes herself as a community campaigner, and an 'Arctivist' with a decade of experience of designing, facilitating and leading large scale national programs and campaigns.
---
Support TwoCircles
---
She is also the co-founder of Mazdoor Kitchen, and has been closely involved with many grassroots initiatives, public campaigns associated with food security, public health, education and rights-based movements with workers, farmers, women and marginalised communities.
Q. How did the idea of the Kitchen come to be?
ND: Mazdoor Kitchen is a citizen run voluntary initiative, working to provide meals and subsistence to daily wage workers in North Delhi. Run by a dedicated team of volunteers comprising professors, students, artists and people from the community itself, it has been providing meals and ration kits to hundreds of people across north Delhi, ever since the beginning of the lockdown since May 2020.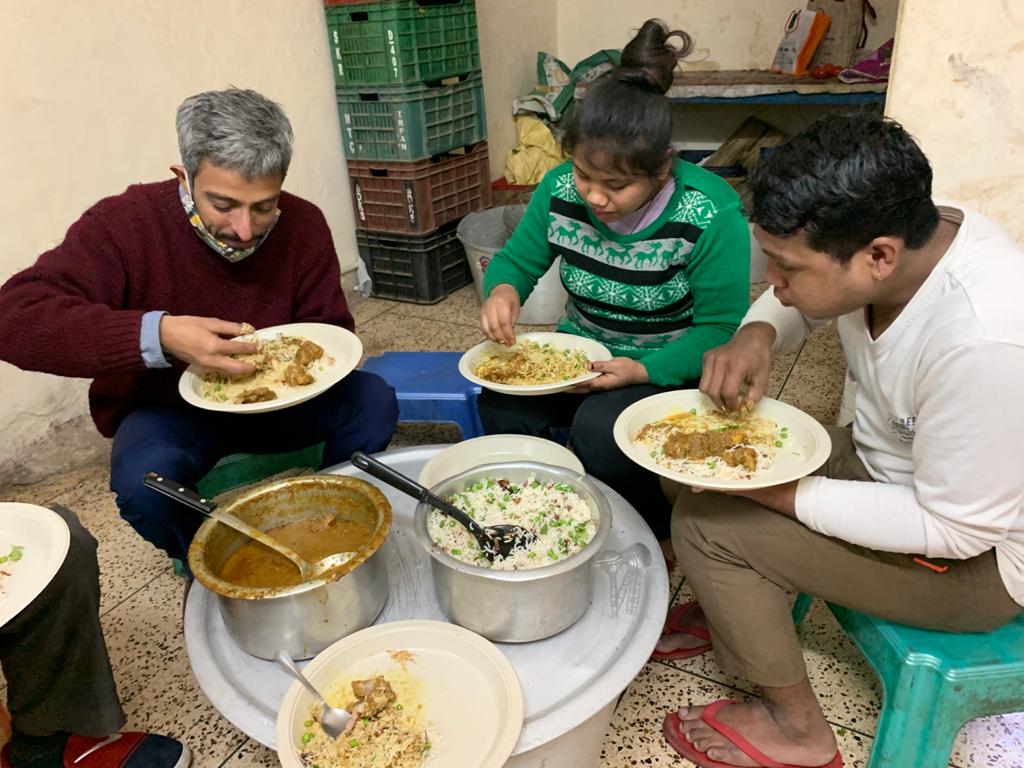 In March, my parents – Delhi University professor Nandita Narain and her husband Rashid Ansari, a martial arts instructor and performing arts practitioner-director, joined a collective of teachers in North Delhi to start 'Mazdoor Dhaba' (workers' café). It had 3 community kitchens running under its banner in North Delhi, from the garage of the Principal's house in St. Stephens College. I remember my mother, Nandita saying , "I'd heard from many of my colleagues that this isn't something we, at the age of 60+ years, should be doing. But we felt that even if there is risk involved, we want to take that risk; after all, when there are wars, people who volunteer, go to the frontiers to support wounded and war-affected people. And if they can do that, then the risk is surely not greater for us."
By July, the lockdown in Delhi had ended and many in the group felt the need to shift operations away from cooking to other relief work. But my parents decided to venture out independently and started 'Mazdoor Kitchen' (a citizen-run voluntary workers' kitchen) in Jawahar Nagar, Malka Ganj- as they felt there was still a need to support people with food and rations. I recalled what my father said to me in 2020 – when hoards of migrant workers walked back to their homes, on feet –  "how can I be comfortable sitting in the confines of my home, eating a hot meal, when there are people on the road who have to travel thousands of kilometres just to be safe and alive?',"
Q. In what capacity are you associated with MK? Pls describe the team and their responsibilities.
ND: I have been associated with MK right from the beginning supporting my parents, raising funds, running the crowdfunding campaigns and building collaborations with many grassroots groups, CSRs, partners, voluntary groups.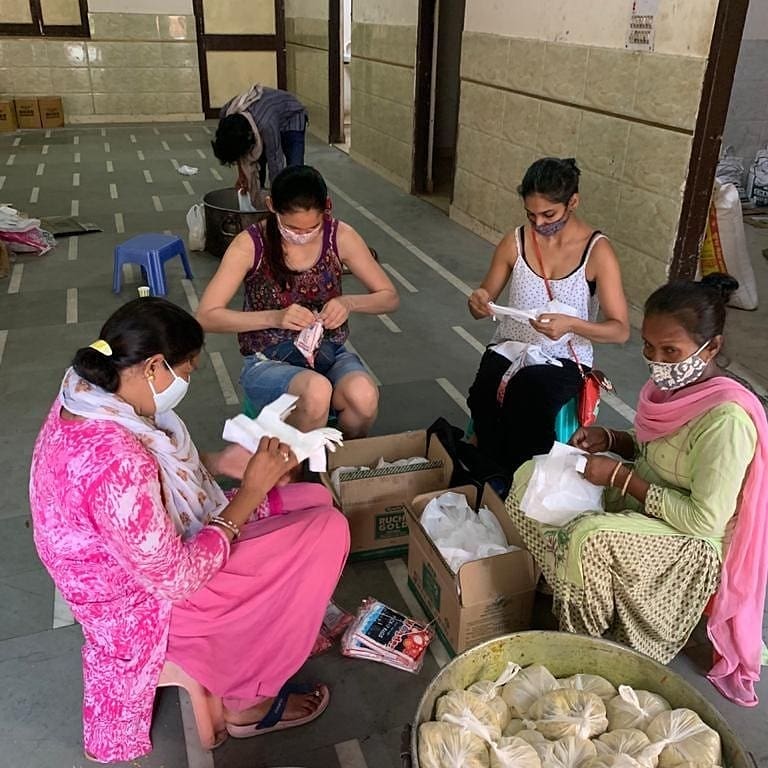 Q. What are the pros and cons of running an independent, voluntary citizen run initiative?
ND: The 500 meals, ration kits and monthly rations that we're able to support people with, is the pros. These meals are distributed to individuals and marginalised communities, who do not have the socio-economic means to feed themselves. Cooked meals are given in North Delhi across- Nigambodh Ghat – Monastery market road, behind geeta mandir, north delhi. These areas have a growing population of displaced vulnerable people, living on the streets – homeless, beggars, daily wage workers, migrants, rickshaw drivers, rag pickers etc. For some of these folks, the cooked meal packet that they get from Mazdoor kitchen, is their only source of food in the day.
For many migrant families, these cooked meals allow them to save some of their meagre daily earnings, which they can then put to use for other purposes of everyday living like medicines, rations , education of their children and deal with inflation.  We have also been able to generate livelihood, medical and education support through direct reliefs/ cash transfers to different families, individuals from marginalised socio-economic communities. We've also been able to support disaster responses to support groups during floods, and extreme hunger through kits, ration, blankets, clothes, medicines and other relief material across the country.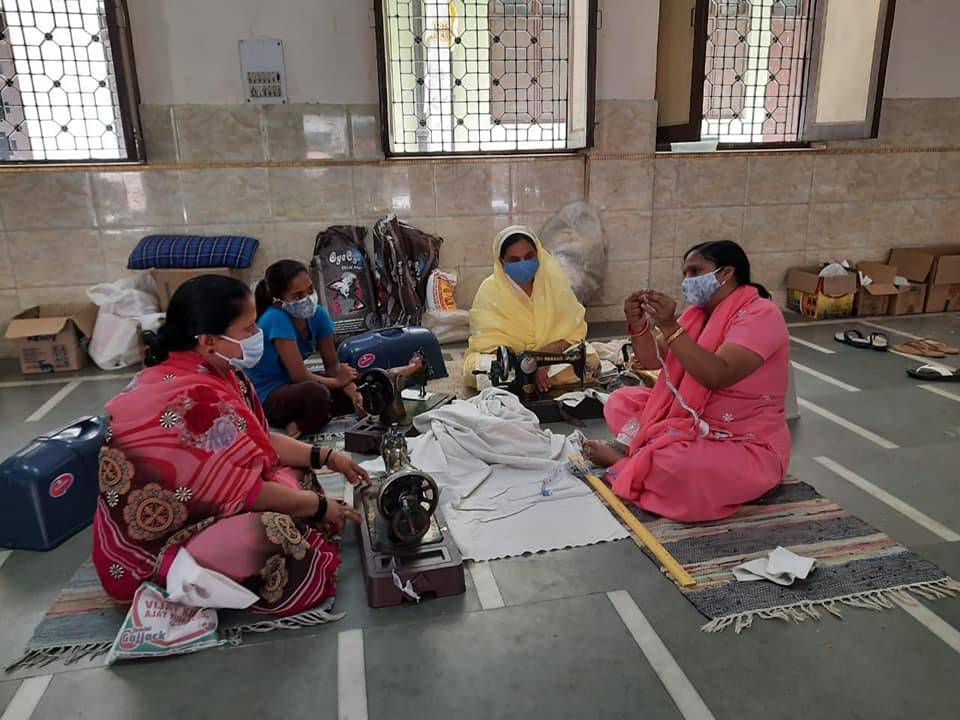 We've been able to demonstrate how a community owned – and run kitchen can benefit countless people and bring people together. But there have been a host of challenges – running a community kitchen is not easy! From being a small team, to managing with small budgets and the constant challenge of raising more funds, persuading people to donate – in face of the widespread belief that 'since the pandemic is now over, people in the community are alright. ' This is a complete mismatch with reality, because poverty, unemployment, rising expenses and cost of basic living all remain a stark reality and crisis for those on the margins.
The country has been witnessing unending cycles of migration and now, reverse migration of workers who found no support in the cities and now, find no sources of income in the villages too. Most who have lost employment as industries stand devastated by the economic repercussions of the virus and the safety concerns brought about by physical proximity, will not see opportunities open up for months to come. The need to continue the work of the kitchen remains urgent. Several beneficiaries of the initiative have no other source of income or subsistence.
Q. Apart from cooking daily meals, what are the other issues MK deals with?
ND: While the initiative was born in the middle of the pandemic, as a response to the urgent need of the hour, over the last few years it has developed deeper relationships with the local communities it serves in slum colonies of Kingsway Camp, Pul Bangash, Bahadurgarh Road, Azad Market, Roop Nagar, and Patel Chest, Nigambodh Ghat. Many working-class people and migrants who had travelled back to the cities hunting for jobs depend on that one meal a day that the kitchen provides. In the heightened phases of Covid till 2021 they fed up to 800+ people daily in different communities and supplied dry ration kits, blankets, and gas cylinders, even relief material and clothes in the areas. Currently the kitchen runs daily and feeds people with up to 500 meals in a day, and supports 20-70 families with ration kits in a month.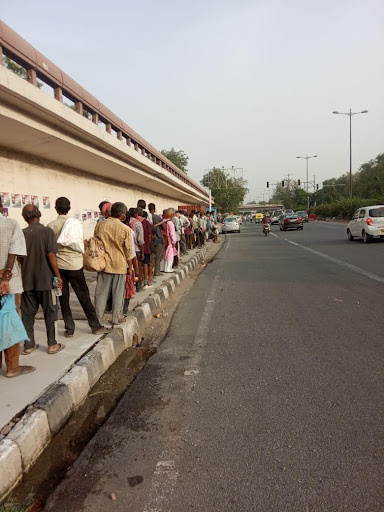 Through a sustained effort, the initiative has also developed a keen relationship with members of the community. We also give monthly ration kits to families, medical relief and gas subsidies, Aside from food and ration, we've has also started a 'livelihoods initiative' , under which local community members (women) have been making and distributing thousands of masks and other small vendors like balloon sellers and food carts have been able to restart their businesses with small funds, Our relief efforts have included helping those struck by natural disasters with material or monetary support, supporting students from underprivileged communities pay their college fees, rickshaw pullers procure a new rickshaw if needed and medical fees.
Q. Would you like to share an incident that personally left a deep impact on you?
ND: In 2020-21, a migrant worker, who received daily meals from MK, from bada hindu rao- Bulla, a daily wage labourer from Bihar, had an accident and his spine was dislocated. He was admitted into Safdarjung hospital and had an operation on his spine. Bulla was living alone in Delhi, in shanties on the streets, and after hearing about his accident his family had just come to Delhi. His time in the hospital was dismal and scary to say the least, as none of the family members were literate and struggled to engage with a chaotic hospital system. Our team, including my parents, visited the hospital- and talked to the floor doc, name of the unit head etc. Bulla has had one surgery, doesn't require another, but was paralysed from the waist down, with physiotherapy after the stitches are opened, might regain mobility in maybe six months, maybe longer, maybe never! Our team, along with the help of good folks like Ankit Jhamb of Aao Khilayein, were able to facilitate Bulla's discharge from the hospital to a rented accommodation that we managed to procure and furnish in time for him to get there, including a much-needed air mattress.We tried to provide all the necessary things required for day to day living, and what is needed for his medical care too. We have engaged a day nurse, Raj Rani, to come and do his dressing etc. every alternate day. His recovery is going to be long, arduous and difficult. We and more importantly, Bulla and his family, needed all the help that they could get. While initial surgery costs have been taken off by the hospital, we knew that supporting a family who has no source of income ( as bulla was the main bread earner), rented accommodation for 6 months, food, medical expenses, nurse for day care, physiotherapy- will cost anything from 2.5-3 lacs in total. We were able to raise the funds to pay off Rajrani who was a compounder in a hospital and would go and do his physiotherapy every day. But eventually the trauma from his accidents were too grave – and he passed away. For me – this was a mirror image of the shattered socio-economic structure of our society – it felt futile and overwhelming, just how deep this structural inequality goes. I had the same feeling in 2022 when I started hearing about more and more migrant suicides. It made me more resolute to keep trying to do whatever bit we can, no matter how small the impact.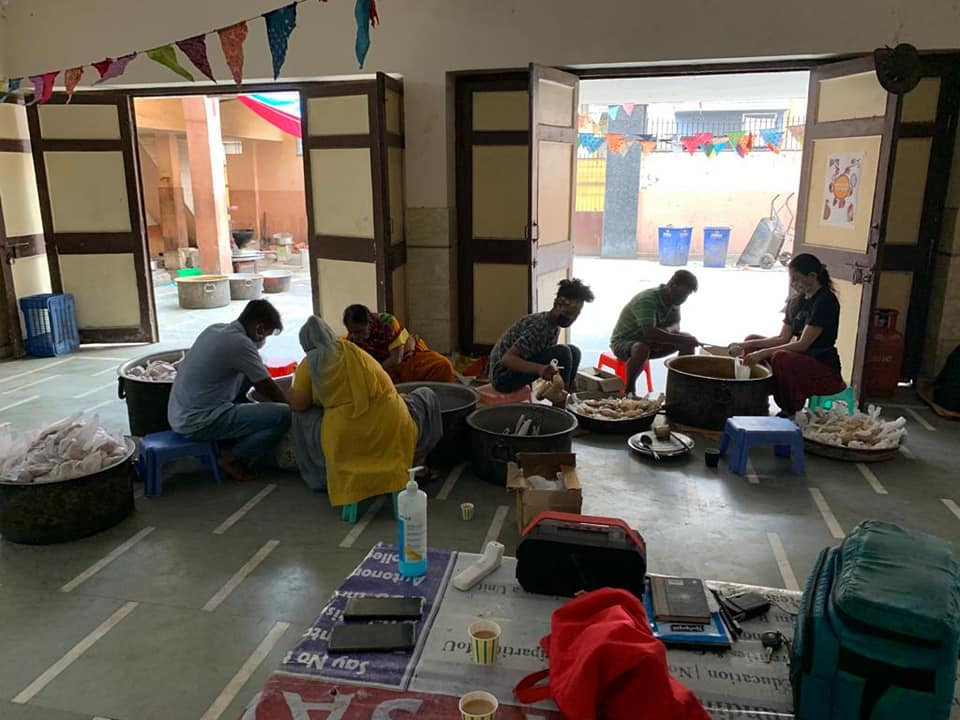 Q. Have you come across issues of caste purity and untouchability with respect to the menu?
ND: While distributing food we have by and large not come across caste purity and untouchability with respect to our food. All the 400+ people we feed, love our meals, they wait for us graciously. In the middle when we were shut for a week, while shifting to a new place – when we went back the 1st day so many of them came howling to us – ' where were you? had you forgotten about us ? ' Many people distribute food near nigambodh ghat, but often it is baasa, waste food. My father had told me, "The other day I had people take 2-3 meals from me; they sat on the pavement and ate those meals, telling me how hungry they were. We give the food packets to them in their hands and we ask them to take care. We give them as many meals as they ask for, as long as we have it. We try to ensure that everyone who's standing in the line gets food. I don't differentiate between a rag picker or a drunkard or someone who's dressed well. I don't question anyone; I just give them food."
Q. Do you see MK as a long term venture especially when the State is refusing to perform its basic duties of providing food and shelter?
ND: While it is constantly challenging to raise enough funds to sustain the kitchen – we are always trying. In a country like ours, if communities were to go an extra mile, support their own local vulnerable populations just around their homes – the 80% of this country on the margins would not be as vulnerable as they are right now. Why can;t we have a community owned, run, funded and employed community kitchen in every mohalla ? Despite everything, we are trying to continue this initiative as long as we can.  My father says, "This might be just a drop in the ocean, but it is a regular consistent drop,". My mother said to me once – " " There was this idea amongst friends that this sort of work doesn't really bring about any social transformation. You are just doing charity. You are just filling in where the government should be doing it. But I don't even see it as charity. I see myself as a beneficiary of this inequality. The fact that I have got a public funded education, there is a debt of gratitude. There is a debt. On my soul, or psyche or whatever you call it. And that is a debt that I cannot repay in one lifetime. "
Q. Anything else you'd like to share?
ND: I would like to thank the supporters and funders of this initiative and would appeal to more people for funding. Because of them MK has been running for almost 3 years, supporting people from marginalised communities with cooked food, ration and financial assistance. I have never been prouder of our small team of 10 community members which keeps the kitchen going. With 1 in 4 suicides in India being of a migrant worker, the need for food, rations and financial assistance for marginalised communities is still very dire.
We are currently running out of funds and may only be able to sustain till the end of the year. To keep the kitchen running till 2025 and beyond, we need support to raise funds.
.To see daily updates of our work and help support our initiative, you can visit www.instagram.com/mazdoorkitchen
Aatika is a fellow at the SEEDS-TCN mentorship program
SUPPORT TWOCIRCLES
HELP SUPPORT INDEPENDENT AND NON-PROFIT MEDIA. DONATE HERE