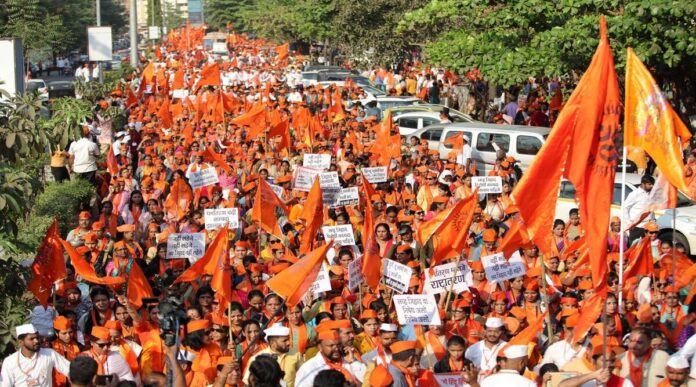 Several leaders addressed the rally and made speeches against alleged 'love jihad' and 'land jihad' in the state. 
TCN Special Correspondent | TwoCircles.net
MUMBAI (MAHARASHTRA) —  Calls for the economic boycott of the minority Muslim community were made on Sunday during a rally organised by Hindutva organizations in Maharashtra's Mira Road.
The 'Hindu Jan Aakrosh Morcha' was organised by the Sakal Hindu Samaj, a collective of several Hindutva outfits in Maharashtra. The rally was flagged off by Geeta Jain, Independent MLA from Mira Bhayandar.
The rally was one of several rallies held by Hindutva groups in the state during the past few months.
The rally was attended by Bharatiya Janata Party (BJP) leaders including MLA Nitesh Rane and members of Hindutva outfits like VHP and Bajrang Dal.
The participants in the rally marched from Mira Road's Golden Nest Chowk for about two kilometres. Afterwards, many leaders addressed the rally making speeches against alleged 'love jihad' and 'land jihad' in the state.
"Love jihad" is a conspiracy theory peddled by Hindu supremacist groups that claim that there is a plot by Muslim men to seduce Hindu women to convert them to Islam. Similarly, "land jihad" proponents accuse Muslims of waging a campaign to encroach on public land and property owned by Hindus.
Some speakers at the rally also asked the participants to economically boycott the minority Muslim community.
Several similar rallies have taken place all over Maharashtra since November last year. At almost all the rallies the speakers have advocated for "violence against Muslims".
In one of the rallies on January 29 in Shivaji Park in Mumbai, a Telangana lawmaker, T. Raja Singh, urged Hindus to take up arms if an anti-conversion law was not passed in Maharashtra.
Following the rally, the Maharashtra government on February 3, promised that it would not give permission for rallies at which "hate speeches" are made. The Maharashtra government's promise came after the Supreme Court directed the Maharashtra police to record a video of the next rally.
However, several rallies have been held since then in the state in which hate speeches were made against the minority community.
On Monday, March 13 – when the calls for an economic boycott against Muslims were raised at one such rally at Mira Road – the Bharatiya Janata Party leader and Member of Legislative Assembly Nitesh Rane, who was present in the rally, said that he supported calls for an economic boycott of the Muslim community.
He claimed that Muslims finance attacks on the Hindu community. No one would object, according to Rane, if the money is used for the prosperity of the community. Yet, they wage terrorism in the name of 'love jihad' and do many other things to harm Hindus. In order to impede their economic prosperity, we have to call them out, Rane stated.
Earlier, one of the speakers addressing the rally, Kajal Hindustani called Muslims Suleimani keedas (pests). She said that Muslims "wage war" against Hindus through three main aspects. One she said was love jihad, two, land jihad and three conversions.
She said that all these issues could be resolved by imposing an economic blockade of the community.
In February several Maharashtra-based organizations had come down heavily on the Sakal Hindu Samaj for hate-mongering and inflaming divisive sentiments during Hindu Jan Akrosh Morcha rally in Mumbai.
The organizations led by the People's Union of Civil Liberties (PUCL) had asked the police and Maharashtra state authorities to investigate and prosecute the incidents of communal hate speech made at several rallies held in Maharashtra under the banner of Hindu Jan Akrosh Morcha and take all measures to ensure that such incidents do not occur in the future.
Chayanika, a member of the Forum Against Oppression of Women told TwoCircles.net that at these rallies, the RSS and its allied organisations are spreading untruths about Muslim men enticing Hindu women into marriages to convert them. She said they have no basis to make these claims. "They are just repeating an untruth to create animosity and enmity between communities."
She said that in the process they are actually controlling Hindu women and their right as adult citizens to make friends and relationships with whoever they want to. The assumption is that they do not have the intelligence to make decisions about their life, she said.
"These rallies are also demonizing Muslim men and attacking their right of freedom of association as Indian citizens. The hate-filled cries of violence from the rallies make Muslim men vulnerable to possible attacks," she said.
Chayanika said that these rallies are changing the whole social ethos where communities interact with each other, make friends across communities and castes, and thereby become more diverse, plural and richer in their outlook. "So, it is an attack on all of us even if we may not choose to be in inter-religious marriages."