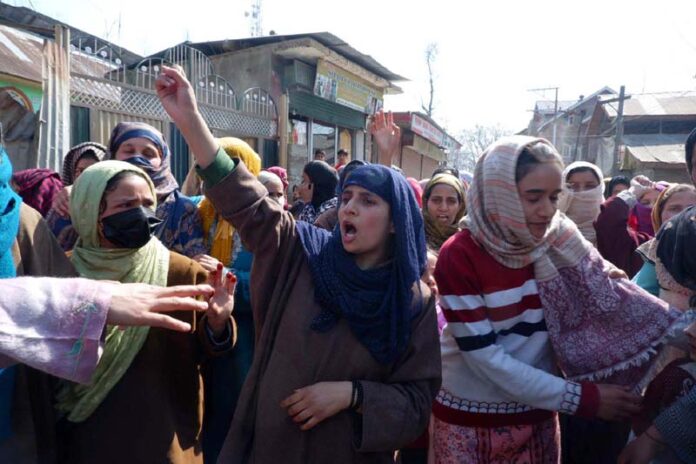 In a case of unprecedented brutality in Kashmir, a 45-year-old man killed a 30-year-old woman in Budgam by chopping off her head, slicing her body into pieces and dumping them at different spots. 
Afnan Habib | TwoCircles.net 
---
Support TwoCircles
---
SRINAGAR (JAMMU & KASHMIR) — In a horrifying incident, the Budgam district police in central Kashmir arrested a man for murdering a young woman, chopping up her corpse, and then dumping the pieces across the area to conceal the crime.
According to initial reports, the 30-year-old woman, who was pursuing her bachelor's degree in education, had gone missing on March 7. Based on the woman's call details, the police had taken Shabir Ahmad into custody on March 8. However, on Saturday, he admitted to the crime, the police stated.
On March 8, the police were notified by the victim's brother, Tanveer Ahmad Khan of Soibug, Budgam, that his 30-year-old sister had left for coaching classes on March 7 but did not come back home.
"The woman had been missing from her home for four days. The accused revealed that he murdered the woman, cut her body into pieces, and disposed of them at different places, including Railway bridge Ompora and Sebden, where the victim's head and other body parts were recovered on Saturday night," police told a news agency.
According to the woman's relatives, the murderer, a carpenter who had been visiting their house for some construction-related work, had previously proposed to the woman for marriage, but she had declined his proposal.
Soon after the news of the gruesome murder spread, protests erupted in the area, with hundreds gathering outside Ahmad's home to demand his execution.
Many women who participated in the protest demanded that the accused be handed over to them so that he might suffer the same fate as the victim.
The incident bears striking resemblance to a recent murder case in Delhi, in which a 28-year-old man, Aaftab Amin Poonawala, allegedly murdered his 27-year-old girlfriend and live-in partner on May 18, 2022. After killing her, he dismembered her body into 35 pieces and kept it in a refrigerator before disposing of the remains in a forest.
Increasing crimes and instances of eve teasing and harassment have created a sense of fear, vulnerability, and mistrust among young women in Kashmir.
TwoCircles.net spoke to a few women who expressed distress and said that such incidents badly impact their lives.
Fatima, a research scholar at the University of Kashmir, who preferred to be identified only by her first name, told TwoCircles.net that the perpetrator of this heinous crime must be 'hanged in public' in order to set an example. "Such men must be dealt with the harshest punishment. Being a woman, it does not feel safe anymore. I often travel by cab, and unsettling thoughts run through my mind whenever I do," she said.
Aniqa, a young working woman from Srinagar, told TwoCirlces.net that she is scared to travel alone after 6 pm. "As a woman, the fear of being stalked and harassed while travelling is increasing with each passing day. Learning about such heinous crimes against women makes me feel overwhelmed and frightened. I feel unsafe whenever I step outside my home," Aniqa said.
Expressing repulsion against the incident and other crimes against women in general, Ifrah, a master's student at the Central University of Kashmir, told TwoCircles.net, "I believe that women should no longer remain silent and should immediately report incidents of harassment that occur on the streets or anywhere else to the authorities."
Huda, a student of MSC at the University of Kashmir, told TwoCircles.net that when she first heard about the incident on the news, she was more enraged than afraid. "I used to believe that Kashmir was safer for women than other states, but now it's the same everywhere. As a woman, I sometimes feel helpless," she said.
Afnan Habib is an independent journalist based in Srinagar, Jammu and Kashmir. He tweets at @afnanhabib_
SUPPORT TWOCIRCLES
HELP SUPPORT INDEPENDENT AND NON-PROFIT MEDIA. DONATE HERE