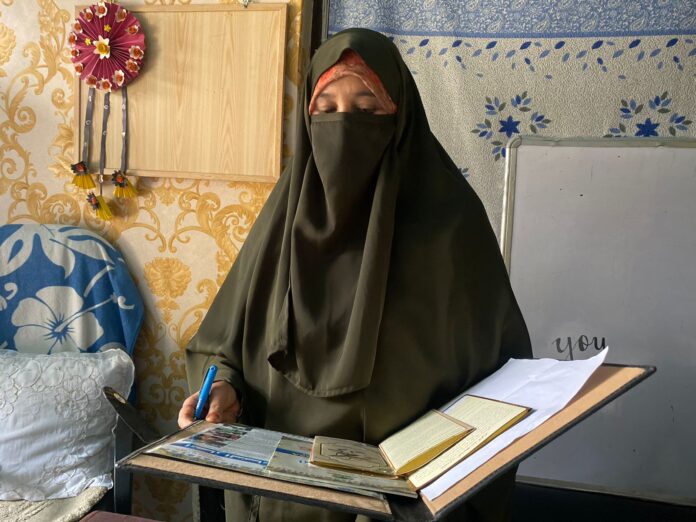 By Sadaf Shabir, TwoCircles.net
"In today's world, if something goes wrong in our household, women are held responsible," said Mubeena Ramzan, an iconic figure for women's rights and upliftment in Kashmir. Featured in "The World's 500 Most Influential Muslims of 2019" and born in the 'apple town of Kashmir', Sopore, she had always been a "sensitive" child who always looked around for people who were not so privileged. She had a strong desire to help the underprivileged but financial constraints made her helpless. Growing up, she aimed to change this and be instrumental in helping the lesser fortunate women around her.
---
Support TwoCircles
---
"When I initially started, we were just a few people but the recognition of our Kashmiri people who stood with me and joined our cause made me happier," she shared about being among the most influential Muslims of 2019. Mubeena completed her studies in her native town and joined a private college run by Anjuman Moin-ul-Islam which was the only college for women at Sopore then. "Whenever things are wrong at home, a woman is asked to do a job and support the family," she recalled. Speaking about her immediate surroundings, she detailed how women were still suppressed "in the garb of religion as interpreted by the village elders and religious leaders." Disturbed by such wrong interpretations of the status of women in Islam, she was motivated to get educated and work towards improvisation concerning women rights.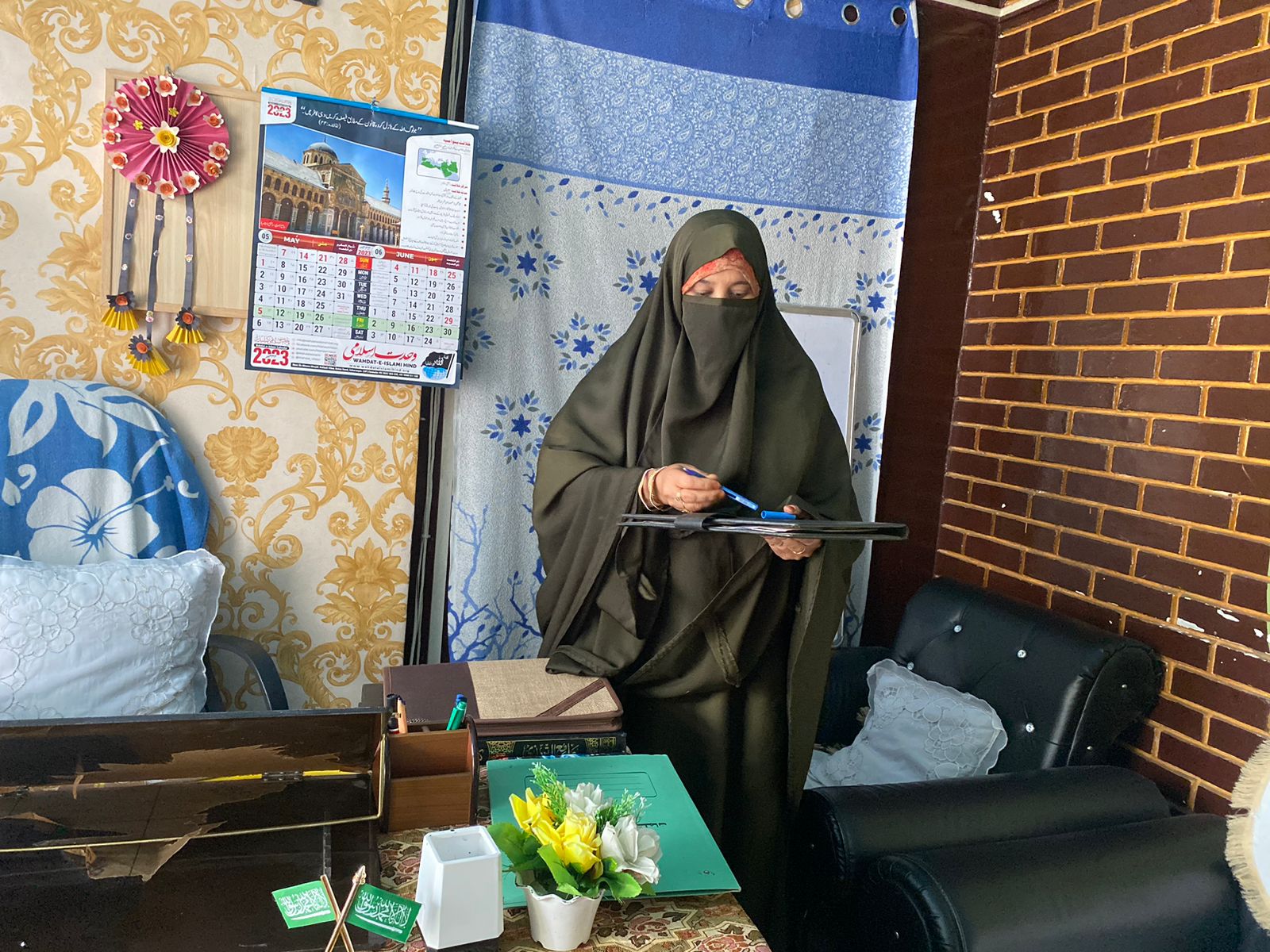 "There is an ayah in the Quran which talks about women to remain inside four walls of their homes but we have forgotten that every ayah had its own context," Mubeena stated while defining her motivation to pursue Islamic Studies. "Our so-called maulvis used Islam as a tool to suppress women while Islam is the only religion which empowers women in every aspect of her life," she added. Driven by this zeal, she went to the University of Kashmir for pursuing Masters in Islamic Studies. Her choice of studying the interpretation of Islamic teachings was aimed "to look inside the teaching which catered to women."
"In Islam, women have been given property rights but whenever a daughter asks for her share she is abandoned and fought off," says Mubeena. Her harrowing experiences of witnessing abandoned women with limited access to clothes, food or water motivated her to enrol for a B.Ed., M.Phil and PhD in Islamic Law. Her vision remained to challenge the deliberately flawed interpretations of Islamic teaching that caused Muslim women untold misery. After her studies, she initially started working as a research associate, looking for opportunities to educate, help and empower women through Islamic teaching. She feels that when people "want to truly empower a woman they should give her the share from the property."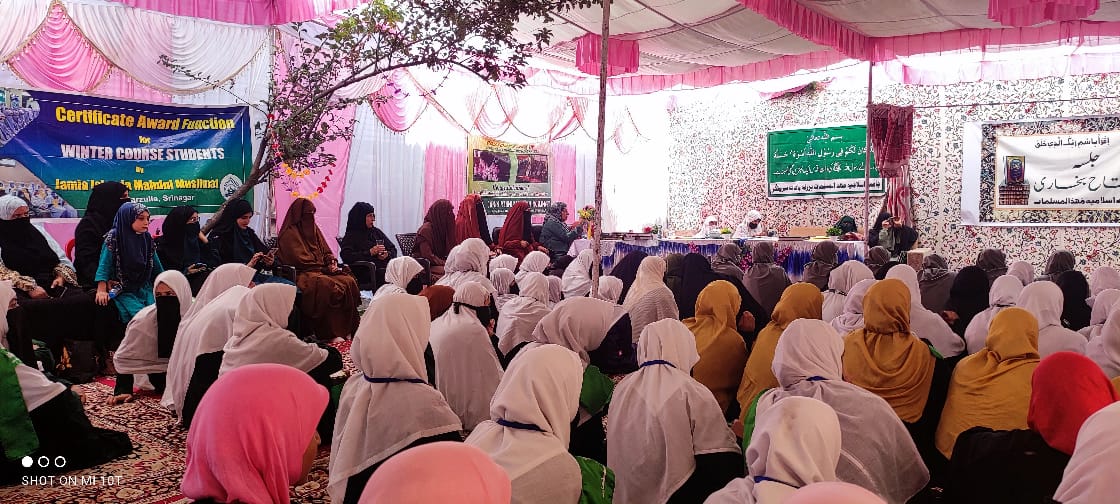 "In Islam, women don't have any economic liabilities, men were created as the protector and guardian of women so it's his responsibility to look after her," Mubeena explained. She completed two theses on Islamic Law and Social Evils as well as on Shah-e-Hamdan and Orientalism. Her education has taught her that "there needs to be more resources for women's empowerment and education." To contribute to the cause, she continued working in various educational institutions as a contractual lecturer and research associate and went on to open her own institution for women, Jamia Islamia Mahdul Muslimaat.
"The vocational training in activities like cutting, tailoring, and computer skills here empower and helps us to support ourselves financially," says Nahila Wani, a senior student at Jamia Islamia Mahdul Muslimaat. The school provides shelter, food, clothes, and education free of cost to all needy students. "Many students who have received an education from this institution have gone on to open their own schools, benefiting our society," shares Nahila who added that the well-balanced curriculum "fosters independence and awareness among women, making them conscious of their duties and rights."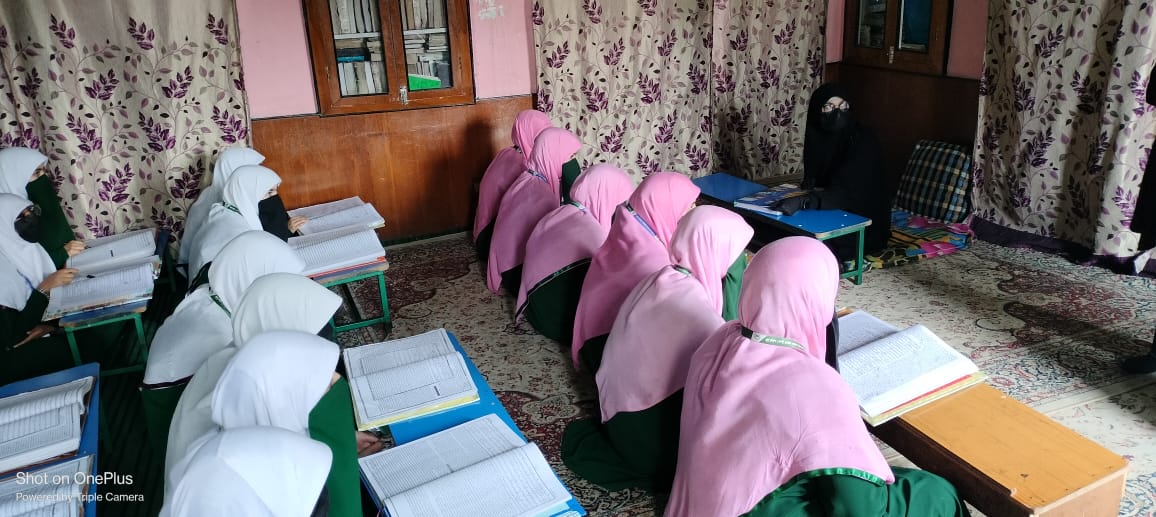 "There were so-called preachers who said that I can't run this institution as I am a woman," she said while recounting the initial three years of starting the institution. She explained that initially the establishment faced many problems but over time they installed networks with professional teams including top doctors in the valley. The emphasis here lies in educating women in Quranic exegesis, science of Hadith, Jurisprudence, and History, while also training them in languages like Arabic, English, Urdu, and computer skills. "Our goal is to equip them with the necessary skills to become self-reliant and competent individuals," said Mubeena.
In 2014, Mubeena also started Ansar-ul-Nisa, a socio-religious organization that provides special support to needy orphans, would-be-brides, and widows. Through the organization, she came across several cases of suicidal cases of women, especially among married women. According to the latest National Crime Records Bureau (NCRB) report, there was a 15.62% increase in crimes against women in 2021 compared to the year 2020. Over 7,000 arrests were made in cases of women harassment in the union territory in 2021. In the 2011 Census, among 64 lakh women in the valley, the crime rate per lakh population in stood at 61.6% as of 2021. 315 cases of rape, 1,414 incidents of attempt to rape, and 14 dowry deaths were reported in 2021 wherein 91.4% of cases showed that the accused were known to the victims. Around 1,851 cases of physical assault on women with the intention to outrage their modesty was also caused. The figures clashed with the lockdown in COVID-19 when suicidal tendencies among Kashmiri women grew rapidly, the same time around Mubeena's team was expanding women counselling activities.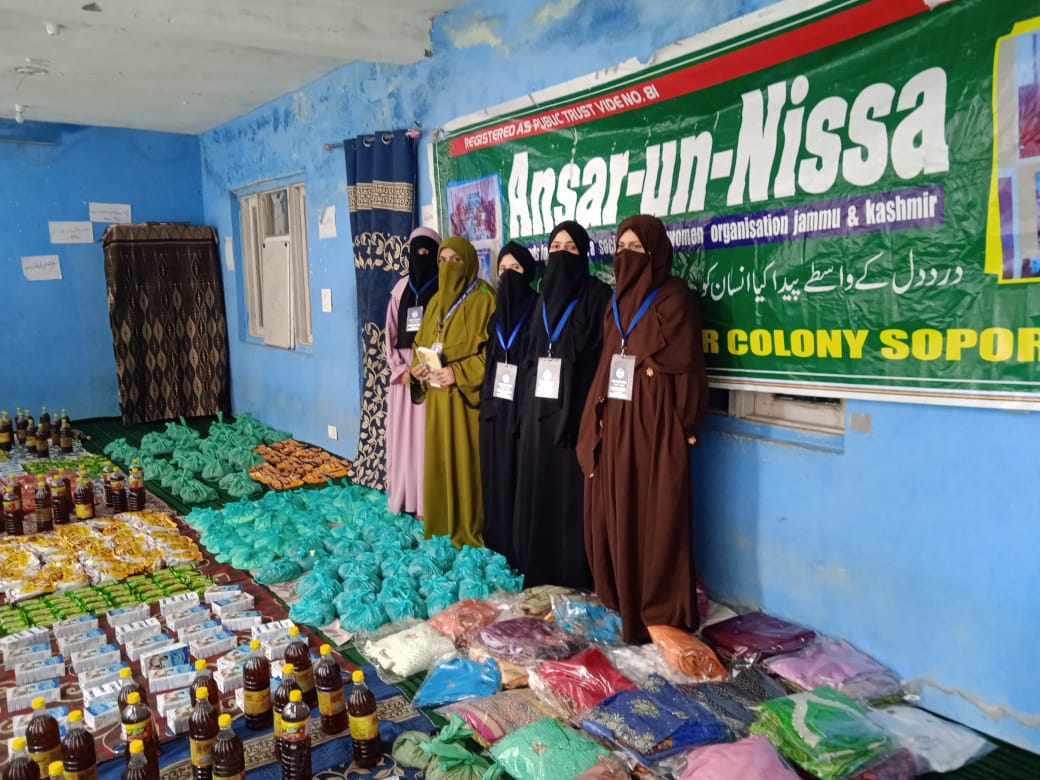 The counseling cell works 24×7 hours to help Kashmiri women in such events wherein one of the cases she dealt with was involving a girl who was abandoned by both her parents who had separated and remarried and registered her as an orphan. Her organization fought on the social front against her father ultimately convincing the local elders to rightly grant some portion of the property in her name. The girl was married off soon after and is currently living happily with her husband and a daughter. Two more orphan sisters studying in Jamia Islamia Mahdul Muslimat received legal help to secure property share from their grandfather and are now living with their mother in their own house. Stories like this abound in Mubeena's organizations.
"We believe in providing a safe space where newly married women, divorcees, and those suffering from mental health disorders can come to share their stories and find relief," shares Mubeena. Through her institution's counseling team of highly qualified professionals including top doctors and professors, they divert efforts to support them financially and emotionally. "As we look to the future, we aim to establish a helpline number to further expand our reach and continue to provide crucial support for those in need," she said. At present, 600 girls are studying in the institutions and about 500 widows also receive financial assistance. Due to lack of funds, her plans of opening a college for skills-oriented courses are delayed.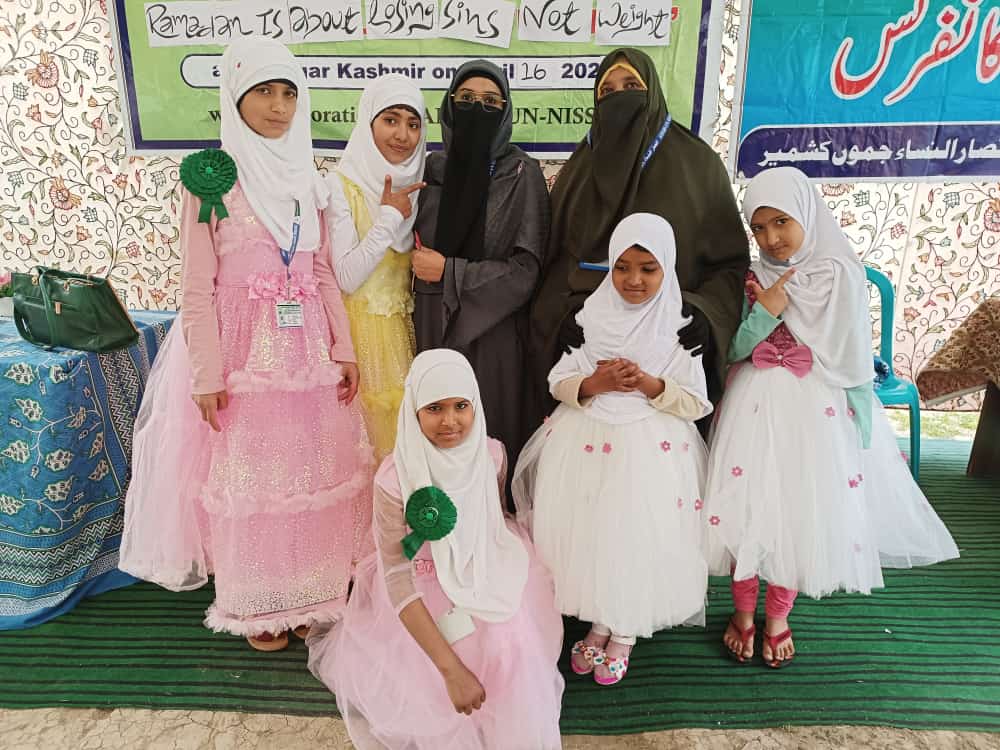 Speaking about her future plans, she detailed that she aims to build an institution where all modern subjects are taught at par with Islamic education, alongside martial arts and vocational skills like cutting, designing, oratory, etc. "Our whole motive is to make women empowered through education," Mubeena iterated her future plans.
Sadaf Shabir is an independent journalist. She tweets @sadafreports 
SUPPORT TWOCIRCLES
HELP SUPPORT INDEPENDENT AND NON-PROFIT MEDIA. DONATE HERE