Hasan Zia Rizvi | Twocircles.net
Lucknow has carved out a niche for the world-famous art form of Zardozi. In recent years, the art form has gained significant commercial popularity on the big screen and at fashion shows. Just a month ago, American model Gigi Hadid rocked a sequin and lavishly embroidered Chikankari saree that was exquisitely hand-embroidered by artisans of Lucknow.
Despite the art form's presence on the big screen, the industry remains unorganised, with artisans lacking social and financial security and struggling to put two meals on the table.
What is Zardozi?
Zardozi is a form of embroidery that came to India from Persia. Its literal translation, "zar" meaning gold, and "dozi" meaning embroidery, refers to the process of using sharp metallic wires threads of gold and silver and semi-precious stones to sew embellishments like flowers and other designs onto various fabrics. This intricate art is said to have been brought to India by the Mughal rulers.
Zardozi Artisans — Muslims & Underpaid
TCN visited old Lucknow, including Kashmiri Mohalla and Rustam Nagar, where in several small one-roomed karkhanas with unplastered walls, male artisans worked on long tables with crochet-like needles or Aari. This backbreaking work requires acute attention and speed.
According to estimates from the Textile Ministry, 1.75 lakh artisans in and around Lucknow are involved in Zardozi work. According to a 1975 survey on the caste and religion of the embroidery workforce, artisans are predominantly Muslims. Another survey found that 90% of Zardozi artisans were Muslims, with the remainder being Hindus. According to the survey, artisans earn between 200 and 300 rupees for every work or a monthly pay of 12000-15000 rupees.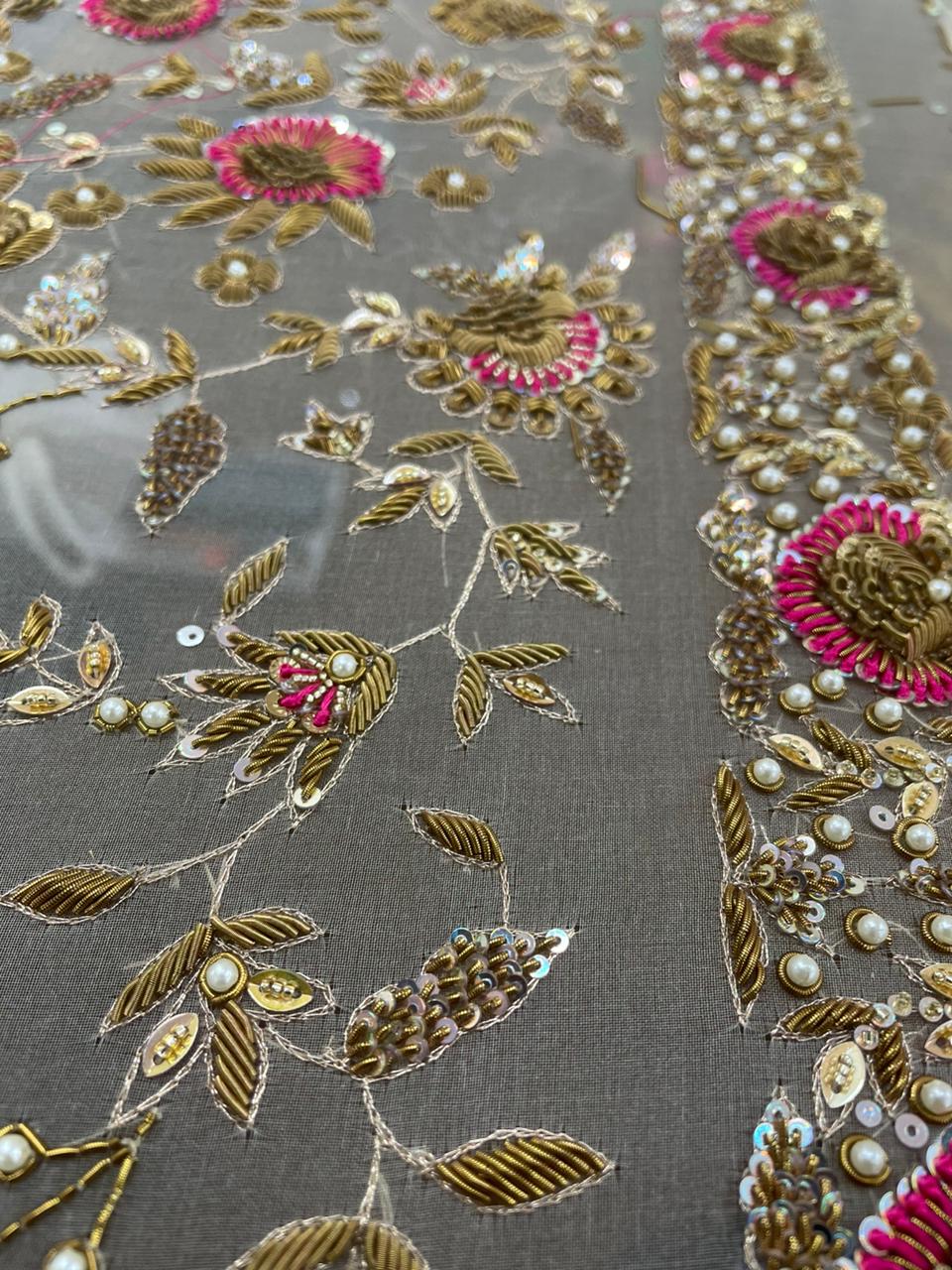 Condition Unchanged Even After GI Registration
Despite the Geographical Indication (GI) registration of Lucknow Zardozi by the Geographical Indication Registry (GIR) in 2013, there has been no real change in the condition of Zardozi artisans.
Geographical Indication registration means that the products made in Lucknow and a few nearby regions now have their own brand and will bear a registered logo to certify their authenticity.
These artisans are usually uneducated and subject to exploitation by fashion designers or even fashion retailers that acquire the products at very low prices and sell them at a premium.
Several artisans TCN spoke with stated that they only get employment for six months of the year, leaving them unable to cover their families' costs for the other half of the year.
Demonetization, GST, And Covid Wrecked Artisans?
On November 8, 2016, PM Modi announced on national television the discontinuation of 1000 and 500-rupee notes, asserting that they would "firmly deal" with various problems afflicting the economy and society, including illicit money.
Artisans claimed that demonetization affected their profession severely.
The implementation of the Goods and Services Tax in 2017 and the Covid-induced lockdown in 2020 exacerbated an already dire situation. Another cause for the decline of Zardozi art is that buyers are opting for cheaper machine work rather than the more expensive handcrafted Zardozi work.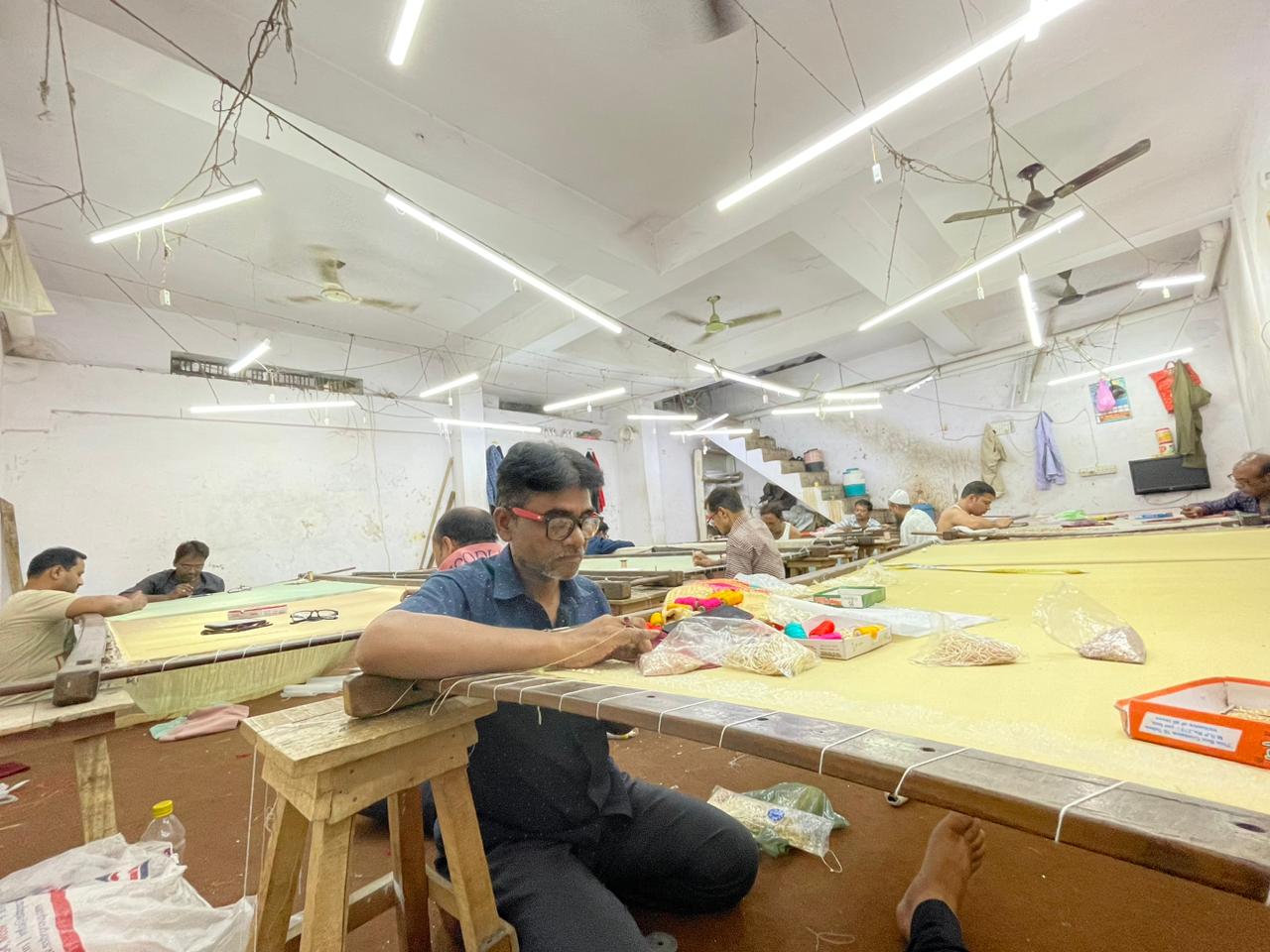 "After Covid, the Zardozi work was drastically hit, and it made us stop the NGO and move to other occupations for a living," said Pankaj Arya, secretary of Shilp Sadhana, an NGO for Lucknow Zari Craft that is now closed. Many of these NGOs currently just exist on paper.
According to artisans, between 70 and 75% of Zardozi artisans have deserted the karkhanas and taken odd employment such as driving e-rickshaws.
Zardozi Artisans Complain Of Government Apathy
The artisans claim that the government scheme does not reach them and that the government does not listen to their grievances.
Faiz Baqar, the owner of a Zardozi business, expressed disappointment with the government for failing to provide concessions in their children's education or pay for eye care. "If the government does not take action soon to save the Zardoz, then the day is not far when Lucknow will lose its precious art and identity."
Government Not Addressing Health Concerns
Zarzdozi artisans do not get medical insurance from any of the private enterprises or government organizations which leads to health-related problems like backache, cervical spondylosis, eye strain, etc.
Masood Rizvi, who has been in the Zardozi art industry for 15 years, suffers from cervical, eye strain, and kidney problems. "I have to take medicines to continue working and if I am not able to submit it on time, I do not get paid the full amount"
Pyare Bhai, 60, stated that he could no longer concentrate owing to eye discomfort. "My glasses don't help much either."
Noor Agha, secretary of Anjuman Zardozan (Organisation of Zardozi Artisans), stated that they have been providing spectacles to some artisans to prevent eye strain problems, but these issues have remained unaddressed due to a lack of funds and support from the government and NGOs.
"The current situation is that the young skilled workers are fewer and experienced workers are not working due to health problems," He explained.
He believes that the Zardoz community's most pressing requirements are upskilling and organisation, which can only be met with government assistance.
According to Baqar, the government should appoint a committee to organise this sector.
No Work At Home, Zardozi Goes Global
The most astounding fact is that the Zadozi art has spread throughout the world, with numerous Zardozi clusters in Dubai, Saudi Arabia, China, and Sudan.
The Indian government recently evacuated 100 Zardozi workers from war-torn Sudan, including more than 80 from Lucknow.
The workers stated that they relocated to Sudan and other countries because they could not find jobs in India.
Zardozi artist Amir Rizvi explained his situation, saying, "We went to Sudan because here we don't get zardozi jobs at regular intervals while we regularly get jobs there. The pay is also better than India… and we get a proper monthly salary."
"There we could make over 60-65000 rupees in a month as we continuously get work there," said Mirza Sabir Hussain, a Zardozi artist recently rescued from Sudan.
The artisans are unsure how long they can keep this art alive.
Hasan Zia Rizvi is an independent reporter based in Uttar Pradesh