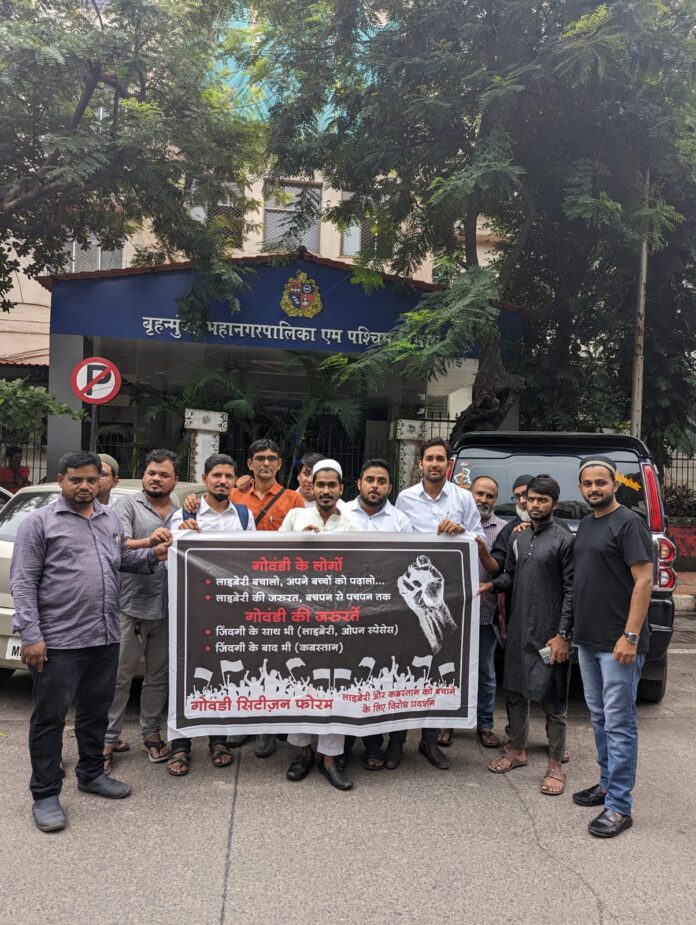 K K Ahmed/ TwoCircles.net
When Meeraj Ansari, 34, went to recite Al-Fatiha, a Quran verse, at a grave in Mumbai East's Rafi Nagar graveyard in April 2023, he discovered that multiple graves had been dug to bury a dead body because the earlier bodies were only partially decomposed even after 18 months, the minimum time required for decomposition. Meeraj recorded the incident and shared it on social media. 
---
Support TwoCircles
---
Brihanmumbai Municipal Corporation (BMC), Mumbai's governing civic body, issued a circular on 8 June informing people that the Rafi Nagar graveyard will now be closed and directed them to bury their loved ones at the Cheda Nagar graveyard and Cheetah camp in Trombay, which are 3 and 8 kilometers away, respectively.  
'Where Will Be Bury the Dead?': Ask Muslim Residents
The issue is critical for Mumbai's Govandi locality, an area with over 10 lakh Muslim residents, which has been without a graveyard for several months and has a death rate of six, according to locals.
Several Govandi residents informed Two Circles that they don't have a place to bury their dead because soil work has been going on for several years in the neighbouring Deonar graveyard and the dead remains aren't decaying in the Rafi Nagar graveyard. "Where will be bury the dead?" said a resident.
Several explanations were proffered for the lack of decomposition, ranging from poor soil quality to the possibility that these were COVID bodies coated in polythene. A BMC health officer, however, later said polythene was unlikely to be the cause.
After his grandfather died, Nushad Ansari, 22, found the burial process difficult. He initially visited Cheda Nagar graveyard, which was already full, and then the Cheeta Camp, where he was able to secure a burial place. However, transporting the dead body this far cost him a lot of money.
"We didn't get any ambulance assistance when we needed it. It's also unfortunate that many people were unable to attend the funeral due to the distance," he remarked.
Muslim Residents Knock Doors of Municipal Corporation
Muslim residents of Govandi feel unheard in front of the authorities. "We have no idea where to turn for justice. Many social and political activists are working on this issue, but no progress has been made," said Irfan Khan, a resident of the area.
The residents of Govandi initially raised the issue with Ward Officer Alka Sasani, who told them that they were looking into the matter.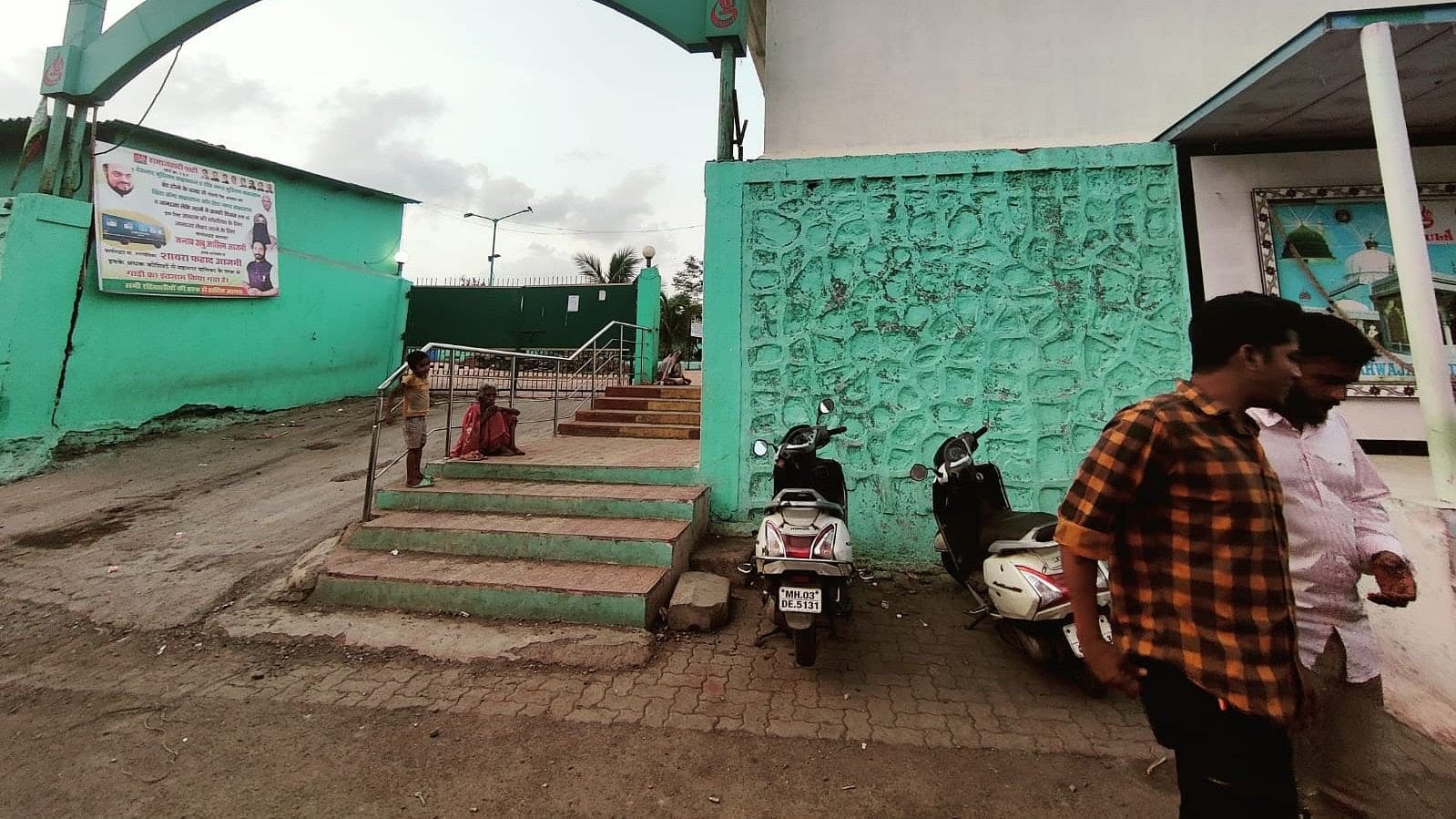 When the residents did not receive a response from Sasani, the Govandi Citizen Forum, a joint unit of several organisations involved in the graveyard issue, met with Deputy Municipal Commissioner Akash Kale on 13 July and demanded that the soil of the Rafi Nagar graveyard be tested and the results made public.
NHRC Seeks Action in Rafi Nagar Graveyard Issue in 8 Weeks
The residents filed a complaint with the National Human Rights Commission (NHRC) in early June after they went looking for burial spaces at the Cheetah Camp, where they were told that the burial space was limited.
On 23 June, the commission directed the district magistrate to look into the Rafi Nagar burial issue and take appropriate action within eight weeks. 
Residents Allege Scam in Graveyards
Residents are dissatisfied with the excessive delay in graveyard repair and believe that a scam has occurred in both graveyards with the collusion of the officer and the contractor, all in the guise of development and reconstruction.
According to Shahzad Ansari, 29, the soil flooring work might have been done in as little as two months but has been going on for years.
The wall of the Rafi Nagar graveyard, which was completed five years ago, also collapsed in monsoon rains on 22 July, pointing to a construction scam, according to Ansari and others. "What could be more evidence of scams and corruption than this?" Shahzad wondered.
Graveyards Opened Multiple Times, Closed Again
The two closed graveyards have been opened multiple times by separate management and authorities, but each time, three out of every four graves had decomposing bodies and red pieces of meat oozing out, and they are then closed again.
According to residents, the Deonar graveyard reopened on 19 July, but it had to close the next day due to unburied bodies emerging from it, and a similar incident occurred on 9 August at the Rafi Nagar graveyard.
'Digging Bodies, Hurt People's Religious Sentiments': Residents
According to Atique Khan, a local and a UPSC aspirant, this is a violation of the right to decent and dignified burial. "Every time graves are dug and [bodies] are checked, it's a disrespect to the dead and hurts people's religious sentiments," he said.
Atique claimed that the municipal corporation initiated legal action against him after he "exposed" in one of his live videos that they were uncovering graves and examining dead bodies. Two Circles was unable to verify the allegation.
Muslim Residents Feel Unheard by Authorities
According to Ibrahim Harbat, a lawyer, the entire incident is a violation of the law as well as a public and law-order issue. "The government deliberately ignores the minority. They can resolve the issue in a matter of days. A new graveyard should be given to this area as soon as possible because it is desperately needed," he stated.
Mufti Sharafuddin, Imam of a nearby mosque, told Two Circles that Islamic laws for burying dead people must be followed precisely or the burial will be incorrect. 
"If the grave has become old to the point that the body has become soil, then another grave can be made there. But if the entire corpse and hands are discovered there, it is not permissible to bury it," he explained.
Residents are worried that if the issue of the graveyard is not resolved at the earliest, there won't be space to bury the dead.
K K Ahmed is an independent reporter based in Mumbai, India.
SUPPORT TWOCIRCLES
HELP SUPPORT INDEPENDENT AND NON-PROFIT MEDIA. DONATE HERE