Vikrant Bhise's recent work is influenced by the Dalit Panther movement. 
Riya Talitha | TwoCircles.net
NEW DELHI — Walking into the Centre for Contemporary Arts at Bikaner House in central Delhi, the first thing that catches one's attention is a towering canvas, women of various skin tones and communities frozen in a protest, arms raised, expressions determined and focused with glowing blue highlights. In the upper right-hand corner, a hand holds up a picture of Babasaheb Ambedkar. This vibrant piece from Mumbai-based Vikrant Bhise's Rising Protest series was part of a group exhibition 'Naya Anjor' earlier this month. The exhibition gets its name from Afro-futurist American writer Octavia Butler's famous declaration, "There is nothing new under the sun, but there are new suns." 
The show attempts to illuminate liminal spaces of resistance enmeshed in twenty-nine selected artists' responses to ongoing economic and ecological crises.
Bhise's 2021 acrylic on canvas piece Labour Leader, depicts a bust of Babasaheb Ambedkar with his eyes being covered by an elderly labourer in a hardhat as he's cleaning it. He composed its first iteration in the thick of the pandemic as an inked picture smaller than a paperback book. Labour Leader is the piece that's on the show's advertising posters, but its significance for Bhise is because it is the first time he used Ambedkar's image in his work. 
Bhise recounted his journey from being a Mumbai courier boy to an artist exhibiting at some of the most respected galleries in the country. He grew up in Mumbai, in a building that he later found out was once the home of legendary Bhimgeet lyricist and singer Wamandada Kardak.  
The influence that colours Bhise's recent work is that of the Dalit Panther movement, which is a radical social organisation started by a group of anti-caste poets and writers in 1970s Maharashtra. While it lasted only till the 1980s, it deeply impacted people's lives, including Bhise, who was raised in the thick of the movement, both culturally and spatially. Several of his family members joined the Panthers, where Bhise's political formulations evolved, and in many ways, formed the very texture of his art – even before he began to bring Babasaheb's iconography front and centre.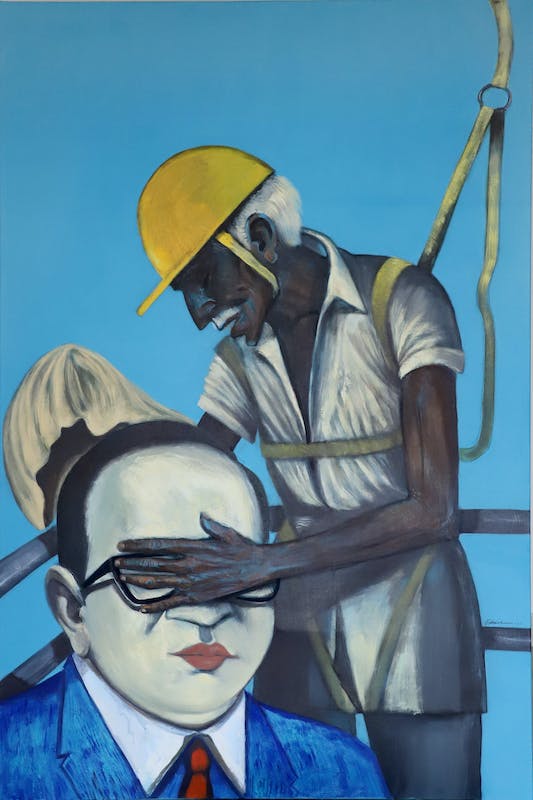 He spoke about the day he bought art supplies for his first day at Mumbai's Raheja School of Art after a few years of being a manual worker. It signified a step into his new life while still encapsulating his distinct lens to the worlds he traverses and inhabits. 
With national and state fellowships, awards, solo shows, and even an art teaching gig, Bhise's success in the art world is undeniable. Even as things became challenging during the pandemic, in terms of his access to galleries, materials and opportunities, his creative expression continued to grow and expand. From small-scale ink drawings, acrylics, charcoal, gouache, oil paints, watercolours, and mixed media to oil paintings, Bhise has yet to use or enjoy very few avenues of expression. "It's all my art," he said cheerfully when asked if he has any particular preference.
The import of using Babasaheb's imagery—the blue suit, the hand holding the Constitution and the colour blue itself is noticeable in his work. Ambedkarite imagery is mostly limited to protest sites, and community settings within the larger movement and is often seen in government offices. Posters, busts, DIY (do-it-yourself) statues, and murals are among the typical representations of this imagery. It is this popular usage that Bhise renders into exhibition-worthy art. His work has steered clear of reducing or stereotyping the complex subjectivities and dignity of his muses.
Heights of Capitalism, his only small-scale painting in Naya Anjor, depicts the enclosing jaws of the economy's rise and fall in the form of statues of one of the nation's most celebrated economists. 
Of his 2022 works, Babasaheb With Labour, depicts Ambedkar marching alongside a row of migrant labourers, striding purposefully, while Rising Protest takes inspiration from the assertion of women at hundreds of Shaheen Baghs (the nationwide sit-in protests against the citizenship amendment laws in 2019-20). 
Rising Protest is a tumult of bodies and spines – as ladders reaching up, bending but not broken. At the centre is a bust of Babasaheb, and next to him is a woman holding a scroll with the words: "Let us beware of Manu, listen to the call, now beware there will be a new dawn, surely the oppressive customs of all will change", a quote written by a friend of Bhise's.  
"With everything that happens in this country, people still don't stand up, don't rise. Their spines are bent and bowed. Babasaheb stood up straight. And now we can, because of him. That's what I'm painting," explained Bhise.
Riya Talitha is a fellow at the SEEDS-TCN mentorship program.