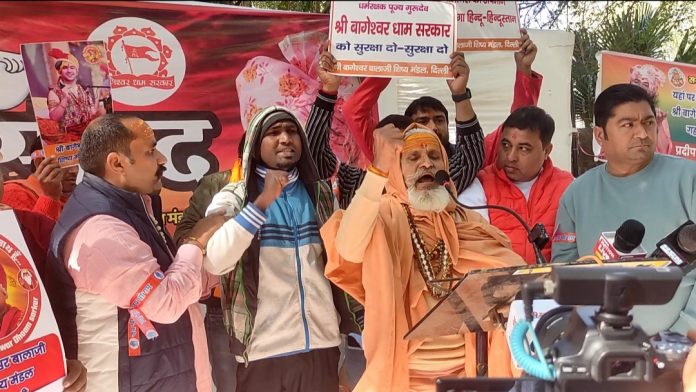 At a demonstration in support of Suresh Chavhanke at Jantar Mantar on February 5, offensive anti-Muslim speeches and proclamations to make India a Hindu nation was prevalent.
Shruti Sharma | TwoCircles.net 
---
Support TwoCircles
---
NEW DELHI — Nearly a month after the Supreme Court had pulled up Delhi Police for the delay in the investigation of hate speech against Sudarshan TV head Suresh Chavhanke, his supporters held a demonstration in New Delhi's Jantar Mantar on February 5 against the apex court's critical observation on Chavhanke's 2021 speech that called for making India a "Hindu nation." 
The demonstrators termed the apex court's observation as "legal harassment." 
In December 2021, at an event organized by Hindu Yuva Vahini in the national capital, Suresh Chavhanke administered an oath to the audience by saying, "We will make India a Hindu Rashtra at any cost. If needed, then we will kill or get killed for it." Months later in April 2022, the Supreme court pulled up the Delhi police and asked them to take legal action against Chavhanke. A month later in May, the Delhi police filed fresh cases against Suresh Chavhanke for promoting "enmity between different groups," and for "deliberate acts intended to outrage religious feelings," besides other charges. 
At the February 5 event titled "How is taking the oath of Hindu nation a crime?," speakers advocated for declaring India a 'Hindu Rashtra' besides making anti-minority speeches. On the same day, a Sanatan Dharam Sansad (Hindu Parliament) was also organized by the supporters of self-proclaimed godman Dhirendra Shastri wherein similar speeches were made. Several speakers and the audience were similar at both events. 
Defending hate speech
Chavhanke's supporters at Jantar Mantar claimed that there was nothing wrong with his speech at the Hindu Yuva Vahini event in 2021.
They accused the top court of being harsh with Hindus and liberal with Muslims. 
"Musalman ka matlab musal ki maar se maanega" (The meaning of Muslim is the one who obeys with the beating of the pestle)," said one Karan Maharaj of Gorakh Pith. 
"If anyone raises a hand against Suresh Chavhanke, we will uproot their hand from its root," he threatened. 
मेरे साथ हिंदू राष्ट्र की शपथ लेते हुए हिंदू युवा वाहिनी के शेर और शेरनियां #HinduRashtra @myogiadityanath pic.twitter.com/AVt1QqHb1x

— Suresh Chavhanke "Sudarshan News" (@SureshChavhanke) December 19, 2021
On interfaith marriages, Karan Maharaj said: "If your daughter gets married to a Muslim boy then you have to go to that Jihadi house, and kill his entire family to teach them a lesson so that no one comes near Hindu girls in future." 
Assuring the audience of the establishment of Hindu Rashtra, Karan Maharaj proclaimed that "Hindu Rashtra will be declared, if not, then it will be done forcefully." 
Another speaker named Bittu Bajrangi speaking in the support of Suresh Chavhanke said that the Indian government is the government of Hindus. "It does not belong to any kathmulla (offensive word for Muslims). If we would not demand India to be declared a Hindu nation, then whom will we demand? We can't talk about making Pakistan or Bangladesh a Hindu nation, can we?"
Karni Sena President and BJP's Haryana spokesperson Suraj Pal Amu also came in support of Suresh Chavhanke. 
In one of the videos from the event, Amu can be heard saying, "If anyone tries to bother Suresh Chavhanke, will you let that happen? If anybody stops us from making India a Hindu Rashtra, will you spare them? Won't you teach them a lesson?"
Amu has not shied away from controversy. In 2021, he allegedly endorsed communal lynchings at a mahapanchayat in Haryana's Indri. He was also accused of delivering a hate speech on 'love Jihad' in July 2021. In 2017, Amu announced a bounty on Deepika Padukone's head for Padmaavat's release.
"We're not demanding anything. We are only asking to remove the country's traitors, those who eat in India but sing praises of Pakistan," Amu said. 
Amu said that there is a lobby working against Chavhanke. "But I want to tell them that he is not a carrot or radish that can be easily uprooted and consumed," he said. 
'Will you kill Muslims and Christians?'
At the Sanatan Dharm Sansad event organized by the supporters of Dhirendra Shastri, speakers made similar anti-minority speeches.
Acharya Dhirendra Krishna Shastri is a Hindu religious leader of Bageshwar Dham, a well-known religious site in Madhya Pradesh's Chhatarpur district. He has been accused of practising untouchability and giving communal speeches. He has been in the news recently after his "miracles" were challenged by a rationalist Shyam Manav. After the controversy, he gave interviews with mainstream media. His following has dramatically increased since then.
"When will you kill Muslims and Christians?" a monk speaking in the Dharma Sansad asked the people. The video clips of this speech from the event are viral on social media. As per the poster on Bageshwar Dham's official Twitter handle, this monk, Bhakt Hari Maharaj was the chief speaker at the event. 
According to him, those attending the Dharma Sansad had three main demands – declaring the Ramcharitramanas to be the national book of the "Hindu Rashtra" India, the cow as the national animal, and Z-plus security to Dhirendra Shastri. However, the gathering later made calls for violence against Muslims. 
Speaking at the event, Bhakt Hari Maharaj openly asked the listeners, "Britishers, Congress, and Christians said to divide and rule. Muslims said to slay and kill. Christians said slay and kill. When will you (Hindus) kill Muslims and Christians? And how would you kill them? You have a small knife to cut the vegetables only. You need to keep swords and guns at your home."
He appealed to the audience to keep weapons in one hand and religious books in another hand. "If anybody disobeys our religion then declare him a traitor and take him to the border and shoot. If any Christian or Muslim takes away our daughters and sisters, then shoot him at the crossroads," he said. 
He also expressed outrage against Bihar Education Minister Chandrashekhar and Uttar Pradesh MLA Swami Prasad Maurya for their criticism of the Hindu holy book Ramcharitmanas. The duo had said that the book is discriminatory towards lower castes and spreads hatred in society. Bhakt Hari demanded legal action against them to teach them a lesson. 
Even though offensive remarks against minorities and calls for violence were made openly at both events at Jantar Mantar, police have not taken any action yet. 
Instead, the Delhi Police issued notice to the Twitter handle 'Molitics' which had reported on the event. The Delhi police found the 'Molitics' post on Twitter to be "offensive, malicious and inciting messages which can adversely affect law and order". 
In response to the Delhi police notice, the founder of the Molitics tweeted, "I'm still confused! Why would you send this to us? I hope such notice must have gone to these saffron-clad criminals too." 
In their official statement, Molitics said "we will keep reporting if anything happens again like the one that happened at Jantar Mantar."
 
Shruti Sharma is a freelance journalist based out of New Delhi. She tweets @imsshruti77
[Edited by Irfan Mehraj. Tweets at @IrfanMeraj]
SUPPORT TWOCIRCLES
HELP SUPPORT INDEPENDENT AND NON-PROFIT MEDIA. DONATE HERE