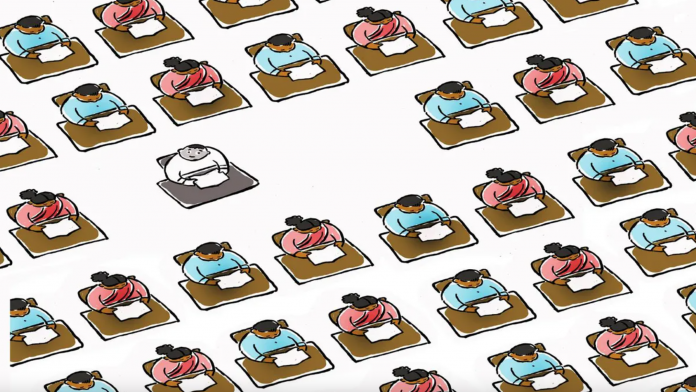 Digital learning carries with it the same biases and inequities that dominate the sphere of traditional education.
Riya Talitha | TwoCircles.net 
NEW DELHI — Rishab P, a recent engineering graduate, spent a large part of the COVID lockdowns fighting a losing battle while coming to terms with the idea of the digital divide. Urged by a relative, he took on the responsibility of helping seven students from his family's village on the outskirts of New Delhi to keep up with their education after their local school closed. 
As a talented student studying in English-medium private school, he initially felt he could help substantially. He soon discovered that this was easier said than done. The students didn't have reliable or adequate access to the internet, let alone electricity, nor did they have the financial resources to focus on their studies as time passed.  
P saw first-hand the severe impact of the COVID learning gap, compounded not only by the student's situation in a peri-urban environment with its attendant lack of infrastructure and socio-economic obstacles but also by their caste location as Dalits. He explained that continuing their studies was nearly impossible without encouragement from other adults in the community, privacy and space to study, and inconsistent availability of essential resources. 
Deep-rooted digital divide
IT For Change founder Gurumurthy Kasinathan argues that this lack of 'meaningful access' requires much more comprehensive alleviation. Among the currently enrolled students in India, 75% of the currently enrolled students in India do not have access to the internet through any device. This demographic comprises socially marginalised groups, like girls, economically backward students, rural-based students, and those from SC and ST communities. Therefore, it is clear that vulnerable students and families disproportionately bear the brunt of the educational consequences of COVID-19.
Monumental growth in EdTech industry failed to cap digital divide
During the pandemic, the EdTech sector grew by leaps and bounds but it failed to overall take into account the essential digital divide in India which works also along the lines of the lack of privileges mandated by caste. 
In India, the private online education market was valued at roughly Rs 39 billion in 2018 and is expected to reach around Rs 360 million by 2024.
The fact is that only 22.28% of schools in India have internet facilities. 30% of students nationwide don't have access to online learning. At the same time, the average EdTech product in India is equivalent to 77.5% of the annual per capita income for its lowest wealth quintile. 
Therefore EdTech products are primarily available only to a limited demographic, and some studies already reveal that their usage may widen the impact of school closures. Only those who can afford these options can fully use them, while others are pushed into debt or excluded from education. For the semi-privileged and the elite, education in India is a "blood sport" so EdTech companies can capitalise on their fears of the 'COVID Learning Gap'. 
Predatory marketing practices of EdTech industry
The aggressive tactics of the EdTech industry extended to full-frontal hiring practices to fill their educator ranks, from private tutors to homemakers with teaching experiences, and school teachers. The demand for EdTech products is growing exponentially, but the companies themselves have "punishing internal cultures" and hard-sell tactics. Numerous pieces have illuminated the 'toxic targets' that EdTech companies ascribe to, involving profiling clients from Tier 4 and 5 cities, strong-arming them into subscribing and making cancelling services and reporting grievances extremely challenging. 
The Member of Parliament Karti Chidambaram confirmed the gravity of these tactics in a statement to the Lok Sabha. He said, "Edtech companies are engaging in predatory marketing practices, where they prey upon aspirational poor people who want to give their children a better education and supplement their education which they are not getting in a government school".
The India EdTech Consortium, the self-regulatory body doesn't seem equipped or have the will to do anything more constructive other than publishing guidelines warning their member organisation against posting false & misleading advertisements. An in-depth report by the Rest of the World delves deeper into the overwhelming failure of Indian EdTech startups to self-regulate.
Untouchables in the world of IT
It's clear that one of India's most striking developmental failures is in education. Late anti-caste scholar Gail Omvedt writes in Untouchables in the World of IT that despite the improvements in school attendance and literacy since the 90s, the negative attitudes of teachers towards low-caste and Dalit students persist and actively hamper change. 
"Even in prestigious institutions, professors often simply pass their 'reservation quota' students without trying to give them any significant training to help them overcome their obstacles," explains Omvedt. Similarly, the inequalities embedded in the Indian EdTech sector are far more than incremental improvements or minute policy changes can achieve, be it the Centre's National Digital Educational Architecture (NDEAR) or the National Educational Alliance for Technology (NEAT).
Technology is not always a democratizing force
The idea that technology is always and only a democratizing force or tool may be popular but it is far from the truth. There are many misconceptions about the possibilities of the industry and little to no regulation for its many excesses. The uncritical popularity of private-sector learning apps and rapid economic growth blur the lines between supplement and substitute. 
Additionally, according to an IT For Change report exploring how the pandemic has deepened inequalities in Indian schools, the brunt of educational deprivation includes loss of learning, increased school dropouts, child marriages, child labour, and malnutrition. 
The government has frameworks and schemes to bridge digital inequality in education but no specific focus on caste-oppressed students and their unique struggles. Some EdTech companies have scholarships for economically-marginalised students but no particular products or targeted support for caste-oppressed students. 
The Ambedkarite education resource centre Nalanda Academy expanded its free educational resources to include online classes under the aegis of 'Digital Nalanda' in March 2020. It is the only exception to the rule. The organisation is based in Pune and offers all its services for free to underprivileged students. According to their website, they've served thousands of students, but real systemic change needs State power. The responsibility of narrowing the gap and providing access to something as fundamental as school education lies with the government, not a community action group or the private sector. 
A case for critical caste and technology studies
Professor Murali Shanmugavelan, a Data & Society faculty fellow and anti-caste scholar, in his lecture at the Oxford Internet Institute argues that caste-sensitive algorithms are essential in identifying hate speech in virtual realms and social media platforms. These are also potentially at play in ed-tech platforms and services but cannot be verified or accounted for due to a pervasive lack of demographic data.
Shanmugavelan's research focuses on the dynamics of caste in media and communication studies and digital cultures. It is all the more critical in light of the near silence surrounding caste in the international IT and development industries. He makes a case for scholarly recognition and expansion of Critical Caste and Technology Studies. 
There have been anecdotes and specific incidents that break into the news cycle now and then, like when an Unacademy educator made racist comments against indigenous communities in a virtual class. Reports of gender-based harassment online have increased exponentially during the pandemic and were far more studied and tracked than caste-related bigotry. Harassment online is intimately connected with impunity, and the lack of both conversations and protection in terms of caste discrimination online indicates that it occurs and its victims are much more vulnerable. 
Algorithmic fairness is mandatory
Algorithmic fairness is essential as Artificial Intelligence systems rely on the data they are fed and potentially adopt or even amplify any biases they process. This can actively contribute to spreading misinformation and perpetuating existing societal divides. Preventing these eventualities requires facing them head-on through proper analysis of the existing socio-economic demographics, including gender, religion, ability, caste, class, gender identity and sexual orientation, and ethnicity. 
Otherwise, as stated in the UNESCO 2022 Report on the State of AI Education in India, AI will run the risk of "continuing 'in a more sophisticated manner, to do what the caste system did in terms of sifting people into different categories based on socio-economic backgrounds and assigning them education and vocational possibilities that further reinforce the stratification. By reproducing a future based on the past, AI discourages aspirational advancements.' 
Digital learning carries same biases which dominate traditional learning
Digital learning carries with it the same biases, inequities and challenges that dominate the sphere of traditional education.  
As long as the motivation driving the advancement and expansion of the EdTech industry remains in the reins of market interests, digital learning in India will not be able to realise its purported goals of achieving equitable distribution of education. 
In December 2021, UNESCO launched the RewirEd Global Declaration on Connectivity for Education, drawing on lessons learned from the pandemic. The report determined that without an ideological course correction, digital learning risked "heightening student isolation, exacerbating inequalities, narrowing learning experiences, and privatizing education".
The Declaration's three core principles are intended to guide efforts to make technology "an enabler of human-centred education", and the very first one is to "centre the most marginalized." 
In India, this needs to start with caste, and it cannot be a mere afterthought. 
Riya Talitha is a fellow at the SEEDS-TCN mentorship program.