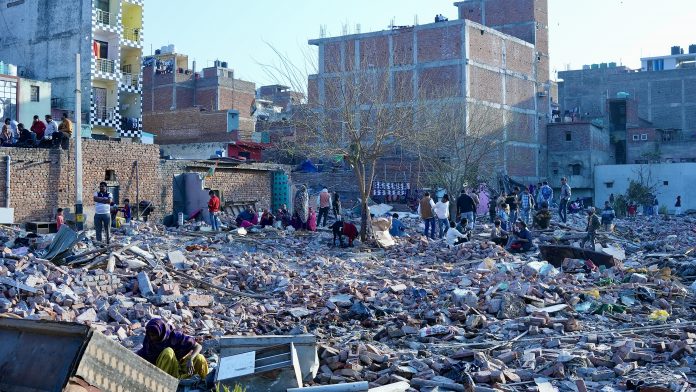 On February 15, Delhi Development Authority (DDA) demolished 50 structures in Jamia Nagar, a predominately Muslim majority neighbourhood in New Delhi. The area was home to nearly 300 people, mostly construction workers, rickshaw pullers, and domestic labourers.
Arbab Ali | TwoCircles.net
---
Support TwoCircles
---
NEW DELHI — Sameena, 50, a resident of Zakir Nagar H block in Jamia Nagar, a predominantly Muslim majority neighbourhood in New Delhi, woke up early morning on February 15 and quickly went to work as a domestic help in nearby block G. Her son called her around 11 a.m. and asked her to hurry back home. By the time she returned there was no home to be found. 
Before the Delhi Development Authority (DDA) directed its JCBs to this nondescript neighbourhood near the banks of the Yamuna, it was home to about 300 people, mostly construction workers, rickshaw pullers, and domestic labourers. The DDA bulldozed some 50 structures, nearly two-thirds of which were made of bricks, and displaced over 250 people in hours.
'All encroachments are to be removed'
Sameena told TwoCircles.net that the DDA had pasted a notice on an electricity pole near the shanties. 
TwoCircles.net accessed a copy of the notice. "As per Hon'ble NGT (National Green Tribunal) order dated 13.01.2015 in case no. 06/2012 (Manoj Mishra Vs DDA & Others) all encroachments in Yamuna Flood Plain area are required to be removed," the notice read.
"In compliance with NGT order, the removal of temporary huts & structures at Zakir Nagar on Khasra No. 276, 366 has been carried out today," the DDA said in a statement.
TwoCircles.net spoke with DDA's standing counsel, advocate Prabhsahay Kaur. She said that two writ petitions were filed, but no stay was granted to the petitioners. "We had told the court that the demolition that is contemplated is outside the boundary of the unauthorised colony of H Block Zakir Nagar," she explained.
Unable to understand what was going on, people scrambled, many unsuccessfully, to gather their most important belongings. "My son got married about 2-3 months ago. We purchased new furniture. It is now rubble," Sameena said.
Sameena said that she purchased the land from a builder 26 years ago and has a General Power of Attorney (GPA) over it. She also claimed to have metered electricity and an Aadhar card registered to her address.
She claimed there is politics around demolitions. "They want to evict the poor and build big flats," she said.
Sameena, who has six children, is concerned about where she will spend the night in the cold.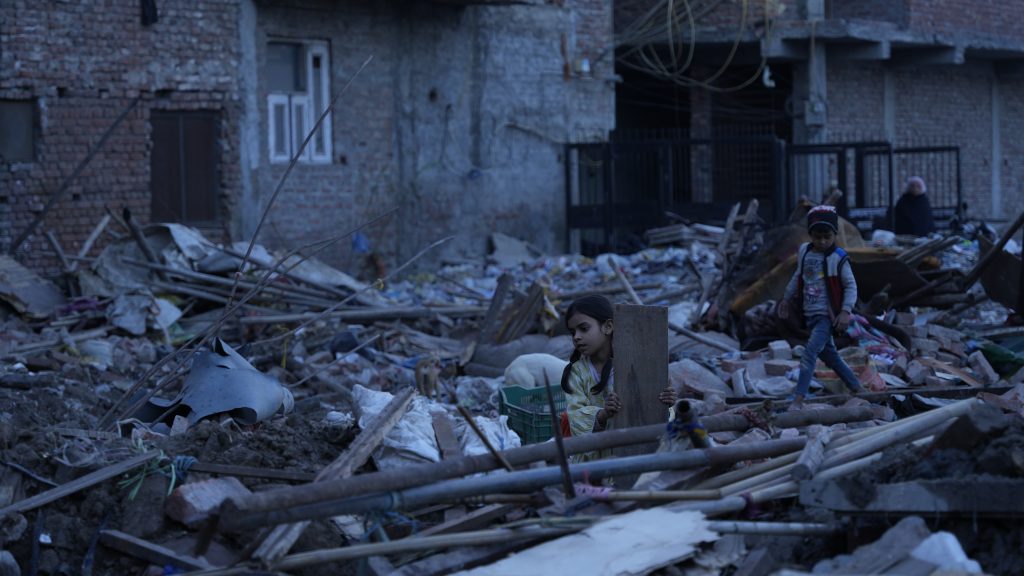 Residents allege communal bias
A resident who spoke on the condition of anonymity said that their homes have been demolished four times in the last 26 years. They claimed that demolition drives are being carried out with a communal bias. "Muslims have become demolition targets," they alleged.
The Municipal Corporation of Delhi used bulldozers to remove "illegal structures" near Batla House in Jamia Nagar in October 2022, amidst heavy police presence.
Earlier in 2022, an anti-encroachment drive was conducted in Jahangirpuri, which had witnessed a communal clash during a Hanuman Jayanti procession. Following a Supreme Court order, the drive was halted.
Later in April and May of 2022, demolition drives were conducted in Shaheen Bagh, Madanpur Khadar, New Friends Colony, Dwarka, and Najafgarh.
The demolition drive in Madanpur Khadar and Shaheen Bagh witnessed strong opposition from the public. The Delhi Police also detained Aamanatullah Khan, Aam Aadmi Party (AAP) legislator from Okhla for obstructing the drive in Madanpur Khadar.
'AAP MLA did not support'
Momina, another resident who lost her home during the demolition drive, told TwoCircles.net that Amanatullah Khan promised to stay there during the demolition but did not show up.
TwoCircles.net spoke with Khan over the phone. "There was a demolition notice. In 2014 and 2019 inspections were held to ascertain the boundaries of unauthorised colonies, and they [court] asked to consider that. But still, there were homes of people who have been living in the area for decades. They could have allowed them to live here. This land is anyway not going to be of any use to the authorities," Khan said.
When asked about complaints that he did not support the residents, Khan stated that he had a court hearing on the day of demolition but was in contact with the residents via phone.
Residents allege builder-police-DDA nexus
Momina asked if the authorities were aware that this area is illegal, why were they allowed to settle there in the first place. 
Residents claim there is a builder-police-DDA nexus in the neighbourhood.
"Police take money from us, and the DDA comes and demolishes our homes," a resident who did not want to be identified alleged.
"We were told only the shanties would be demolished. We had no idea this would happen. I have two daughters and I am a widow. I don't know where we will go," Momina sobbed.
Arbab Ali is a fellow at the TCN-SEED mentorship program.
SUPPORT TWOCIRCLES
HELP SUPPORT INDEPENDENT AND NON-PROFIT MEDIA. DONATE HERE