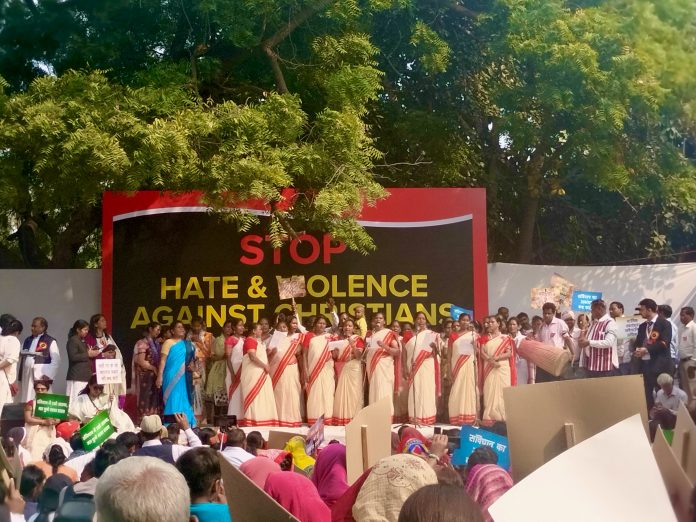 The demonstrators protested against the recent spate of violence faced by Christians in Chhattisgarh, Madhya Pradesh, Uttar Pradesh, Jharkhand, Karnataka and other places in the country.
Riya Talitha | TwoCircles.net 
NEW DELHI — Members of the Christian community staged a protest at Jantar Mantar here on Sunday against alleged "attacks on churches, violence and arrests [of Christians]" in different parts of the country.
Close to 2500 people participated in the protest representing 79 churches and organisations, as per the organisers. The gathering was peaceful amid a heavy police presence.
"We are people of love. We are a people of compassion, and our voice has to be heard," said Reverend Dr Chiranjeevi from Hyderabad.
Reverend Paul Swaroop from the Diocese of New Delhi, one of the opening speakers at the protest, started with a prayer for Christians across India, especially those facing violence and bigotry.
"We are being accused of forcibly converting people to Christianity. Churches are being attacked, our people are being beaten up and arrested. The community members are living in a constant state of panic," Steven from Uttar Pradesh said.
He claimed that the country saw "525 cases of atrocities against the members of the community in 2021 and 600 cases in 2022".
"In Uttar Pradesh, the number of such cases increased from 70 in 2020 to 183 in 2022," he claimed.
Shivpal from Fatehpur in Uttar Pradesh alleged that the state police has been arresting people over allegations of forced conversions.
Among the 305 incidents of violence against Christians reported in the first 273 days of 2022, Uttar Pradesh tops the list.
By the end of 2022, officials recorded 598 incidents of violence against Christians from 21 states until the end of December 2022.
"We are not even allowed to pray in our houses. A few women were arrested for offering prayers during a birthday celebration," Shivpal said.
One of the FIRs filed against the members of the community names an 11-year-old and a person who died in 2010, Steven alleged.
"Churches are being attacked and our community members are harassed in Chhattisgarh, Rajasthan, Uttar Pradesh and many other states. Cases are being filed against them on the basis of false charges. We have come here to express solidarity with our brothers and sisters," Poonam, who came from Delhi's Punjabi Bagh, said.
Earlier on Saturday, the organisers held a press conference at New Delhi Press Club wherein they alleged that bigotry [against the Christian community] has increased in the country and underscored the necessity of their coming together at this time.
Unique protest
Sunday's protest at Jantar Mantar was unique for two reasons.
A.C. Michael, a former member of the Delhi Minority Commission and President of the United Christian Forum (UCF), said that the Christian community had staged protest demonstrations in the national capital perhaps not more than five times since Independence. "The sharp rise in hate and targeted violence has now forced their hand in recent years," Michael had said in a press conference on Saturday
Secondly, the protest was unique for its diversity and expressions of unity across several Christian groups.
Michael Williams, one of the organisers, said that it was, in fact, "a revolutionary kind of protesting, with music and celebration, and songs."
From Punjabi bhangra to Rajasthani folk dancing, Adivasi music, and choirs performances from Kerala and Mizoram, the speeches and prayers were interspersed with colour and life, depicting a diverse and non-stereotypical representation of Indian Christianity.
Williams read out a memorandum drafted by all the organising bodies, articulating the demands of Delhi's Christian community.
The Christian groups plan to submit this memorandum to the President and various governmental bodies.
The memorandum, a copy of which lies with TwoCircles.net, details the grievances [of the Christian community] and their proposed restorative measures as determined by the community.
It demands reconstruction of vandalised churches, commitment from police forces to guard against the registration of malicious FIRs, and strengthening of judicial as well as human rights bodies to serve the needs of the persecuted.
"Our government doesn't understand us. We are worshipping, and they say we are converting people. We will not tolerate these lies anymore," said Sister Annika Chettiya.
"All our unity is not merely for one day. We have to carry this forward," she added.
Escalation in attacks
December last year saw an escalation in violence against Adivasi Christians in Chhattisgarh.
The tribal Christians from various villages in Chhattisgarh alleged large-scale violence against them due to their allegiance to the Christian faith forcing them to flee, TwoCircles.net reported in December 2022.
Chhattisgarh: What made tribal Christians flee from their villages amid anti-Christian violence?
Members of the Christian community are being denied their basic rights and are being driven away from their villages, a lawyer told TwoCircles.net in December 2022.
"It is like a parallel government acting against the Christian community. People, mostly attached to RSS-affiliated organizations and religious heads, gather from the villages and hold the so-called Pargana meeting. They announce that their traditional Gram Sabha (Village Assembly) is above the Lok Sabha and Vidhan Sabha. They claim that they have every right on Jal-Jungle-Zameen (Water, Forest and Land), and whoever has changed their faith to Christianity is barred," the lawyer had said.
On January 2, five persons including a local Bharatiya Janata Party (BJP) leader were arrested in connection with a mob attack on a church in Chhattisgarh's Narayanpur district, TwoCircles.net reported.
Chhattisgarh: BJP leader among five arrested for attack on church in Narayanpur
On January 2, a mob vandalised a church after around 2000 people, mostly Adivasis, held a public meeting in protest against alleged "illegal religious conversions" in the tribal-dominated Narayanpur. The crowd dispersed in groups after the meeting, some of whom entered a church located in Viswadeepti school premises and vandalised it.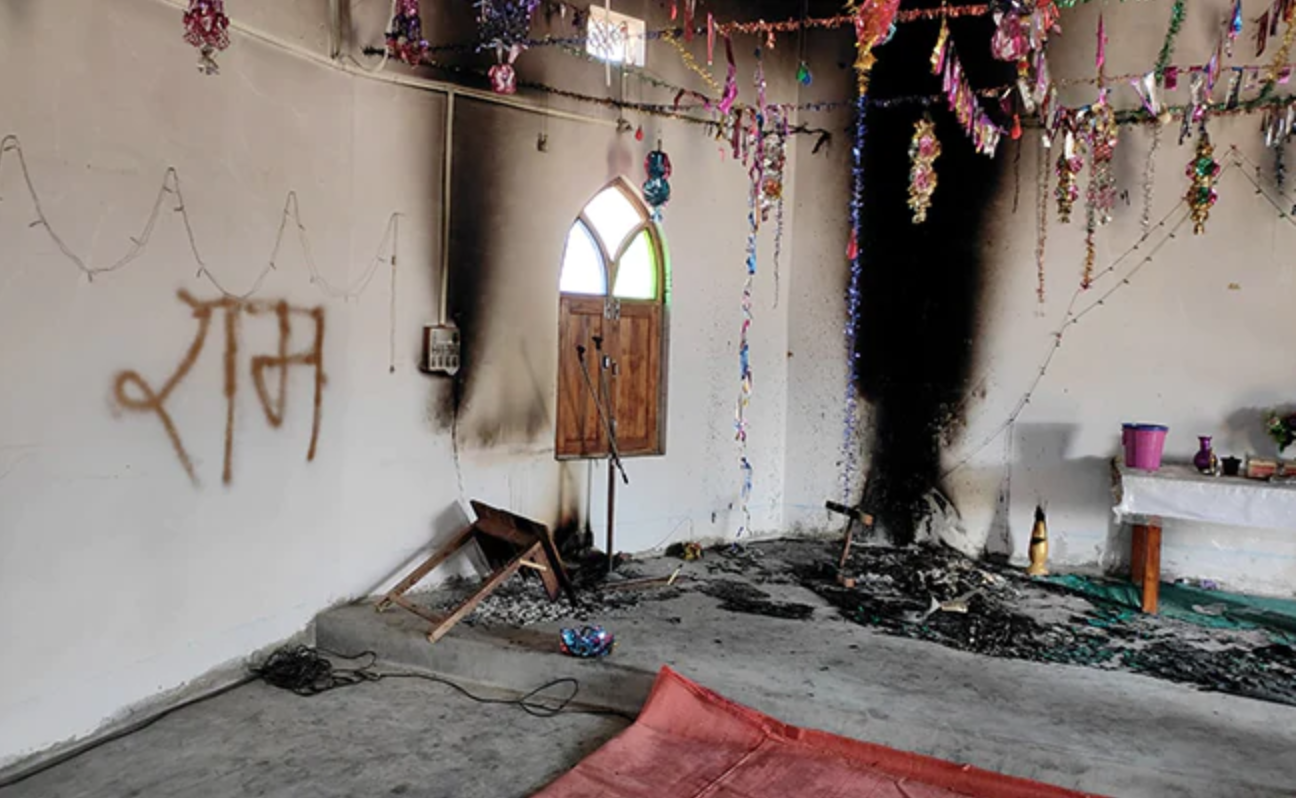 In another incident, three men were arrested for torching and vandalising a church and a prayer hall in the Narmadapuram district of Madhya Pradesh on February 15, TwoCircles.net reported.
MP: Three arrested for vandalising, torching church in Narmadapuram 
The church, located in the Chaukipura area with a considerable tribal population, was set ablaze on Sunday (February 12). Some religious texts and furniture were destroyed in the fire. At a prayer hall in Chaukipura village, furniture was found burnt and the word 'Ram' was written on the wall.
Riya Talita is a fellow with the SEED-TCN Mentorship Program.