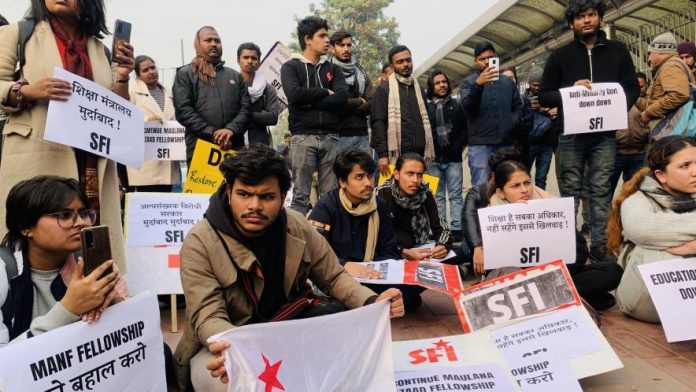 For many post-doctoral Muslim students, discontinuing of Maulana Azad Fellowship (MANF) by the Central government means acquiring higher education for the economically marginalized will only get more challenging. 
Sufi Parween & Aatika S | TwoCircles.net 
NEW DELHI — Research scholars from marginalized communities face an uncertain future after the Narendra Modi government discontinued the Maulana Azad National Fellowship (MANF) given to minority students in December 2022. 
The scheme was implemented in 2009 after the recommendation of the Sachar Committee, which studied the social and economic condition of Muslims in the country.  
Many organisations have protested against the government's decision to discontinue MANF including the students of Maulana Azad National Urdu University (MANUU), the University of Hyderabad and Aligarh Muslim University. There is widespread dissatisfaction among students against the scrapping and revised rules. 
Aarif Khan, a research scholar at Devi Ahilya Vishwavidyalaya, Madhya Pradesh hasn't received the fellowship for the last 6 months. It has become difficult for him to financially survive and do research. "MANF was a boon for minority community students and without such funding, we will not be able to do PhD in the coming years," Khan told TwoCircles.net.  
For many Muslim girls, the fellowship was a financial power which gave them the strength and independence to study even if their families were not enthusiastic about their higher studies. 
For Masuda, a student at Aliah University in Calcutta, the cancellation of the fellowship effectively means they won't be able to pursue further higher studies. 
Masuda told TwoCircles.net that only six months are left for her to finish her PhD and the discontinuation of the fellowship has created immense problems for her. "I have not received MANF since September, which has created severe problems in my research. When I heard that the government is discontinuing MANF, I knew I wouldn't be able to study further," she said. 
"Like me, there are thousands of minority women scholars who won't be able to study any more," she said. 
To add to the list of structural devastation caused by the discontinuation, Tahir Mehmood, a research scholar at Punjab University, told TwoCircles.net that the discontinuation of the scholarship has affected his mental health. 
"I am unable to bear the expenditure of purchasing books, going on fieldwork, printing cost and paying my house rent which has an adverse effect on my research," he said.  
National Students Union's Jamia Millia Islamia president N.S. Abdul Hameed said that the issue will affect a large number of minority students who are not considered OBC. 
"The scholarships for minorities, OBCs, Dalits and Adivasis used to overlap as the applicants may be from the same social or religious backgrounds. We have been demanding the centre to correct the anomalies. Instead of correcting the anomalies, they stopped the scholarship altogether. This will impact many Muslim, Sikh and Christian students who are not considered as OBCs in various states," Hameed said. 
Syed Mudawar Shamus, a research scholar at MANUU, Hyderabad said that MANF had provided him with a financial cushion enabling him to continue his research. 
"Most of us have sacrificed our careers in different fields for creating knowledge and contributing to nation-building. Yet we are stuck and cannot buy books, pay fees, manage daily travel or even pay rent. It's unfortunate to see this kind of governmental work," Shamus said. 
Imran Khan, a PhD scholar at Kashmir University, who was awarded the fellowship, said that he would have left PhD if not for the fellowship. 
"I am from a lower middle-class family and my father is a class 4 retired employee. We don't have any other income. The discontinuation is very unfortunate for a huge number of middle-class and poor students like me," Khan said.
Rojina Khatun from Aliah University said the Modi government discontinued MANF because this was the only fellowship available for minority students. "It is clear that the government doesn't want us to educate ourselves. It is hellbent on making us remain educationally and socially backward. Without MANF I will not be able to continue my research," she said.
Sufi Parween & Aatika S are fellows at the SEEDS-TCN mentorship program.