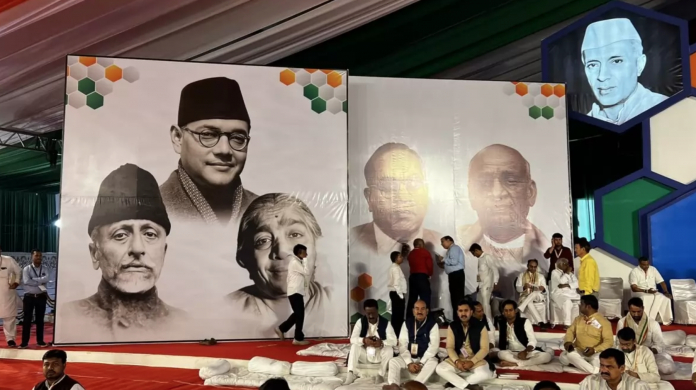 The full-page advertisement which was published in dailies on the third day of the plenary session on Saturday, featured Congress leaders of the past.
Huneza Khan | TwoCircles.net 
---
Support TwoCircles
---
NEW DELHI – Pictures of several historical Muslim leaders were missing in the Congress advertisement marking the party's 85th plenary of the party. 
A fresh controversy sparked on Sunday after an advertisement on Congress's 85th plenary session which appeared on multiple national dailies, did not feature India's first education minister and freedom fighter Maulana Abul Kalam Azad. The Congress received flak from several quarters.
While the minority leaders in the party expressed their objections, party MP Manish Tewari took a serious view of the matter.
"The @INCIndia has a pantheon of Muslim leaders who struggled against fissiparous tendencies, especially within their community that led to the creation of Pakistan & dedicated themselves to the inclusive idea of India. Someone wants to airbrush their contribution from annals of History," he said in a tweet.
Maulana Abul Kalam Azad, Dr Mukhtar Ahmed Ansari, and Rafi Ahmed Kidwai were top freedom fighters from the Congress but their pictures were missing.
The party apologised for the miss.
"Today an ad released by INC did not carry a photograph of Maulana Azad. It was an inexcusable slip up. Responsibility for it is being fixed & action will be taken. Meanwhile, this is a most sincere apology from us. He will always remain an iconic & inspiring figure for us & India", Congress General Secretary, in charge of communications, Jairam Ramesh said in a tweet.
However, Congress tweeted photos from the dais where photos of Maulana Azad were prominently installed. (With IANS inputs)
Huneza Khan is a journalist from Bhopal, Madhya Pradesh. She tweets @KhanHuneza
SUPPORT TWOCIRCLES
HELP SUPPORT INDEPENDENT AND NON-PROFIT MEDIA. DONATE HERE