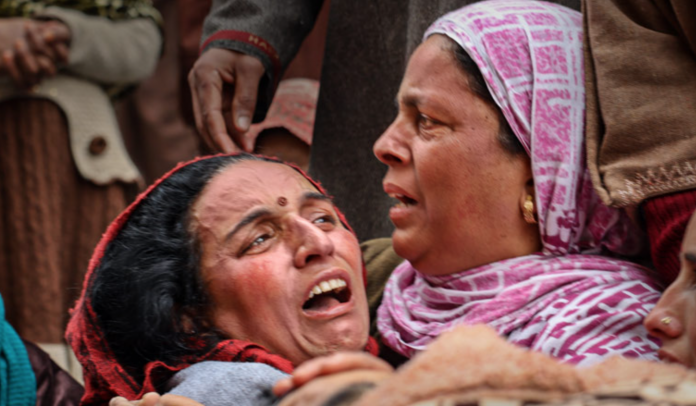 In the latest attack, a Kashmiri Pandit man was shot dead by suspected militants in the Pulwama district on Sunday. 
Afnan Habib | TwoCircles.net 
---
Support TwoCircles
---
SRINAGAR (JAMMU & KASHMIR) — A Kashmiri Pandit, employed as a bank security guard, was shot and killed by suspected militants in south Kashmir's Pulwama district on Sunday, marking yet another targeted attack against the minority community in the Kashmir valley.
Sanjay Sharma, the victim, was travelling with his wife to a nearby market when he was attacked at around 10.30 in the morning.
Rayees Mohammad Bhat, the deputy inspector general of police (DIG) for south Kashmir, stated that the police are moving quickly to look into the killing of a member of the minority community and vowed to deliver justice.
"The terrorists who are involved will be tracked down and eliminated shortly. A thorough investigation into the incidents in south Kashmir is ongoing, and terrorists will soon be neutralized. We will foil their evil plans," he said.
The fresh killing added to the spate of targeted attacks on Kashmiri Pandits, including migrant employees and non-local migrant labourers in the region.
After receiving government employment as part of a special package from then-prime minister Manmohan Singh in 2008, the employees—numbering over 4,000—have been living in transit camps around Kashmir. They have been seeking to be transferred to Jammu until the situation in Kashmir improves.
Their protest and demand for relocation intensified after Rahul Bhat, an employee from the minority community, was killed in a targeted attack on May 12, 2022, in central Kashmir's Budgam district.
Several targeted attacks have taken place in Kashmir since then. A Kashmiri Pandit named Sunil Kumar Bhat was shot and killed by militants on August 16, 2022, in the Shopian district of J&K. His brother was also injured in the attack.
On October 15, militants shot and killed another Kashmiri Pandit, Puran Krishan, a 56-year-old man from the Shopian district. A militant organization, Kashmir Freedom Fighters, claimed responsibility for the attack that sparked widespread protests across the Union territory two days later.
On October 18, three days after Puran Krishan was killed, two migrant workers were killed in a grenade attack while asleep inside a rented housing they lived in at the time in Shopian.
Sanjay Tickoo, President of the Kashmir Pandit Sangharsh Samiti (KPPS), told TwoCircles.net that Pandits who did not migrate from the valley have since been living in a state of fear, and targeted killings now have further worsened their situation.
According to Tickoo, the authorities have utterly failed to provide a livable atmosphere for religious minorities in the union territory.
"Authorities in Kashmir are portraying a false sense of normalcy. They don't seem to care about protecting religious minorities; instead, they are only concerned about things like the G20 or the Smart City project," Tickoo told TwoCircles.net.
"We are being killed in the name of Islam. I have personally studied Islam, and it does not encourage killing the innocent. Because of the present situation, we can no longer even trust our own neighbours now," he added.
KPPS also criticized the Bharatiya Janata Party-led central government, Union Home Minister Amit Shah, and the Lieutenant Governor of Jammu and Kashmir, Manoj Sinha.
"Government & the BJP cannot handle 75 lac Kashmiri population and want to control POK & Balochistan. Kashmiri Pandits are killed like dogs in Kashmir. The Home Minister and Lieutenant Governor of J&K censor the information that Kashmir is the most dangerous place for Kashmiri Pandits in this world," KPSS wrote in a tweet on Sunday.
After calling for a shutdown on Monday in protest of the targeted killings, the Kashmir Pandit Sangharsh Samiti (KPSS) stated in a press statement that some radical elements were slowly forcing innocent Kashmiri Pandits and Hindus out of their homeland, just as they had done in 1990.
"KPSS takes strong note of the situation in Kashmir Valley and reminds Hon'ble Prime Minister and Hon'ble Home Minister to intervene on a high level and accept the failure of the current Lieutenant Governor to address the issue of security of the religious minorities in Kashmir Valley, particularly Non-Migrant Kashmiri Pandits," the statement read.
Several political figures in Kashmir also denounced the attack on Sanjay Sharma.
Omar Abdullah, vice president of the Jammu & Kashmir National Conference, said he was deeply saddened to hear about the attack. He expressed sorrow and condemned the attack in a tweet.
"Sanjay was working as a bank security guard & was killed in a militant attack earlier today. I unequivocally condemn this attack & send my condolences to his loved ones," Abdullah said.
Mehbooba Mufti, the president of the People's Democratic Party (PDP) and a former chief minister of Jammu and Kashmir, claimed that the central government had failed to safeguard minorities in J&K.
"The vicious cycle of killings doesn't seem to end. The government of India has failed to protect minorities in J&K & reduced them to sitting ducks. Everyone here is paying a heavy price for this facade of normalcy. My deepest condolences to his family," Mehbooba wrote in a tweet.
Afnan Habib is an independent journalist based in Srinagar, Jammu and Kashmir. He tweets at @afnanhabib_
SUPPORT TWOCIRCLES
HELP SUPPORT INDEPENDENT AND NON-PROFIT MEDIA. DONATE HERE