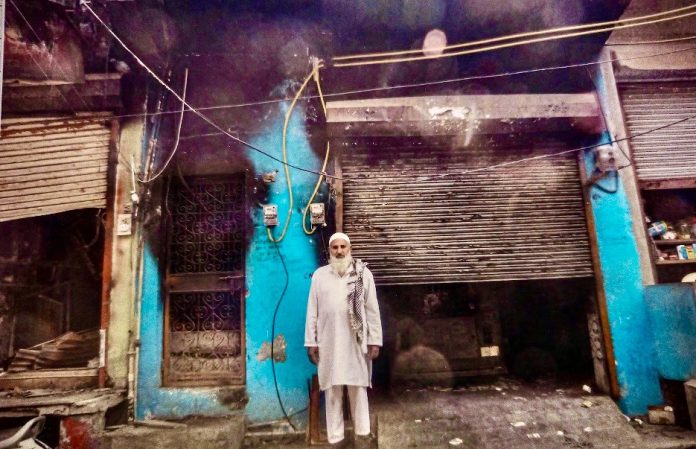 In northeast Delhi's Shiv Vihar area, most of the Muslim residents are yet to recover from the traumatic episodes of violence and the economic toll after the loss of property and livelihood. 
Shruti Sharma | TwoCircles.net 
---
Support TwoCircles
---
NEW DELHI — Shiv Vihar in northeast Delhi was one of the worst-affected areas during the 2020 Delhi riots. At least 60 houses belonging to Muslims, two mosques and a Madrasa (Islamic seminary) were set ablaze by rioters and at least four people lost their lives.
The violence in northeast Delhi erupted amid protests against the controversial Citizenship Amendment Act (CAA) passed by the Indian parliament in December 2019. Experts had found CAA to be defying the promise of secularism by the Indian constitution ensuing in widespread protests demanding repeal of the act. In the deadly riots, 53 people (most of whom Muslim) lost their lives and hundreds more were injured.
In Shiv Vihar, most of the Muslim residents are yet to recover from the traumatic episodes of violence and the economic toll after the loss of property and livelihood.
Madeena Masjid, situated at street number 12 in Shiv Vihar was gutted allegedly due to setting fire to gas cylinders around 9 pm on February 25. The Madrasa next to the mosque was also gutted by fire.
62-year-old Hasim Ali, president of the Madeena Masjid Committee, is an eyewitness to the incident.
Ali told TwoCircles.net that he named 15 people as accused of torching the mosque but "police have not taken any action yet."
"I have videos and photos of the rioters burning the mosque and homes. And all the evidence was submitted in court. But instead of arresting them, they arrested the victims, including me," he said.
Ali was arrested for instigating riots and spent 42 days in jail.
"The government is for everyone. This country belongs to Muslims as well, and our ancestors have also sacrificed their lives for this nation. But we are still punished for being Muslims," Ali said.
Recalling that day Haji Hasim Ali said, "Around 3 pm on February 25, riots broke out in Shiv Vihar. The rioters arrived in the area and began pelting stones. They set a house on fire. All Muslims living here fled their homes to save their lives. Only 8-9 families stayed back. The rioters also looted and ransacked the houses, and burnt down around 60 houses."
Ali's two houses were burnt by rioters, including three motorcycles and a thela (a tricycle used in street vending). He received Rs 1 lakh as compensation for the two houses.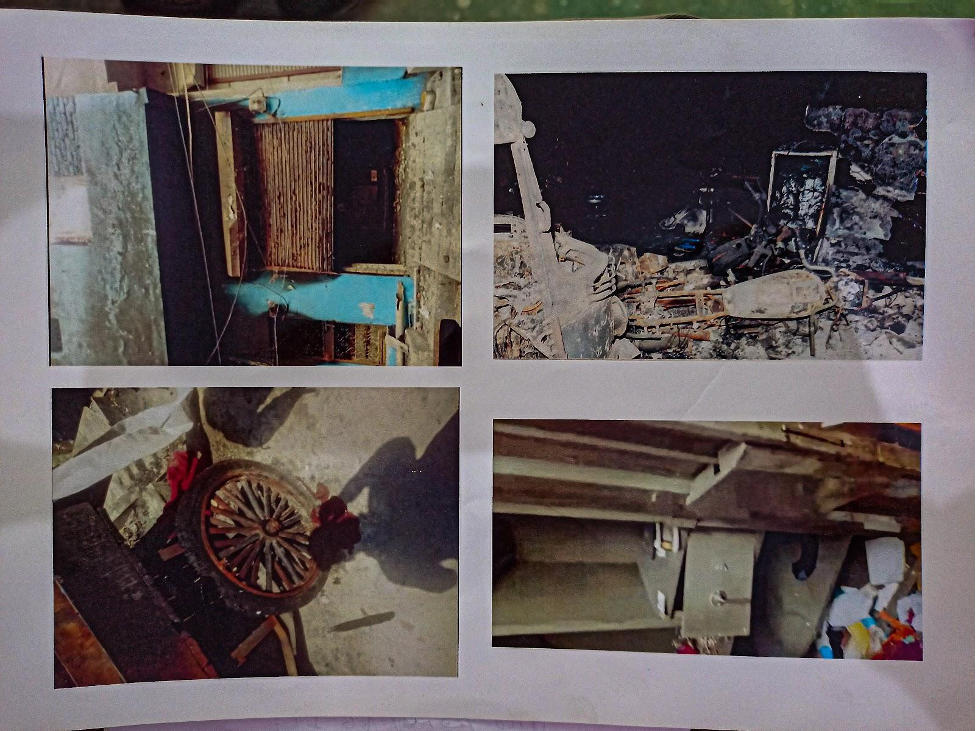 Night of terror
Fleeing the violence, some residents of Shiv Vihar had to spend the night on the streets while others fled to the safety of their relatives' houses. Some even took refuge in mosques in safer areas. Residents returned to their homes after months only after normalcy returned. Some Muslim families never returned and sold their houses.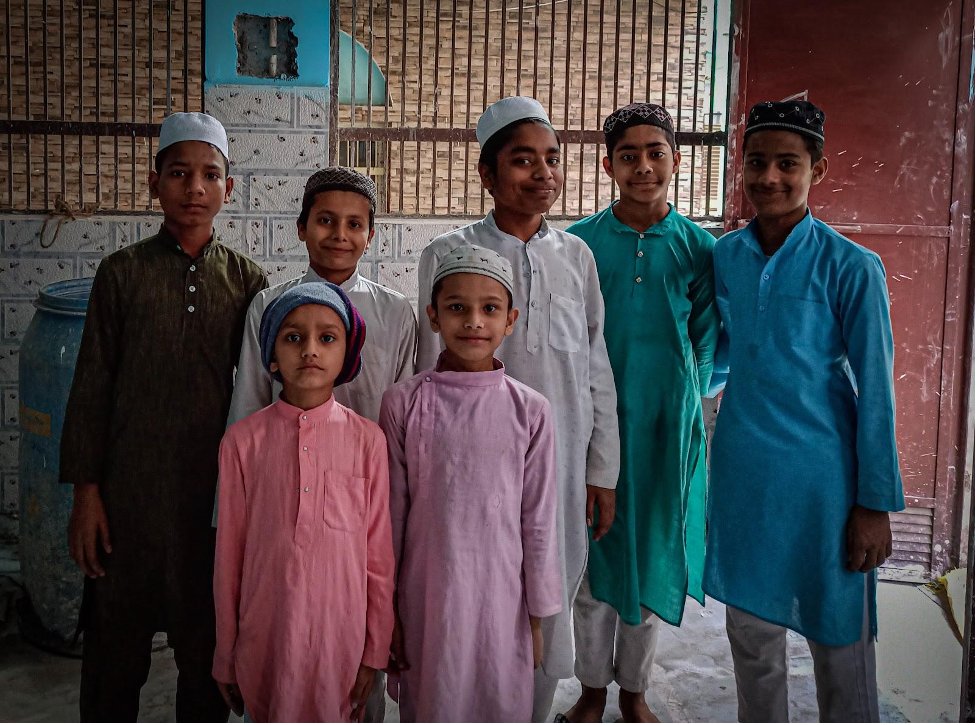 The Madrasa that was burnt down enrolled 250 children, including 15 orphans. The orphan children had nowhere to go after it was gutted. "They were shifted to another mosque for some months," Ali said.
50-year-old Mohammad Raees runs a dairy farm in Shiv Vihar. He alleged that rioters burned down his house and looted 14 buffaloes from his dairy farm. He was able to retrieve only four of his buffaloes from Ghaziabad and other places in Delhi.
Raees said he was also shot at but survived.
"During the riots, a son of a policeman fired at me. I was surrounded by rioters but somehow, I managed to save my life and escaped with my family," Raees said.
Unseen violence
Before the riots, 52-year-old Mohammad Waqeel used to run a retail shop. He was unable to do any work after the riots as he was attacked with acid resulting in severe damage to his eyes.
"We were at the terrace of our two-storey house looking downstairs to assess the situation. The rioters were burning properties outside our house. Suddenly a rioter wearing a helmet threw a bottle at us. Before we could understand what had happened, something had gotten into my husband's eyes. I looked at him. He was in pain, with blood coming out of both of his eyes. I wiped his eyes with my scarf and poured water into his eyes," said Mumtaz Begum, wife of Mohammad Waqeel.
Waqeel's house lies just behind the Madeena Masjid. "When they started burning our house, we somehow managed to escape and hide in the mosque. But after a while, they also vandalized the mosque and set it on fire by blasting gas cylinders," Waqeel said.
"We couldn't even go to the doctor as there was rampant violence going on outside. We felt very helpless on that day," Mumtaz said.
Waqeel had to go to a hospital in Chennai for treatment of his eyes. After 4 eye surgeries, the pain in his eyes doesn't subside.
Although expenses for his multiple eye surgeries ran into lakhs of rupees, Waqeel only received Rs 20,000 as compensation for eye treatment from the government. The government paid an additional Rs 1.8 lakh as compensation for their burnt house.
Was violence pre-planned?
Muslim residents of Shiv Vihar believe the violence that took place in northeast Delhi in February 2020 was pre-planned.
Ali said there has not been a single communal incident in Shiv Vihar before the riots. "I have lived here for 32 years. There was no tension. We [Muslims & Hindus] used to take part in each other's weddings and festivals with great enthusiasm. However, things have changed since the afternoon of February 25, 2020. Now people from the two communities can't get along. Good relations between the two seem to have disappeared," he added.
Mumtaz believes that the riots did not occur spontaneously. "The riots were incited. Despite the absence of religious animosity between Hindus and Muslims in the Shiv Vihar area, the violence erupted. Why did these riots occur?" she said while blaming the politicians for the riots.
A Delhi Minority Commission report later noted that the riots took place after an incendiary speech made by BJP leader Kapil Mishra calling for the forceful removal of anti-Citizenship Amendment Act protesters at Jafrabad.
The report alleged that the Delhi police officials either remained mute spectators or even participated in the violence and they were biased against Muslims during the investigation of the riot too.
Rebuilding houses
Residents of Shiv Vihar said that the major expenses of rebuilding houses damaged during the riots were borne by the Muslim organization Jamiat-Ulema-i-Hind (JUH).
"They also rebuilt the Madeena masjid. However, the work on rebuilding the Madrasa is still in progress," a local said.
Locals said that JUH also helped in rebuilding four to five shops owned by Hindus.
Even though most of the houses have been rebuilt and normalcy has returned, for Muslim residents of this area life will not be the same again.
Shruti Sharma is a freelance journalist based out of New Delhi. She tweets @imsshruti77
[Edited by Irfan Mehraj. Tweets at @IrfanMeraj]
SUPPORT TWOCIRCLES
HELP SUPPORT INDEPENDENT AND NON-PROFIT MEDIA. DONATE HERE