Faizan Mir, TwoCircles.net
Inside a dimly lit old two-story mud and timber house patched with tin sheets, 82-year-old Ghulam Mohammad Wani guides an old angled wood beam with his frail hands. The wooden beam is drenched in oil as the mustard seeds get crushed. 
---
Support TwoCircles
---
In the Kashmiri tongue, this occupation and the people involved with it are referred to as Teli Waen. During the reign of the kings in the 18th century, practitioners of this traditional method of extracting oil were highly respected and honoured as Khoje, or "Royal Men." 
'Not Leave This Work': Wani's Father
At 82, Wani, who lives in Namblabal village in Kashmir's Pampore, is the sole custodian of this vanishing Kashmiri profession and doesn't plan to retire anytime soon.
 Several families had oil mills similar to the one Wani operates, but things changed when mechanised extraction of oil became available. 
Wani learned this profession from his father, who used to work in the oil mill before him.  Wani's grandfather was likewise employed in this profession. "When I think back to my childhood, I remember how my father used to guide me about the oil mill when I was in fifth grade. He told me to not leave this work because it is our ancestors' legacy," he explained.
How Does an Ox-Driven Oil Mill Work?
Wani's old oil mill has been around for the last 80 years, and he has been following the same grueling routine for the last 60 years – waking up at 9 a.m., setting up the mill equipment, and extracting oil. 
A wooden beam at Wani's oil mill harnesses an ox to power the process of extracting oil from mustard seeds. 
The ox is tethered to the central pole, and the thread wound around the wooden scooped circular pit exerts lateral pressure on the seeds, crushing them and eventually releasing oil. 
Oxen 'Like My Friends': Wani
Wani has three oxen in his oil mill and takes good care of them. "They are like friends. They have been with me since the beginning. I couldn't do this without them," he said.
When they needed medical attention, he would immediately phone a local doctor who would come to the mill and treat the animals.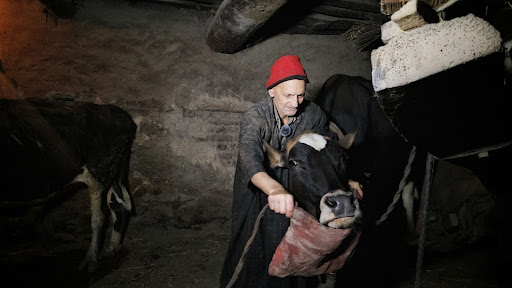 "Animals are living beings as well, and they require special care. I look after them more than I look after myself," he explained.
Machine Oil Mills Are Taking Over
Wani fears that his ancestor's legacy would be lost after he dies.
The market for manually extracted oil is declining since most consumers prefer machine oils. 
The machines can extract the oil in a matter of hours with minimal human labour. Wani, on the other hand, must work for four days to extract oil from 100 kilograms of mustard seeds, earning him a pittance of roughly 200 rupees.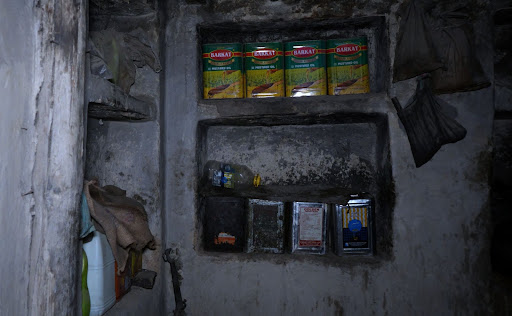 "People prefer oil extracted from machine oil mills because they can produce a much greater quantity of oil," he explained.
He finds satisfaction, though, in knowing that a small number of clients still value the unique quality of traditionally extracted oil.
'Hand-Made Oil Is Pure and Healthier': Wani
In terms of quality, Wani believes that the oil extracted using the traditional process far beats commercially refined alternatives. 
"This oil is completely hand-made because my oxen work three hours a day, one by one," he said
Wani claims that the oil extracted through his mill is healthier than typical machine oils since only the famed Pampore mustard seeds are used for producing oil.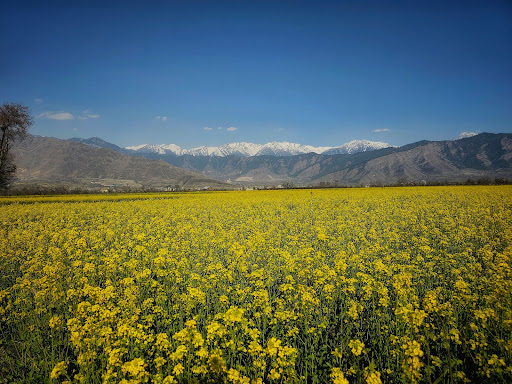 "In handmade oil, we use wooden machines, but the latest oil pressing machines are made of steel, which expels antioxidants and minerals due to heat," he explained, adding that this might be dangerous to consume.
Wani's Family Wants Him Stop Working at the Oil Mill
Wani's family and relatives are pressuring him to stop working at the oil mill because he is not making much money and it is difficult for someone his age.
"I've been telling him to leave this profession now because he's getting older day by day and this work requires more effort," Wani's wife told TwoCircles.net on condition of anonymity. 
Wani's eldest son expressed a similar sentiment. "I am earning well and can take care of the family," he remarked, implying that his father does not need to work at the oil mill.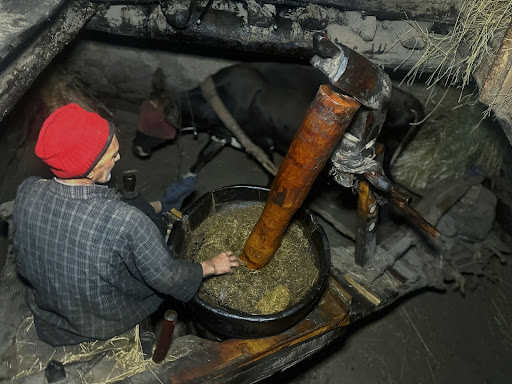 But Wani perseveres, determined to keep this profession alive. 
"I'm old. I could die tomorrow, but one thing I want is to be loyal to my profession," he said, returning to the wooden beam handle and beginning to guide it and extract oil.
Faizan Mir is an independent reporter based in Kashmir. He tweets at@Faizanmirtweets
SUPPORT TWOCIRCLES
HELP SUPPORT INDEPENDENT AND NON-PROFIT MEDIA. DONATE HERE